For Lexus, hybrid technology has always been as much about outright performance as it has improving fuel-efficiency.
That much is proved by the naming convention employed since the first Lexus hybrid model, the RX 400h of 2005. Residing under the bonnet of that pioneering SUV was a 3.3-litre V6 petrol engine, assisted by two electric motors – one for the front wheels, and another for the rear wheels.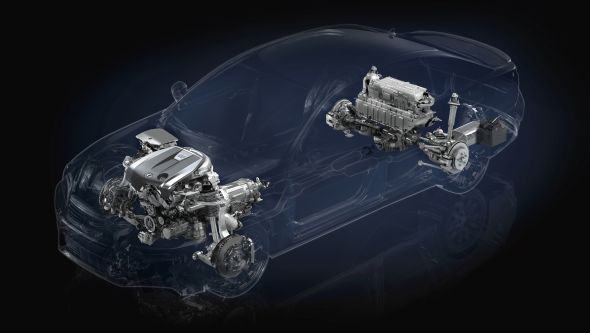 It was a combination that delivered power and acceleration equivalent to a 4.0-litre V8 – hence the '400' designation – allied to uncanny fuel-efficiency.
Every subsequent vehicle equipped with Lexus Hybrid Drive technology has delivered more performance punch than the displacement of its petrol engine might suggest.
Indeed, whenever Lexus produces both conventionally-powered and hybrid versions within the same model line, the hybrid is usually the most powerful and fuel-efficient, and often possesses the fastest acceleration and highest top speed, too.
Lexus Hybrid Drive is the most sophisticated hybrid system available and is explained in more detail here. But in essence, the performance-biased technology harnesses the outputs of its twin powerplants and synchronises them to deliver seamless performance, reduced emissions levels, optimised fuel-efficiency and a calm ambiance – the four pillars of the Lexus Hybrid Drive experience.
Lexus Hybrid Drive makes the smartest use of available energy resources. As a future-proof hybrid system, it can be adapted to intelligently optimise the performance of any power source, whether that be the internal combustion engine or some future powerplant.
The means of delivering this power to the road will be the subject of another Performance Month post…
https://www.youtube.com/watch?v=7T6S3q-dj7s
More from Lexus Performance
Lexus performance: fashioned by the wind
Philosophy of Lexus 'F' models
Lexus says, 'Quiet please'
Lexus champions people power
Lexus increases recycling performance
The performance of plastic
Lexus RC F revealed in Detroit
Lexus IS 300h – five-star safety performer
Performance and efficiency – how?
LFA 'Code X' to race at Nurburgring 24 Hours
Perfect partners: E-CVT and hybrid
Interview: Yukihiko Yaguchi
World debut of new Lexus RC F – first pictures
A closer look inside the Lexus LFA's V10
Lexus celebrates performance in January