Lexus has made a well-publicised commitment to achieve a 95 per cent recovery rate in its vehicles by 2015.
This commitment to sustainability is not just about an end product, however; it is a better, more efficient business practice that permeates the entire company and contributes to a healthier planet. From our offices to our factories and sales facilities, every possible item is recycled and waste is kept to a minimum.
For example, Lexus pioneered the recycling of used nickel metal hydride (NiMH) batteries from hybrid vehicles, and was also the first to put in place a system that recycled the rare earth metals neodymium and dysprosium that are used in the magnets of hybrid vehicle motors. Unique businesses have also been set up to recycle cemented carbide scraps into tungsten, which is then made into highly resilient carbide tools.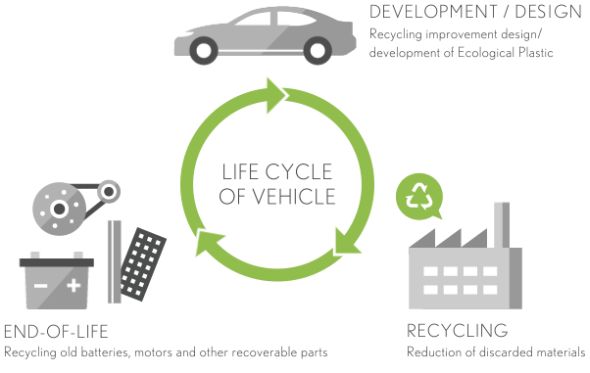 To make more effective use of the world's limited resources, the entire life cycle of a car is analysed to ensure every recycling measure is exploited. From production through to its end-of-life stage there is repeated use of reusable items. Waste generation is minimised, and what waste has to be produced is then recycled.
Results from each stage are fed back to the development team, which then makes use of this information during the design process to ensure that subsequent new vehicles are increasingly optimised for recycling.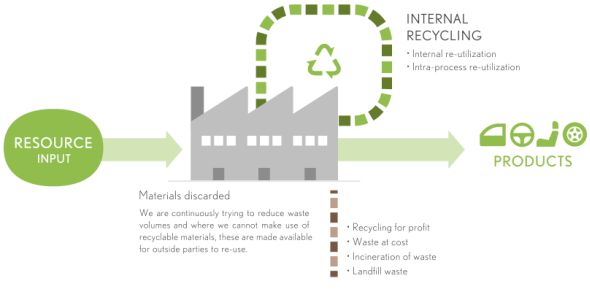 Effective use of resources is promoted within our factories by improving the yield to waste ratio. The flow graphic above illustrates how resources are re-used during construction, while non-recyclable waste is minimised.
Among the methods employed have been a rethinking of the stamping process to reduce waste metal; the introduction of equipment that generates alkali ion in the cleaning process and therefore reduces the volume of waste liquid; and greater promotion of kaizen, or continual improvement, within the work site.
Meanwhile, outside of the confines of the factory, the amount of discarded material has been significantly reduced by making much wider use of returnable shipping containers.
Achieving a 95 per cent recovery rate is an enormous challenge for any vehicle manufacturer to take on, yet Lexus's market-leading recycling technology is continually improving and we're pleased to report that we are on target to reach that goal.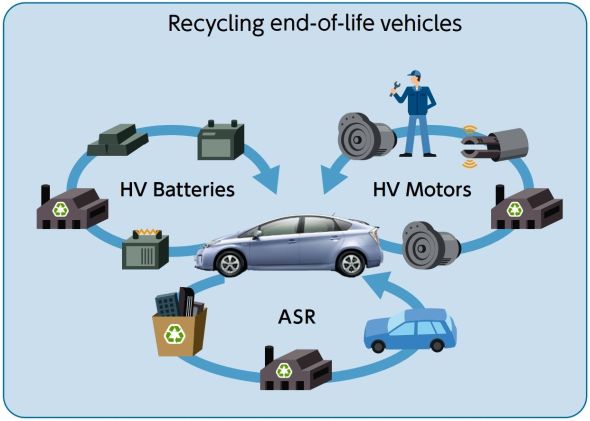 More from Lexus Performance
Lexus performance: fashioned by the wind
Philosophy of Lexus 'F' models
Lexus says, 'Quiet please'
Lexus champions people power
The performance of plastic
Lexus RC F revealed in Detroit
Lexus IS 300h – five-star safety performer
Performance and efficiency – how?
LFA 'Code X' to race at Nurburgring 24 Hours
Perfect partners: E-CVT and hybrid
Interview: Yukihiko Yaguchi
World debut of new Lexus RC F – first pictures
Lexus and the performance of hybrid
A closer look inside the Lexus LFA's V10
Lexus celebrates performance in January