The arrival of the first Lexus vehicle in 1989 was a major landmark in the history of parent company Toyota. It marked the culmination of an unprecedented development programme which involved tens of thousands of hours and an uncalculated cost to build an all-new luxury vehicle that bettered the established marques at their own game. It simultaneously created a fitting figurehead for an all-new luxury brand.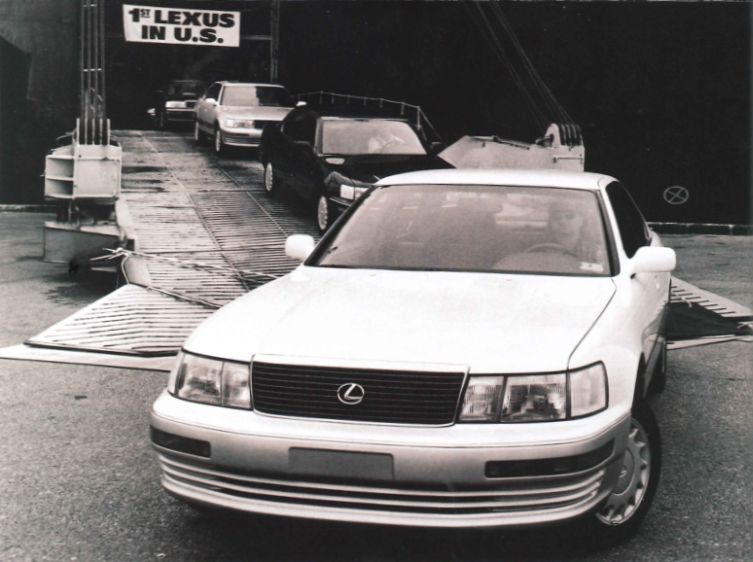 Toyota already had experience in premium quality vehicles, of course. Its production equipment was widely regarded as the best in the world, and the mass-produced Crown and hand-built Century limousine were luxury models that had been available for decades within the domestic market. But there was no single vehicle within Toyota's line-up that possessed the important characteristics of prestige, quality, safety and performance that could also be considered world-leading and widely available.
Lexus history: for the 'baby boomer' generation
This omission was most keenly felt in the United States, where many within the 'baby boomer' generation that had been loyal to Toyota through college and early adulthood were becoming more affluent and trading up into luxury German brands because the Japanese manufacturer could offer no viable alternative.
To fill this gap, executives initially suggested re-introducing the Crown model to North America but after almost a decade away from that market the model was deemed too small, too ornately decorated and not powerful enough to be truly competitive.
The most vocal advocate of Toyota producing an all-new luxury model was Yukiyasu Togo, recently appointed president and chief executive of Toyota's US division. Utterly convinced that Toyota could build a true luxury car, he presented his case with passion and no little salesmanship to Toyota's board members. He argued that such a car would boost the company's image in its most important export market and send reverberations throughout the motor industry.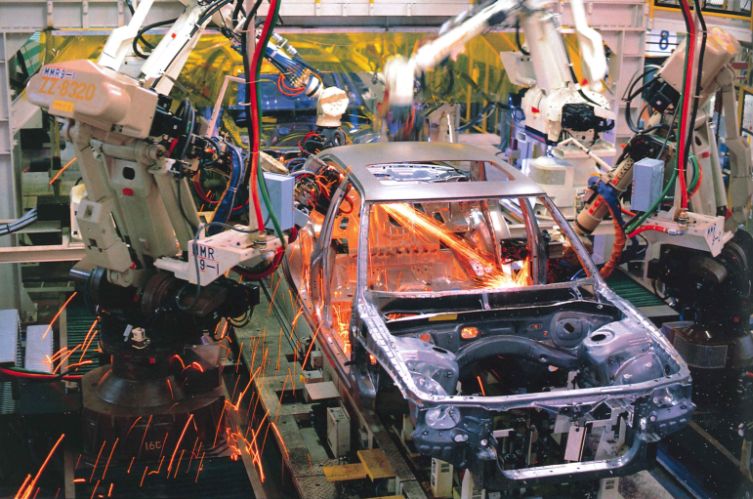 As it happened, Togo's timing was perfect. The 50th anniversary of the founding of the Toyota Motor Company was approaching and it was agreed that the time was right to embark on a project of this magnitude and build the world's finest luxury performance saloon.
So in August 1983, Toyota chairman Eiji Toyoda launched what was known internally as the 'Circle F' project, the effort that in the space of six years would become the Lexus LS 400. Top secret in nature, very little was initially known about the aim of the project outside of the boardroom. Only later was it revealed that the 'F' stood for 'flagship'.
Lexus history: chief engineer sets paradoxical goals
Having amassed 25 years of experience in the development of Toyota vehicles, Ichiro Suzuki (below) was given the responsibility of being chief engineer for the Circle F project. But before any physical engineering could begin, Suzuki set out to understand the task ahead of him.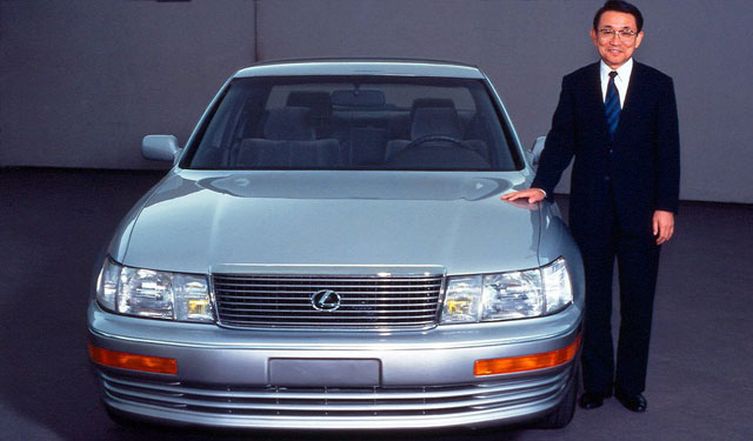 Focus groups were despatched to spend time in America to see for themselves how luxury car-buyers lived and how they used their transport. They also interviewed hundreds of potential customers to understand the thought processes that led them to their particular vehicles, and sent video footage back to Japan so it could be watched by the designers and engineers working on the project. It was an invaluable source of research, for the American lifestyle and automobile culture was totally different to that in Japan.
With insightful research to hand and a comprehensive analysis of the qualities and performance characteristics of the competition, Suzuki then focussed the project by setting very specific, benchmark-beating performance targets.
Many of his contemporaries thought them to be impossible goals. For instance, the car had to be fast yet efficient, quiet yet lightweight, elegant yet aerodynamic. Little did he know it at the time but these seemingly paradoxical goals – now known as the Lexus 'Musts' – became the guiding design and engineering principles for all subsequent Lexus models.
By the autumn of 1984 the Circle F project was in full swing, with Toyota greasing the development wheels by enforcing no financial or personnel limitations in the achievement of this goal. During the course of the development process Suzuki directed a taskforce of 60 designers, 1,400 engineers split up into 24 teams, 2,300 technicians and over 200 support workers.
Lexus history: fine-tuning design and engineering
Though the overall design was still to be decided, the first of a total of 450 prototype vehicles was built in 1985. Each successive prototype applied solutions to areas where the possibility of engineering improvement was identified, slowly but surely elevating the quality to a world-leading standard.
During this process, dimensional tolerances within the transmission were reduced by one third, and all causes of vibration and mechanical harshness were routed out. For instance, particular attention was paid to the material quality, rotational balance and angle of the driveshaft – Suzuki even altered the angle of the engine to ensure the two-piece shaft ran from front to back in a perfectly straight line.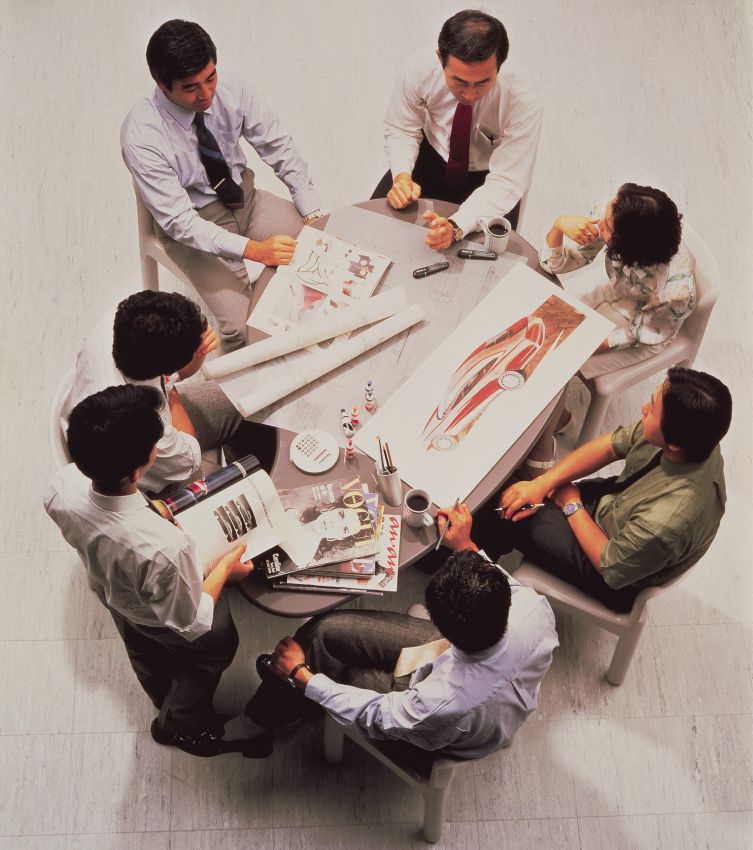 Almost three million miles of rigorous road-testing was conducted by the running prototypes, including high-speed performance testing on German autobahns. Interestingly, aside from the Celica Supra, Toyota did not possess a single model that could exceed 110mph during the early Eighties, so there was much to learn in the area of speed-related performance.
Nevertheless, prototypes were soon equipped with smooth floor pans and a number of subtle fairings for improved aerodynamics. Electronic ride control was also developed to automatically lower the vehicle's ride height at speed to improve ground effects and stability.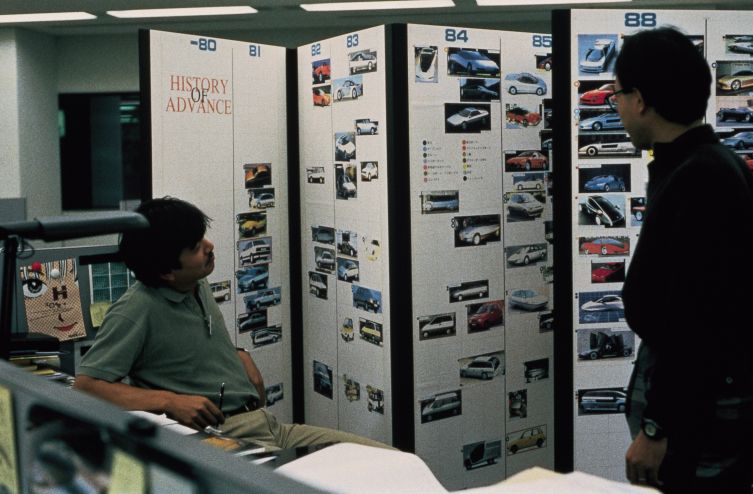 The final exterior design was approved in May 1987, the culmination of an unprecedented 14 full-scale models and over 50 wind tunnel refinements. Indeed, with a drag coefficient as little as 0.28 Cd, the new saloon was more aerodynamic than some contemporary sportscars. Setting the right visual tone had meant balancing elegance and dynamism, stateliness and drama, in a flowing design that was also required to be simple, clean and smart.
Lexus history: What's in a name?
Even at this late stage in development, the original intention of the board was to launch the new vehicle as a luxury Toyota. However, Togo's additional time spent in America and with focus groups convinced him that the only way this new luxury vehicle would succeed within the market was to establish a different brand. It had to stand as a separate entity and not be associated with the same 'people's car' mentality that customers applied to the Toyota range in general.
Eventually, the Toyota board and, importantly, chairman Eiji Toyoda, agreed to the creation of this new brand. A consulting company was swiftly brought on board to devise an appropriate name, and presented a list of 219 possibilities, including Vectre, Verone, Chaparel, Calibre and Alexis.
During that meeting, project manager John French was playing with some of the names as he doodled on his notepad. Dropping the first letter of Alexis to use the 'a' as a determiner gave John the name Lexis, as in 'a Lexis'. This was then only a minor progression into the word Lexus, which sounded less clipped and offered connotations of luxury and technology. By 1988, the LS 400 model name was chosen and the design for Lexus retailers was finalised. The new brand was set to launch.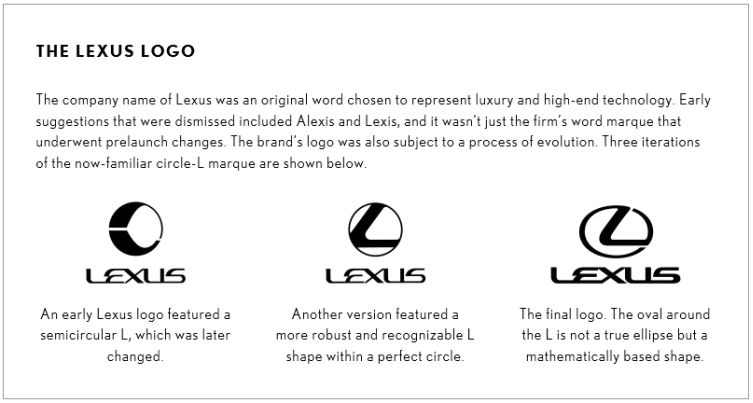 Lexus history: age-defying engineering
While the brand managers were busy with their tasks, chief engineer Ichiro Suzuki and his hordes worked tirelessly on the minutiae of development to ensure the forthcoming vehicle was the best of its kind and stayed that way for many years to come.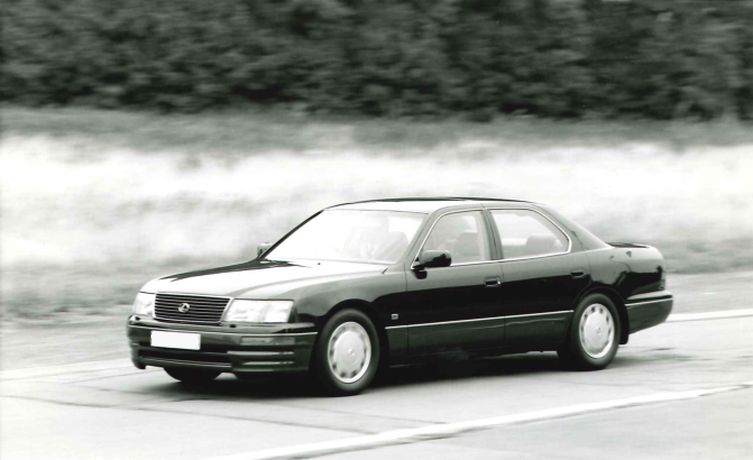 With that in mind, Suzuki instituted an anti-ageing programme to ensure the quality and longevity of components and finishes. His goal was that a Lexus LS 400 with 50,000 miles on the odometer would not look, feel, sound or perform perceptibly differently from a brand new car.
To achieve this goal engineers identified a further 96 areas that could be improved, ranging from materials to assembly methods. This was where the development team's insistence on perfection is perhaps the most fascinating, because it set a standard for attention to detail that has become a hallmark of every subsequent Lexus vehicle.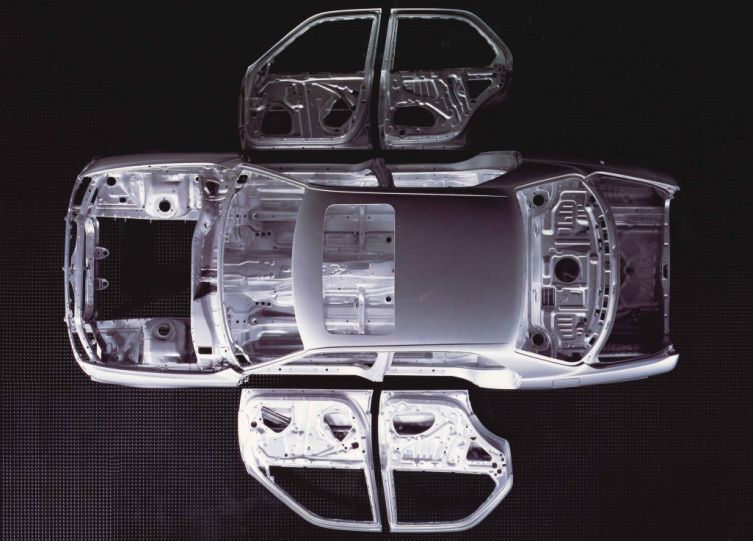 Some of these areas of improvement were substantial, such as the bodyshell, which was engineered to be the stiffest of its kind within the luxury car market. Others, like the tapered panel gaps between the bonnet and wings were designed to be unnoticed. In fact, had the gap remained constant it probably would have been more noticeable, because a tapered gap appears more parallel than an absolutely parallel one when viewed from head on.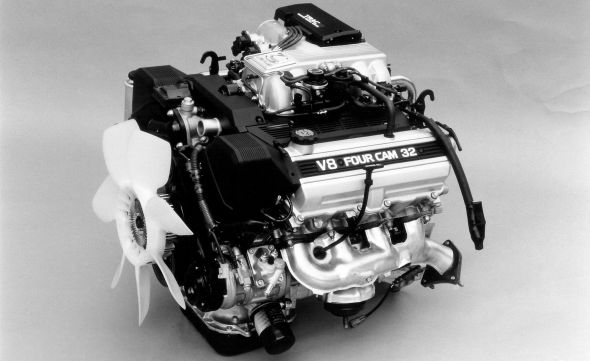 Then you had improvements that could be appreciated with other senses, such as the world-first use of aluminium alloy cam followers in the valve train to reduce inertia and maintain high-rev smoothness. It also included a dedicated gearbox ECU in communication with the engine ECU so that momentary retardation of the ignition timing could be requested to reduce engine torque and load on the transmission during gearchanges.
Lexus history: world-class production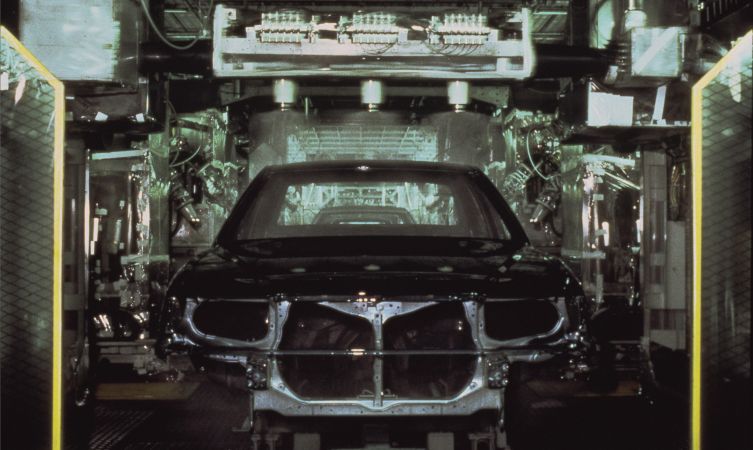 Production of the new Lexus LS 400 was given to Toyota's newest and most advanced production plant at Tahara (commissioned in 1980) as it already specialised in low volume, high-quality production models such as the Toyota Soarer and Supra. However, major increases in the plant's facilities were required to meet strict Lexus design and engineering criteria. Built on an exclusive assembly line, every LS 400 was subjected to over 1,600 different quality control checks before being sent out for shipping.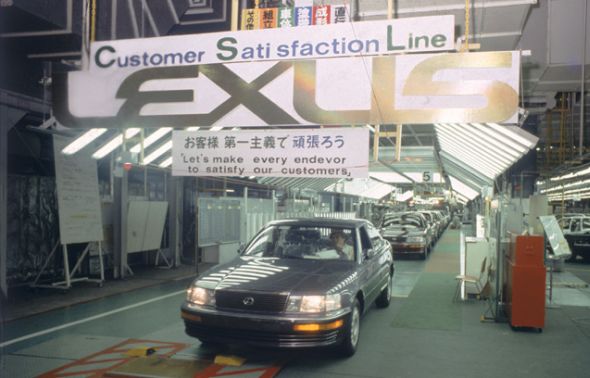 Lexus history: from small beginnings…
The all-new Lexus LS 400 made its debut at the Detroit Auto Show in January 1989, stunning the motoring world with a machine that rewrote the luxury-car rulebook. Unlike today, where manufacturers like to tease the public with one-off concept vehicles that may or may not offer an indication of what is to come, Lexus simply revealed the finished product and allowed journalists to crawl all over it, so to speak.
Some of those journalists later received pre-production models for further testing prior to the model's official global launch in August 1989. Interestingly, this took place in Germany, in the traditional heartland of European luxury car production.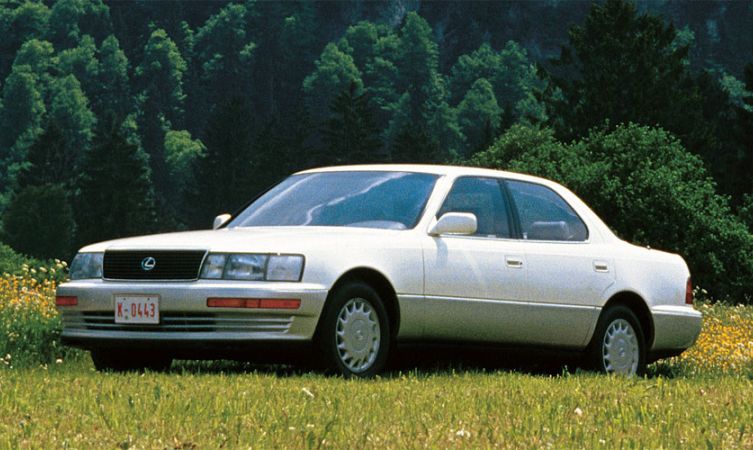 One thousand cars were supplied to the now-desperate US market and every last one was sold. The following month a total of 4,500 cars arrived from Japan and were delivered, and dealers were still flooded with further orders. By the end of 1989, Lexus had achieved its ambitious target of selling 16,000 cars; and ten years later total sales in the United States had risen to one million units.
Other Lexus models soon followed in the USA. A smaller saloon, the Lexus ES 250, came in September 1989, and was followed by the svelte Lexus SC 400 coupe in May 1991. The ES 250 was replaced by the ES 300 in September 1991, and the middle segment was filled by the introduction of the medium-size Lexus GS 300 in January 1993.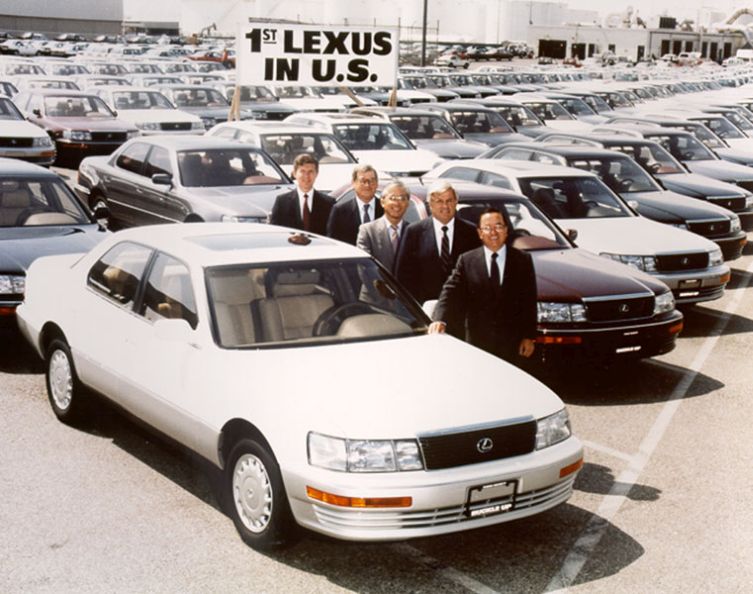 The Lexus marque was introduced into the UK market in June 1990 with similar success, and joined by the smaller, Giugiaro-designed Lexus GS 300 in October 1993.
Despite being introduced into an expensive sector of the market at the time of severe economic recession, Lexus has since enjoyed outstanding success in Britain. That early success was all the more remarkable considering that until the end of 1993 there was just one model in the range.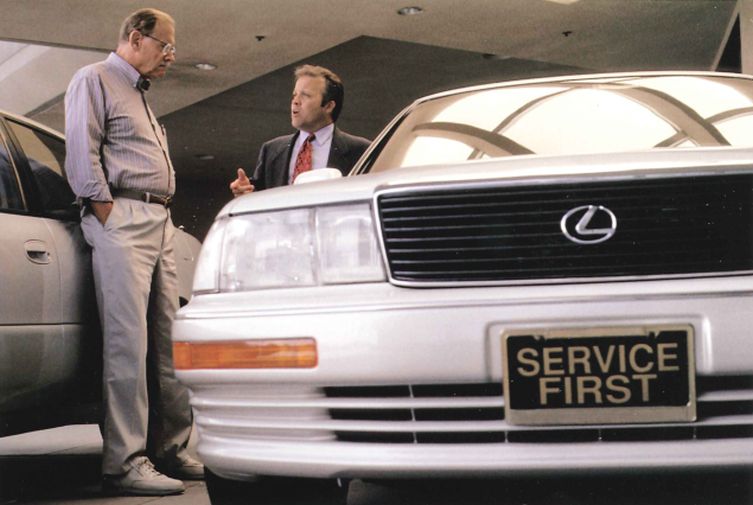 Subsequently, the worldwide Lexus range has expanded considerably. Over the years it has included 14 distinct model lines and four high-performance derivatives. Please follow the links below to read further articles on the details and individual histories of these vehicles.
Lexus hatchback model
Lexus saloon models
Lexus coupe models
Lexus SUV models
Lexus F models