Conceived on the racetrack and developed through the application of world-first technologies, the Lexus LFA was no ordinary supercar. Equally, the people that pushed its development through to completion were no ordinary engineers or racing drivers.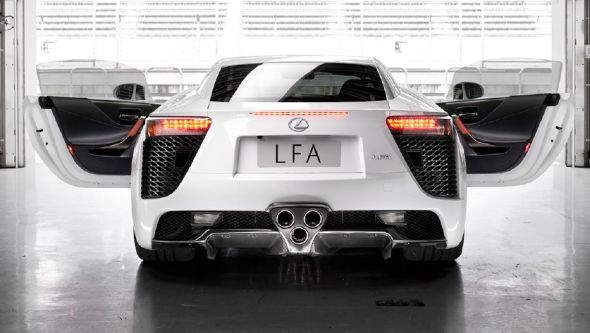 Lexus LFA: a valued opinion
Now president and CEO of parent company Toyota Motor Corporation (TMC), Akio Toyoda is a car enthusiast of the modern era. Unlike his grandfather Kiichiro, who started the company, or his father Shoichiro, he was never trained as an engineer. Instead, Akio (below) graduated from Babson College in the United States with a master's degree in business.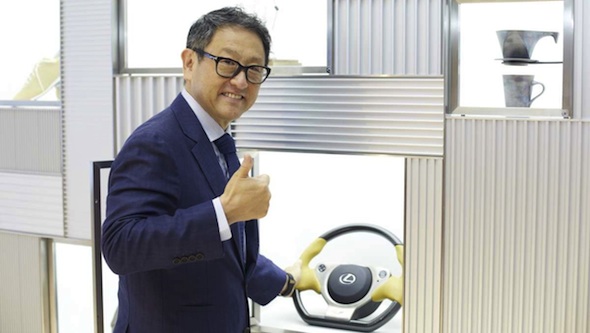 The value of Akio's opinion became instrumental in kick-starting the LFA project
Although Akio's path to the top of TMC may appear to have been set in stone thanks to family connections, the reality was somewhat different. He joined Toyota as a normal recruit, dividing time between the office and production line, being taught the Toyota Way – a combination of respect for people and adherence to Toyota's world-leading manufacturing protocol. The business and processes of car-building were so drummed into the recruits that Akio felt the vital quality of love for cars was almost forgotten.
But this was not something he wanted to forget. Remembering fond episodes from his childhood, Akio recalled with a smile: "My father would bring home all sorts of cars and we would go out and drive them together. From a very early age he always asked my opinion."
Later, the value of that opinion became instrumental in kick-starting the LFA project.
Lexus LFA: birth of Lexus inspires further ideas
In the 1980s, Shoichiro Toyoda and his older cousin Eiji, then president of the company and father of the Toyota Production System, decided to develop the premium Lexus line to challenge the most prestigious car-makers. They wanted to set new standards in automotive engineering and manufacturing.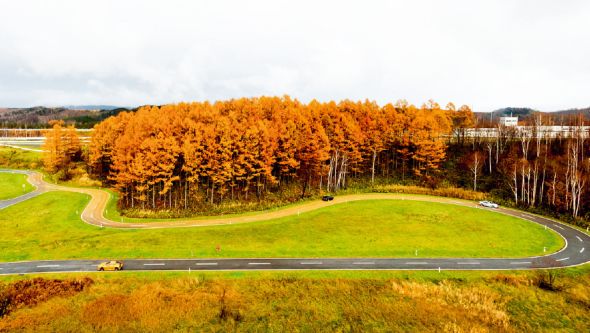 One of the project's investments had been the development of the Shibetsu proving ground (above) on Japan's north island of Hokkaido. Incorporating road surfaces from around the world, high-speed test tracks, a high-speed bowl, and an electronic monitoring system, the facility stirred the imaginations of the engineers privileged to work there.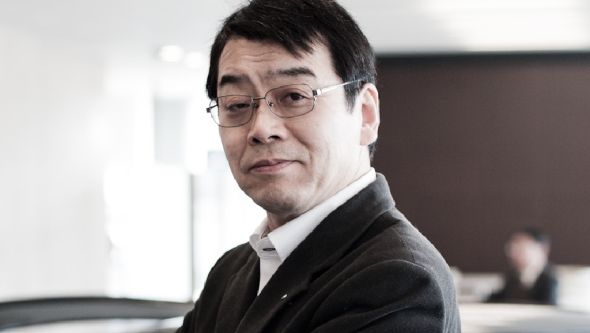 One such man was Haruhiko Tanahashi (above), developer of the ST165 Toyota Celica GT-Four. Having enjoyed using the track one day in 2000, he expressed the thought to a few colleagues that the proving ground would be ideal for developing a supercar. They agreed and immediately started drawing concepts on the closest thing to hand – table napkins. A skunkworks team had been born.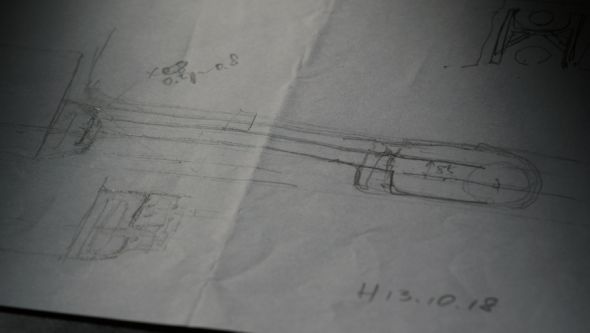 They immediately started drawing concepts on the closest thing to hand – table napkins
With the concept still unofficial, Tanahashi approached TMC's chief test driver and chief test engineer Hiromu Naruse for guidance. Naruse was also enthusiastic about the idea and proposed characteristics that would make the supercar unique. He suggested a front-mounted mid-engine arrangement for perfect balance, and a chassis that would reward the adventurous yet keep the less talented safe. Together they built the blueprint.
But the pair needed to make the project official to receive significant investment from TMC and push it forward. Given the company's focus on volume production, they reasoned that the board of directors was unlikely to have much of an appetite for a high-cost one-off with unique components. So in order to convince them, Naruse suggested taking the idea to his star pupil.
Lexus LFA: the inside man
At that time, Akio Toyoda had been promoted to become director of operations in China. This wasn't a position of immediate influence with the board, however Akio was a member of the Toyoda family and his opinion was widely respected. In addition, Naruse knew from mentoring Akio through driver training courses that he not only possessed a world-class business brain but was a skilled wheelman and talented enthusiast, too. If anyone could get the concept, it would be him.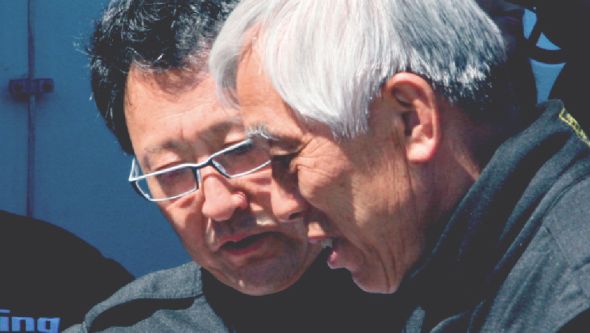 He realised that a halo project like this could influence the rest of the brand
Akio recalls that he was enthusiastic for the project but less certain of where or how this intriguing prospect would fit into the corporation's line-up. So in order to get a clearer direction Toyoda, Naruse and Tanahashi took turns behind the wheel of various supercars to try and understand exactly what made them so super.
"The more I trained, the more I learned, and I began to understand where the vision could fit within Lexus," Akio commented. He realised that rather than trying to make a supercar work with everything else, the project would stand a greater chance of success if the effect was reversed. A halo project like this could actually influence the rest of the brand.
"Perhaps it could be the secret sauce… the secret sauce that flavours every car," he reasoned. From that point on, Akio was committed to the project, lending it his full support.
Lexus LFA: a global brand needs a global icon
Although Lexus had been launched internationally since the LS 400 arrived in 1989, the vehicles had never been marketed under that name in Japan. So when the board of directors decided to introduce Lexus to the domestic market, Akio saw this as his opportunity to propose the idea of a sporting flagship; one that embodied his idea of how an ultimate Lexus should connect with its owner.
Everyone argued against the LFA proposal… it required huge resources
"At a meeting of top management, everyone argued against the LFA proposal. Even people in charge of research and development objected to it," Akio recalled. Despite overwhelming negativity he felt there remained a glimmer of hope, and set out to quantify the potential benefit of a halo model to the board. To do this he commissioned TMC's respected advertising and brand specialist Atsushi Takada to compile a dossier on the subject.
"The LFA was still supported by only a few people," Takada said. "Even the engineers wanted to stop it because of the cost. It required huge resources – all of the components had to be developed uniquely and it would not be possible to repurpose the parts."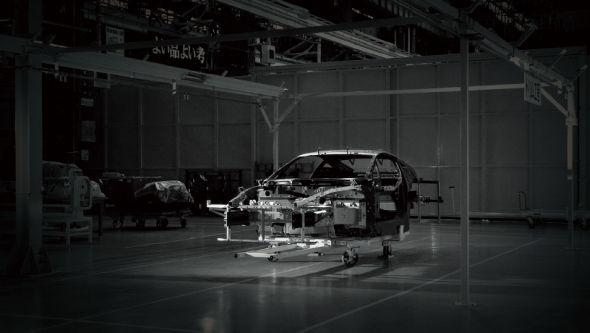 Though difficult to justify, the board eventually agreed that the LFA proposal could not be judged using traditional customer influence analysis and opinion surveys. Finally, in a top-level meeting with around 100 people in attendance, Takada said his piece and left the members with one final thought: "I am just a divisional manager but I think it is worth it."
Later, word came through that Akio and Atsushi had been successful in their pitch. The LFA project was approved but it came with a caveat – total production would be capped at 500 units. While that disappointed some, Tanahashi in particular, the strategy had precedent. Many brands, including Ferrari and Toyota itself, had benefited from the exclusivity of low-volume models.
Lexus LFA: no expense spared
The first LFA prototypes were completed in June 2003, and chief engineer Haruhiko Tanahashi ensured that Akio Toyoda was always the first test driver. "He may not be an engineer," Tanahashi commented, "but he knows what he likes and doesn't like, and he is enthusiastic. Once he gets behind the wheel it's hard to get him out; you have to show him the flag!"
Promoted in 2005 to the position of vice president of product planning for all vehicles, Akio knew that to stand any chance of LFA being a success, it had to remain true to the concept originally conceived by the skunkworks trio. Compromises were avoided at all costs, which meant committing to the sort of expenditure that went way beyond typical practices at TMC – beyond even the technical abilities of the company at the time. No wonder the final cost of the LFA project remains top secret.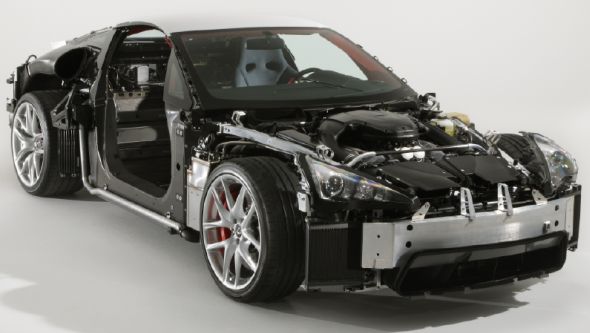 No wonder the final cost of the LFA project remains top secret
At one point, the pair had to decide between using aluminium and carbon fibre for the chassis. They both knew the latter material was lighter and stronger, and that using it would enhance the car's rigidity. Akio had driven prototypes with both chassis and to him the decision was obvious, but the company's Motomachi Plant where the LFA would eventually be built had no experience in composites.
The decision to go with carbon fibre significantly increased pre-production development time. But over the next few years, that extra time was put to good use.
Lexus LFA: the breeding ground of greatness
Chief test-driver Hiromu Naruse strongly believed that great cars are developed through road racing, the ultimate facility being Germany's world famous 12.9-mile Nürburgring Nordschleife circuit. Akio was similarly enthralled by this challenging loop of 170 corners around the natural amphitheatre of the Eifel mountains, and with over 100 laps under his belt was already something of a Ring Meister.
In 2007, Toyoda and Naruse decided to channel this enthusiasm for motorsport by starting a race team – Gazoo Racing. Its primary focus was to compete in the gruelling ADAC Nürburgring 24 Hour using racing prototype versions of the LFA. It was hoped that lessons learned in this endurance race would directly assist the later stages of the car's development.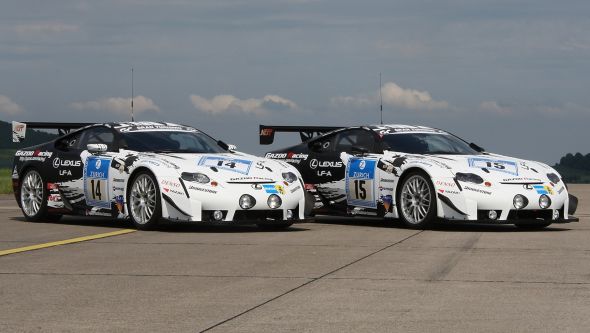 Naruse believed that great cars are developed through road racing
Gazoo's first entry in the 24-hour event was in 2009, for which Naruse assembled two LF-A concepts and a troupe of respected racing drivers. But there was widespread debate about the true identity of one particular racing driver, known only by the pseudonym Morizo – the quirky cartoon mascot of the World Expo in Aichi, Japan.
"I would have been harshly criticised if I'd used my own name," Akio revealed. "Not by other competitors but by the board." This was no flight of fancy, however, as he went on to explain: "It was about seasoning the car. I needed to develop my own senses to build a better car."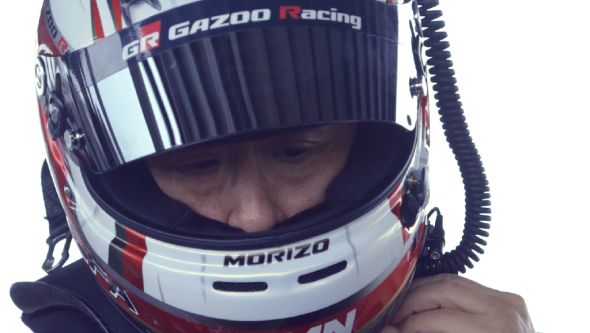 Neither Morizo nor the LFA have ever won the Nürburgring 24 Hour outright, although in 2012 and 2014 LFAs claimed much-deserved class wins. Instead, Gazoo Racing has achieved something more important in the grand scheme of things: it made Lexus come alive in the eyes of motoring enthusiasts and revealed a company president that is a confirmed petrolhead.
Admittedly, Akio's insistence on personally track-testing in the heat of competition continues to drive the shareholders crazy. "At every stockholder meeting I was asked if it is safe for the president to race," commented Kiyotaka Ise, Lexus chief executive at the time. "I said we make it as safe as it possibly can be. His racing is good for the brand."
Lexus LFA: a bittersweet arrival
On 5 August 2009, Akio Toyoda, the newly appointed president of TMC, used his speech at the Centre for Automotive Research in the United States to formally announce limited production of the Lexus LFA. A little over a year later, on 15 December 15 2010, the first car rolled off the Motomachi production line in a special ceremony attended by Akio, Lexus brand ambassador Riyo Mori (Miss Universe 2007), and 150 team members from the development and manufacturing divisions.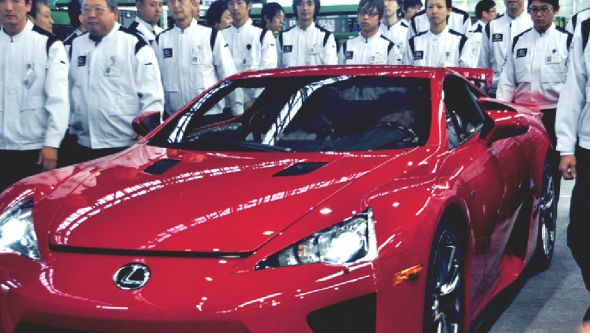 This gala event was a joyful occasion, the culmination of many years of hard-fought personal and engineering battles, but it was also a bittersweet time.
Almost six months previously, Akio had received an early morning phone call that chilled his soul. It brought news that his dear friend Hiromu Naruse (below) had been tragically killed in a road accident driving away from the Nürburgring where he had been testing. He was 67 years old.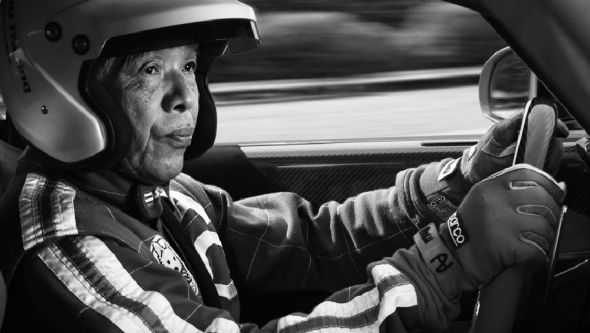 Akio was devastated and to this day remains emotional when recalling the loss of his friend and mentor. "In terms of our product development he was my right-hand man. Without him I felt so lonely," he commented. Unfortunately, this was not the end of the tragedies.
Akio is determined to continue encouraging the love of cars within the corporation
"Weeks after Naruse was killed I lost my left hand as well," he continued. Takashi Hata, a contemporary confidante and managing officer of the company, succumbed to a degenerative bone disease. Alongside Akio, Hata's potential had been identified early in his career at Toyota. "Together we had decided to make this a single, united company that built great cars."
Despite these losses, Akio has ensured that this same agenda remains. He is determined to continue encouraging the love of cars within the corporation, rather than just their efficient production. The Lexus LFA became the symbol of this aspiration, and holds incredible significance within a transformed TMC. With Naruse in mind, president Toyoda signed off on making a limited run of 50 Nürburgring Edition models that were even more powerful and responsive.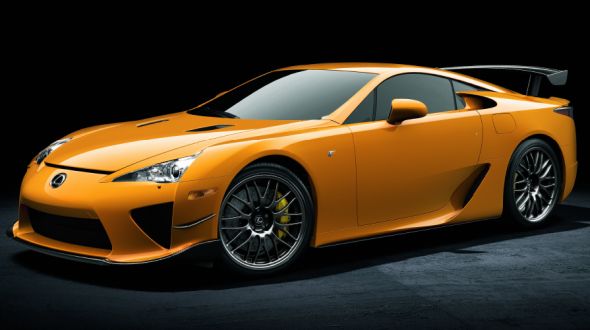 Lexus LFA: the end of an era?
On 14 December 2012, LFA production came to an end with this white Nürburgring Edition below. Five hundred cars had been built in two years – a production rate of one per day.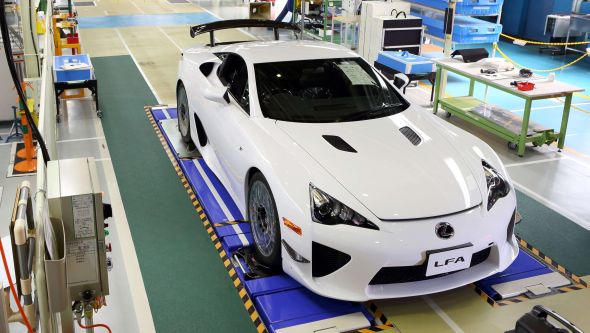 The LFA had served as a catalyst to streamline engineering and product development within TMC. It revolutionised the Toyota Production System, and empowered engineers and designers to think more creatively and forge closer cooperation with their colleagues in production. And what's more, Lexus had developed a world-beating supercar that inspired people in new and exciting directions.
In 20 years time we will come up with another new supercar
Interestingly, there is a great appetite within Lexus to build another LFA but the president is circumspect in his reply to that matter. "In Japan there is the Ise Shrine," Akio says. "It is rebuilt every 20 years as part of the Shinto belief in the renewal of nature. The purpose of its rebuilding is to pass on skills to a new generation.
"In the 1960s we built the 2000GT sports car. In the 1980s we had the Supra. In 2000 the 20-year cycle should have continued but too many people at the time were interested in volume and sales, not in a special car. So we missed the turnover and now it has been 30 years. We will never catch up but in 20 years' time we will come up with another new supercar. It will serve as a challenge for the next generation."