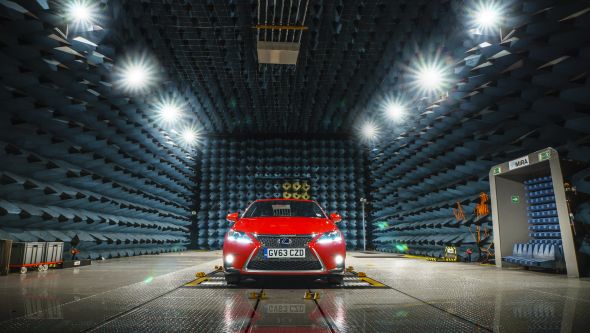 What makes the Lexus CT 200h such an outstanding performer in independent noise and refinement tests?
To help demonstrate, we placed our CT 200h in the laboratory environment of a semi-anechoic chamber – a room that is as devoid of outside noise and reflected sound as a cave is devoid of light.
With the CT's wheels fixed to rollers, we were able to run it at different speeds and use special analysing equipment to quantify how much noise the electric motor, petrol engine and rotating tyres produce.
[youvid embded='t' vid='8kqBsIVw2d8′]
Under the propulsion of the electric motor alone, low-speed movement was the decibel equivalent of whisper-quiet, with most of the noise coming from the gentle hum of each tyre's adhesion to the surface of the drum. Naturally, the noise level increased as the speed rose and the request for more power forced the petrol engine to cut in. Even then, however, decibel levels barely rose above the noise of distant traffic and conversational speech.
Since the launch of the flagship LS 400 in 1989, quiet performance has been at the core of Lexus hybrid and luxury models. A result of the manufacturer's insistence on minute machining tolerances, aerodynamically efficient designs and painstaking construction, silence is engineered in from the outset.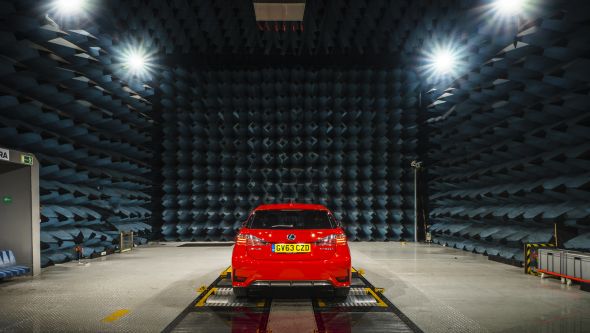 While those who like the sound of sportscars are looked after with the incredible LFA and RC F, nowhere is the hushed experience of driving a Lexus better illustrated than in models equipped with Lexus Hybrid Drive. This dual-source petrol and electric powertrain actively combats noise pollution – as well as unnecessary fuel use – by being able to run exclusively on an electric motor for a period of time.
Independent tests frequently substantiate this fact, consistently placing Lexus hybrid models at the top of their class for noise and refinement levels. For instance, the Lexus CT 200h was the first car to be awarded the prestigious Quiet Mark, recognition from the UK Noise Abatement Society for its contribution to an improved aural environment.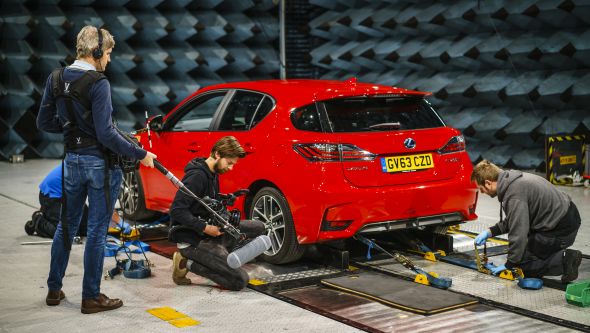 In previous reports we have used high-sensitivity microphones and the trained ears of sound engineers to comment on the lack of wind noise heard in the CT 200h's cabin, the solid sound of its doors closing, and the near-imperceptible arrival of the hybrid petrol engine while moving. But for this post we wanted to concentrate on the noise impact of the model from an external perspective.
Standing in a semi-anechoic chamber makes you realise just how much background noise we put up with in our everyday lives. And with this test it also made us realise how much more peaceful our lives could be if everybody drove a Lexus CT 200h.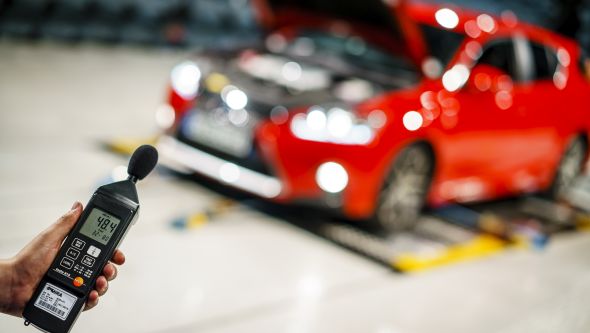 See also:
Lexus CT 200h – the strong silent type
Lexus CT 200h – quietly motivational
Lexus CT 200h and the sounds of success
Lexus CT 200h: Reviews round-up