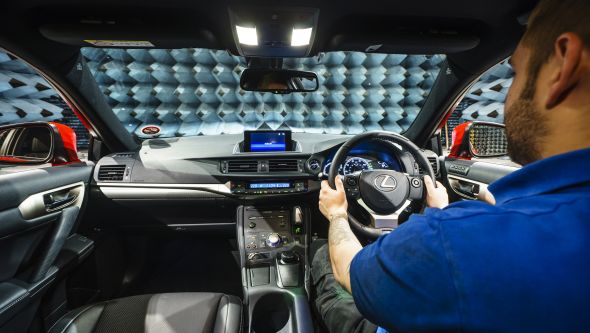 Having used a laboratory-like environment to discover how quiet and refined the CT 200h is from an external perspective, we now look at the foundation of these qualities — the detailed attention Lexus invested in the construction of the vehicle's bodyshell.
The design of the bodyshell is critical to the overall driving experience of any car. In that respect, CT 200h is built on a rigid platform that features a strong percentage of high-tensile steel, a higher than average number of spot welds, and the application of structural adhesive technology pioneered on the flagship LS. It also includes a number of exclusively developed body, chassis and powertrain control measures.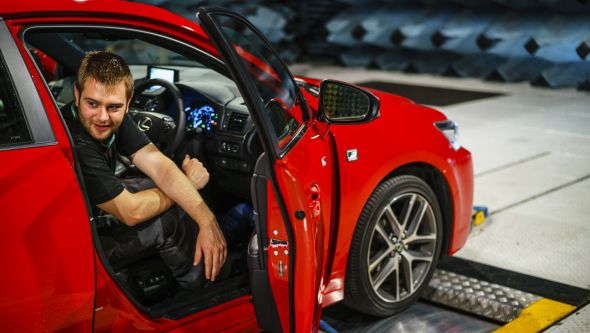 Sound absorbing and insulating materials are used throughout the engine bay, bulkhead, floor panel and cabin. Special separators are inserted between the inner and outer front wings to prevent road and engine noise from entering the cabin, and wheel arch liners are used on all four corners to add an extra layer of sound deadening.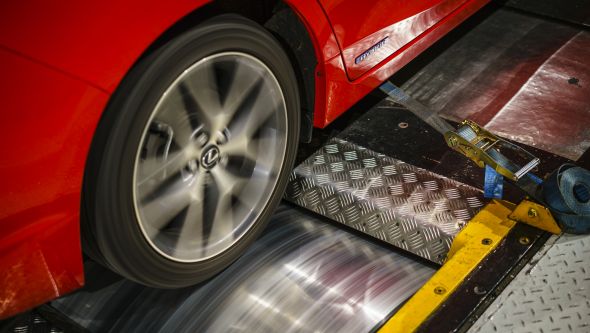 Resonance between panels is minimised through the strategic placement of foam-based sound insulation in areas such as the pillars and door sills, while other cavities in the bodyshell are filled with sealant and urethane foam. Damping channels are fitted in the beltline of each door window, increasing the rigidity of the glass and enhancing its seal against noise penetration.
Further measures around the glasshouse include the fitment of an acoustic windscreen, reduced steps between the windscreen, roof panel and rain gutters, additional airflow-smoothing seals between the doors and B-pillar, and a bonnet with a trailing edge shaped to cut air turbulence over the wipers.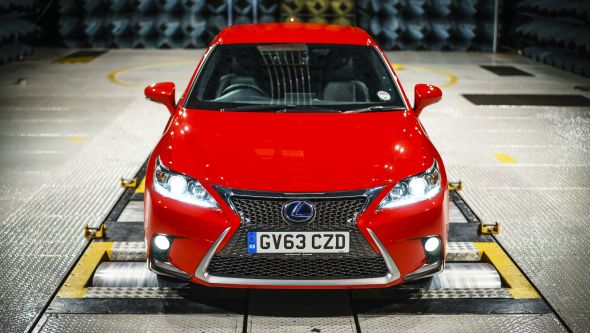 Because any high rigidity body has a tendency to transmit vibrations, the CT 200h is also the first Lexus to benefit from lateral performance dampers. With construction similar to that of a monotube suspension system, these dampers reinforce open elements of the bodyshell, such as across the front suspension towers and each side of the rear structural frame, minimising torsional flex and absorbing fine vibrations. As a result, steering feel and ride comfort is improved, and the level of white noise from the audio system has been reduced.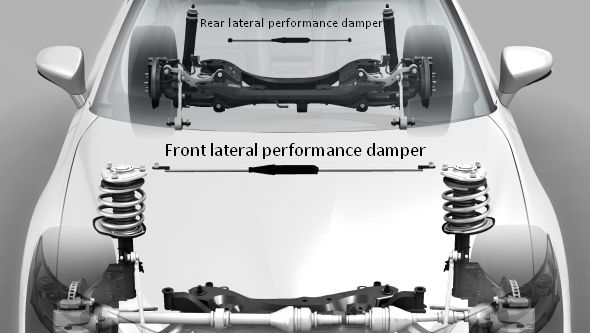 Look out for the next post in this series, when we will examine ways in which the hybrid powerplant also contributes to the outstandingly low levels of noise, vibration and harshness experienced in the Lexus CT 200h.
See also:
Lexus CT 200h – combats noise pollution
Lexus CT 200h – quietly motivational
Lexus CT 200h and the sounds of success
Lexus CT 200h: Reviews round-up