A recent Euro NCAP crash safety report commended the new Lexus IS saloon as a five-star performer, one of the safest vehicles in its class. Crash avoidance technology is an increasingly important part of this independent testing programme but fundamentally it is the task of the bodyshell to protects occupants from harm.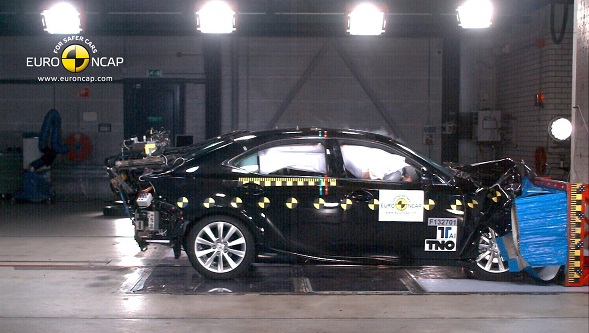 Applying innovations in materials and structure design has allowed Lexus to build-in strength from the very foundation of a car's construction. This, in turn, reaps benefits elsewhere, such as in the performance of the suspension and unadulterated feedback to the driver.
So what is involved in making a bodyshell with class-leading rigidity?
The LFA supercar, for instance, employs an unusually high proportion of carbon fibre in its construction; in fact, 65 per cent of the body by mass. This material was applied in two varieties: as a specially blended carbon fibre-reinforced polymer, and as a fibre painstakingly woven with resin powder. In either form, carbon fibre material has extreme resistance to bending force, and is phenomenally stiff, stable and light in weight. Its properties even made it suitable for certain critical roof and crumple zone components.
As an ultimate material for a cutting-edge supercar, carbon fibre takes some beating, but cost usually puts it out of reach for mass-production. Steel may appear quite ordinary in comparison but by using ultra-strong versions of this material and new construction techniques, Lexus knows that structural steel still has plenty of potential.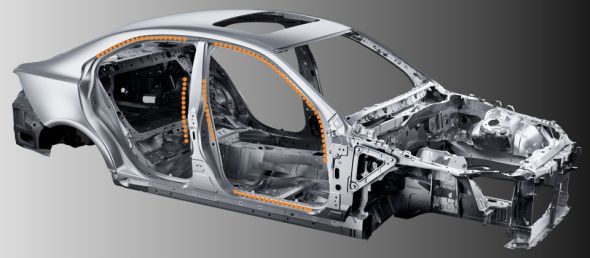 Take the bodyshell of the current IS as another example. It is 10kg lighter than that of the previous generation car, yet is stronger and more rigid too. Some of this has been made possible by new laser screw (see above image) and adhesive bonding (see image below) techniques, not to mention additional spot welding and strategic use of lightweight aluminium for panels such as the bonnet.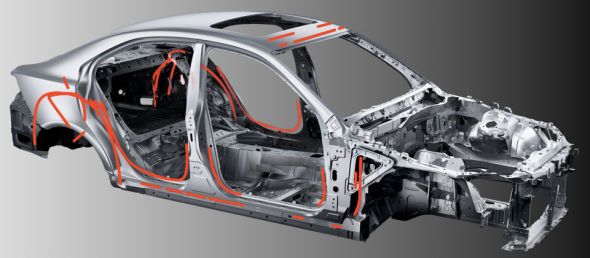 Comprehensive use of hot press sheet steel and ultra-high tensile steel (steel with an exceptionally high yield stress) in critical areas of the body structure adds strength and reduces weight. These materials can be found in the roof centre reinforcement, the pillars, around the inner and outer door structures, the head rails, and resin-filled door impact beams. In some cases, the two steel materials have a symbiotic relationship, in that their individual properties are used within the same area or panel as a way of further optimising crash protection.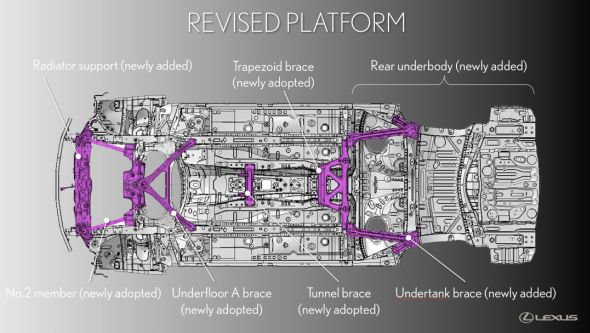 The way the overall structure is carefully put together ensures impact loads are channelled and absorbed to minimise cabin deformation in the event of a collision. For example, the front pillar structure is not only independently braced to another high-strength area but constructed using a two-layer steel laminate designed to split and disperse forces from a frontal impact. Braces are also positioned at both ends of the transmission tunnel to join both left and right sides of the car together.
Such was the engineers' focus on improving side impact protection that the Lexus IS achieved maximum points in the Euro NCAP side barrier impact test and maximum points for the protection levels for both 18-month and three-year-old infants.
Whether in body construction, driving assistance technologies, even autonomous driving technologies, Lexus knows that safety is paramount. Indeed, it is the primary reason why any innovation is introduced to the market.
By choosing a Lexus vehicle you also show that safety is of vital importance to you too.