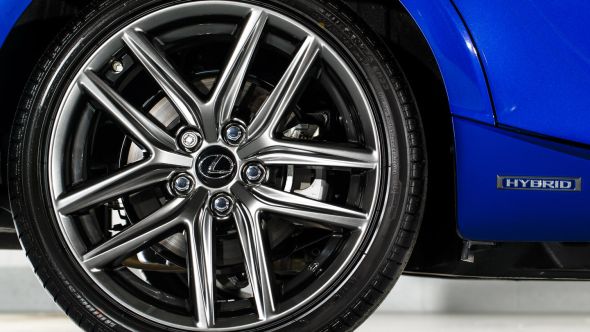 Lexus vehicles are renowned for their use of innovation and technology to improve fuel efficiency and reduce their impact on the environment. This, in turn, makes them kinder on the wallet in terms of running costs and more accessible for company car drivers looking for low tax rates.
But some have wondered why models equipped with identical engines produce slightly different sets of fuel economy figures and emission level outputs. For example, the official combined fuel consumption figure for the Lexus IS 300h ranges from 60.1 to 65.7mpg, and the CO2 output starts at 99g/km and rises to 109g/km. All the while, power output from the 2.5-litre hybrid engine remains constant at 178bhp.
A browse through the technical specifications of the IS 300h reveals that the differences are directly related to the four trim levels. Entry-level SE trim is the most efficient, Luxury trim sits in the middle ground in terms of cost and efficiency, while high-spec F Sport and Premier trims share identical figures at the other end of the (admittedly still highly impressive) efficiency scale.
Can the difference in figures be attributed to the weight of additional equipment in models with higher specification levels? Not entirely.
Weight plays an important part but a closer examination of the specification reveals that the IS 300h is equipped with three different wheel and tyre sizes depending on trim level. SE grade comes with 16″ alloy wheels, Luxury grade comes with 17″ alloy wheels and larger tyres, and F Sport/Premier grades feature 18″ wheels and proportionately larger tyres once again.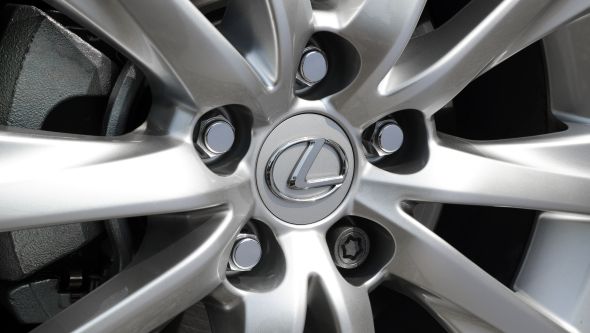 Interestingly, irrespective of the wheel diameter fitted, the rolling circumference or overall height of these three configurations remains identical.
What does increase with each permutation, however, is the unsprung weight of the vehicle; in other words, weight that is not held aloft by the vehicle's suspension. Alloy is usually heavier than rubber, so altering the proportion of metal to rubber within a wheel often increases its overall weight.
Larger wheels also create more aerodynamic drag, and wide tyres generate more rolling resistance than narrower tyres because of their broader contact with the ground. All of which means a greater amount of engine effort is required to turn the wheels and maintain momentum. Now we get to the crux of the matter, that greater effort means a slight reduction in overall efficiency.
So why does Lexus publish a variety of figures for cars within the same model line, when others do not bother?
The answer has to do with homologation, the process of securing legal approval of a vehicle for road use. Makers can choose whether to homologate a vehicle using figures that represent an average across the model line, or the more expensive option of homologating individual vehicles according to trim and power designations.
In an effort to deliver honesty, clarity and welcome tax advantages to the car-buying public, Lexus chooses the latter option. This allows buyers to make an informed decision on whether to opt for ultimate efficiency or efficiency allied to luxurious optional extras and a more aggressive wheel setup.
Essentially, you pay for what you get. There is no need to think that buyers of entry-level cars somehow subsidise those buying top-of-the-range machines.
However, given the seductive allure of larger alloys and the purposeful appearance of an arch-filling stance, Lexus engineers have been busy 'reinventing' the wheel to minimise its effect on a car's unsprung weight. Follow this link to discover more about this technology.