After an online event in 2020, the annual SEMA Show in Las Vegas – the biggest aftermarket car show in the world – was back to normal for 2021. More than 50,000 auto technicians, customisers, restorers, media and other professionals attended the three-day event laid on by the Specialty Equipment Market Association.
Lexus was back, too, with both an official presence and great representation from dozens of tuning enthusiasts who brought their builds to show the Vegas crowds.
Lexus LC 500 Convertible LCRacer
Grabbing the headlines among the independent builds was Gordon Ting's LCRacer.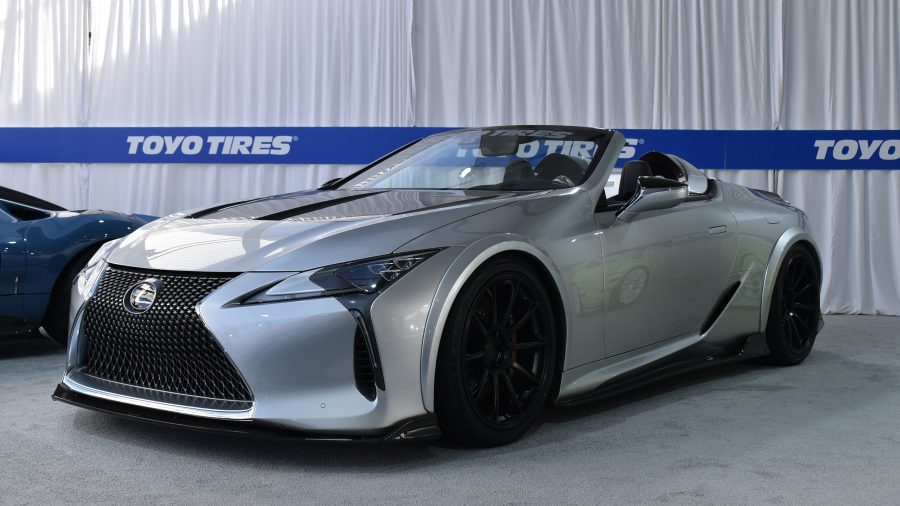 His 18th SEMA project is tuned by Evasive Motorsports and features a prototype carbon-fibre tonneau cover and lower bonnet from Artisan Spirits, custom titanium exhaust, race-spec Brembo front and rear brake kit and a height-adjustable KW suspension. The convertible rides on 21in, forged T-R10 Satin Titanium wheels by Titan-7 and Toyo Proxes Sport tyres.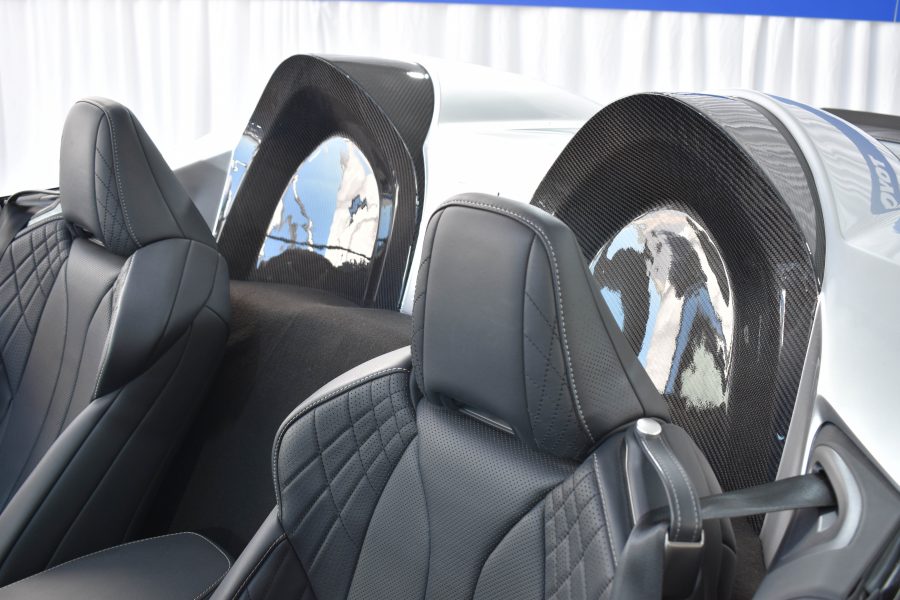 SEMA 2021: Lexus Troopy
What started out as a 1989 70 Series Toyota Land Cruiser 'Troopy' (Troop Carrier) from the Middle East has been transformed into a vision of how a Lexus version of the legendary off-roader might look. It has a rebuilt Lexus 1UZ 4-litre V8 engine swap, 5-speed transmission, 10in navigation screen, heated seats, 20+ exterior lights and an UpDownAir tyre inflation system.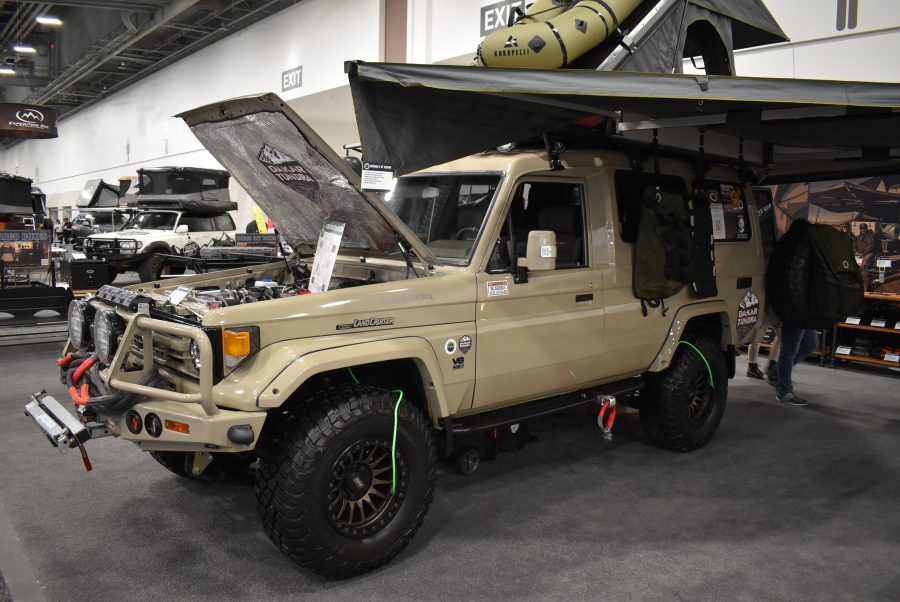 SEMA 2021: 2017 Lexus RC F
Team Hybrid built this colourful RC F, which features products from NRG Innovations including a short-hub, quick-release steering wheel.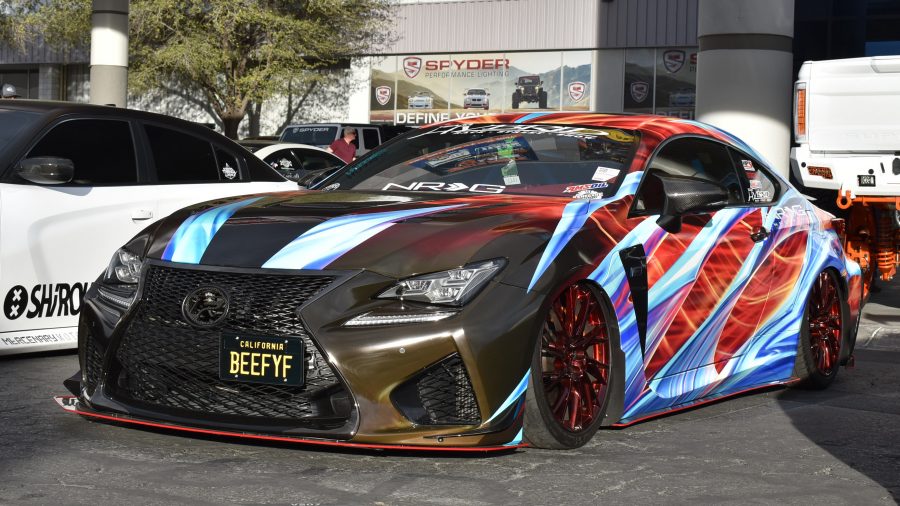 SEMA 2021: 2017 Lexus IS 200t
California-based Sergio Gallardo entered this matt military green IS into SEMA's 2021 Battle of the Builders competition. It boasts an Ascura Garage widebody kit, TTI Motorsport-tuned engine, app-actuated Air Lift 3P suspension and XIX alloy wheels.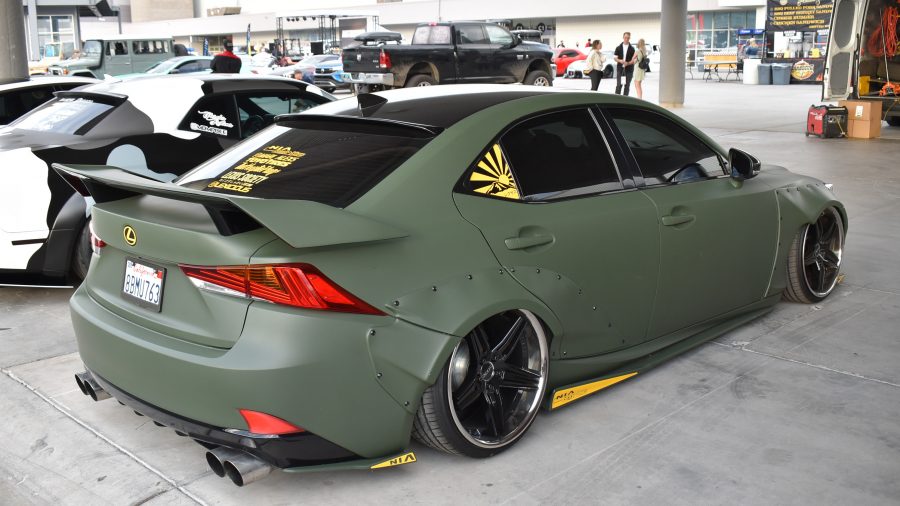 SEMA 2021: 2021 Lexus GX 460
A local Las Vegas GX by Matt Garcia claims to be a full-out overland build that retains Lexus' traditional luxury. The engine is mostly untouched beneath a carbon-fibre bonnet but there are extensive suspension mods for off-road use, rock sliders and a JW Off-Road custom roof rack.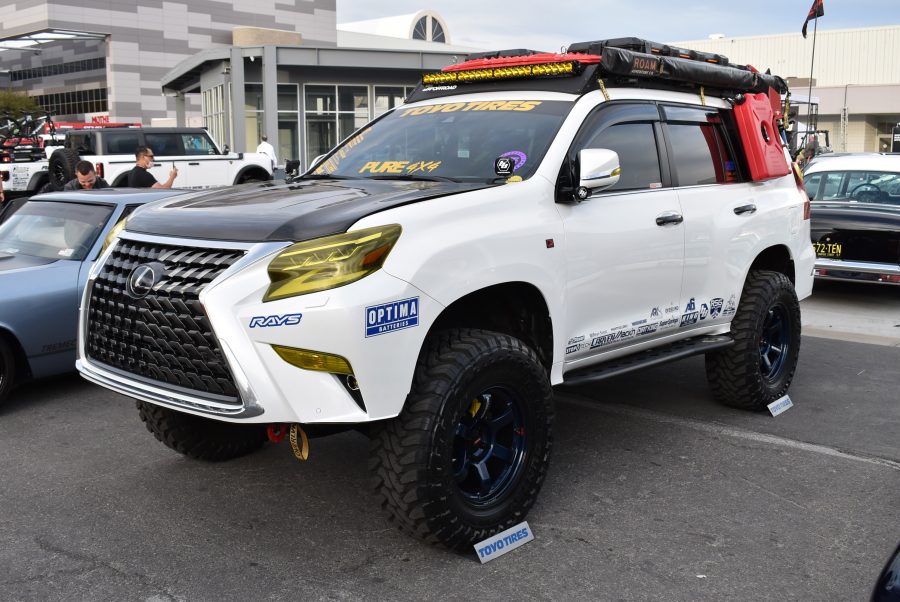 SEMA 2021: 1998 Lexus GS 300 Time Attack
This GS served as owner Mauricio Reece's daily driver until he decided that he wanted a serious racing machine for Time Attack and Pikes Peak hillclimb duties. The result is a stripped-out, caged GS with a huge front splitter and rear wing. Built by Attacking the Clock Racing, it's powered by a dry-sumped, turbocharged 2JZ engine that makes 800bhp.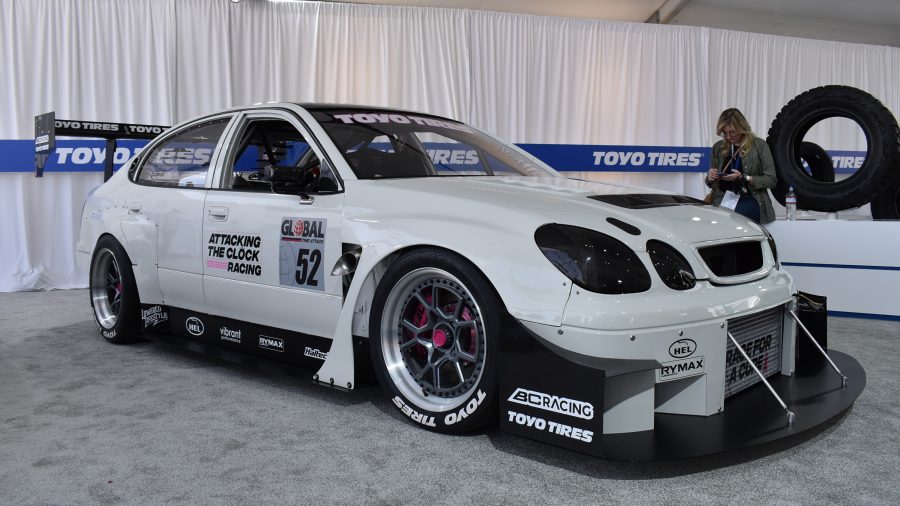 SEMA 2021: Lexus LS 460
This well-known custom Lexus LS 460 is a SEMA returnee. It has AccuAir air suspension, R1 brakes and Toyo tyres.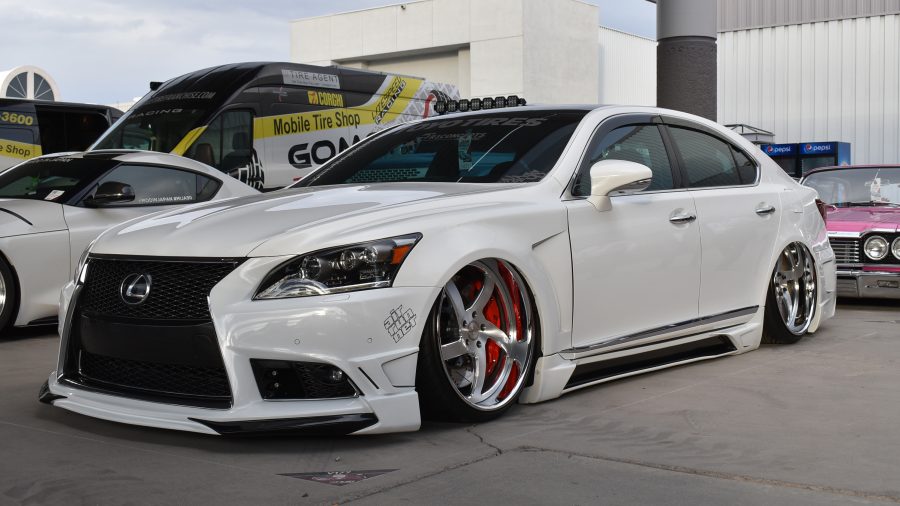 SEMA 2021: 2016 Lexus RC 200t F Sport
This wild, Texas-based 2016 RC 200t F Sport showcased Rohana's RFG10 forged alloy wheels at SEMA. The car has a widebody kit, Voltex Racing wing, RR Racing brakes and a distinctive wrap by WB Installations.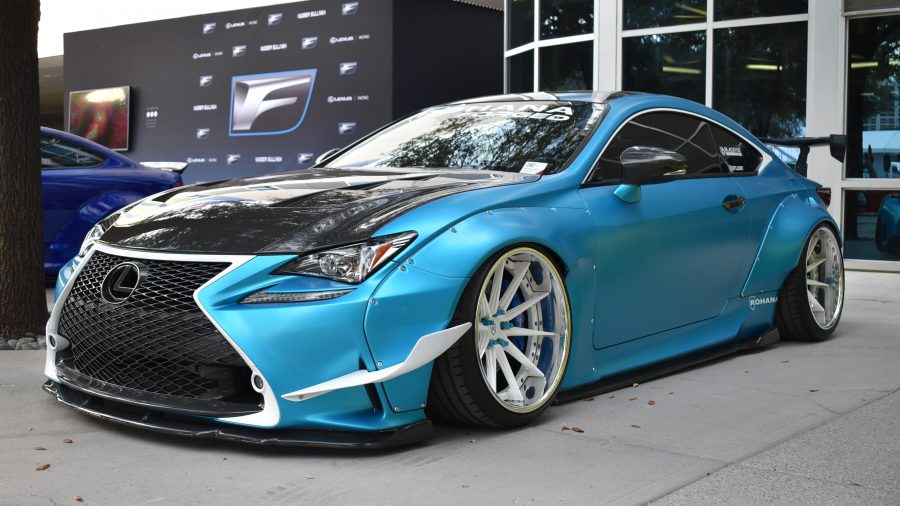 Elsewhere, Lexus USA revealed two concept builds based on the IS saloon and that were completed in conjunction with racing drivers and brand ambassadors, Townsend Bell and Scott Pruett.
SEMA 2021: Hiraku & Townsend Bell Street Performance IS 500
The Lexus IS 500 F Sport Performance goes on sale in the USA for the 2022 model year. To further enhance this 472bhp sports saloon, Bell worked with Hiraku Co on a 3D printed body kit, induction and exhaust modifications, app-adjustable throttle response and Rotiform LAS-R wheels with first-of-their-kind transparent Aerodisc covers.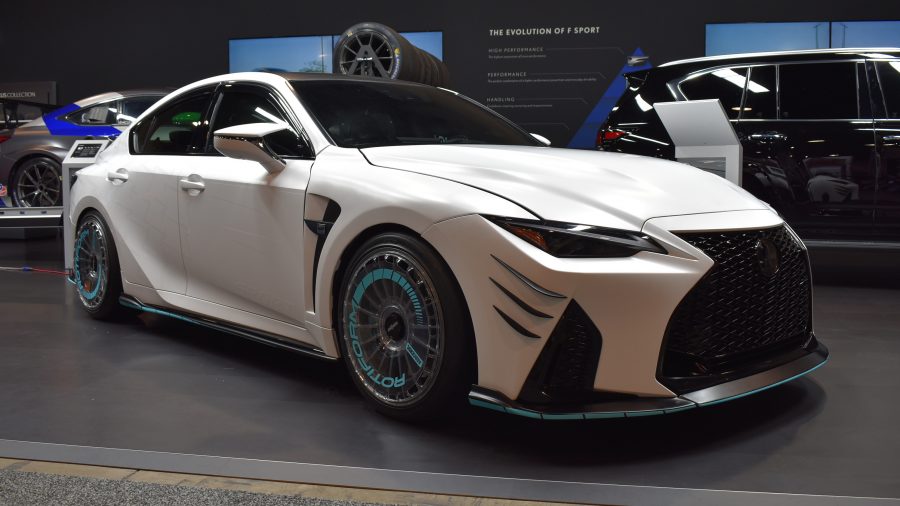 SEMA 2021: DSPORT & Scott Pruett Track Performance IS 350
Meanwhile Scott Pruett teamed up with DSPORT Magazine for the first phase of a longer project to transform an IS 350 F Sport into a dedicated track car. Future phases will double its horsepower but for SEMA 2021 there. was KW Variant 3 suspension, carbon-ceramic brakes and an exterior makeover that references Pruett's helmet colours, wrapped over the global debut of Artisan Spirits' body kit.