We set out to prove that our pioneering Lexus Hybrid systems can continue to be reliable and efficient even after they have seen plenty of years of day-to-day living. To do so, we equipped our 15-year-old Lexus RX 400h with a telematics device and recorded our daily drives, and the results were surprising.
Please note that the results shown below are based on this specific vehicle only. All hybrids of this age will perform differently and results could vary due to a number of factors, including driving style, conditions, speed and vehicle load.
How long does a Lexus hybrid battery last?
All Lexus hybrid models are equipped with a hybrid battery that is engineered to last the lifetime of the vehicle. Our faith in the longevity of this key component is evidenced by including a comprehensive Hybrid Health Check in each regular service programme, which forms the basis for providing the hybrid battery with a warranty for up to 15 years.
Interestingly, the length of this warranty is almost double that of the average age of a vehicle in the UK, and even exceeds the average age of a vehicle that is scrapped in the UK. But while there is a generous maximum age for the warranty, it does not mean that a Lexus hybrid model will come to the end of its usable life at 15 years old. Far from it!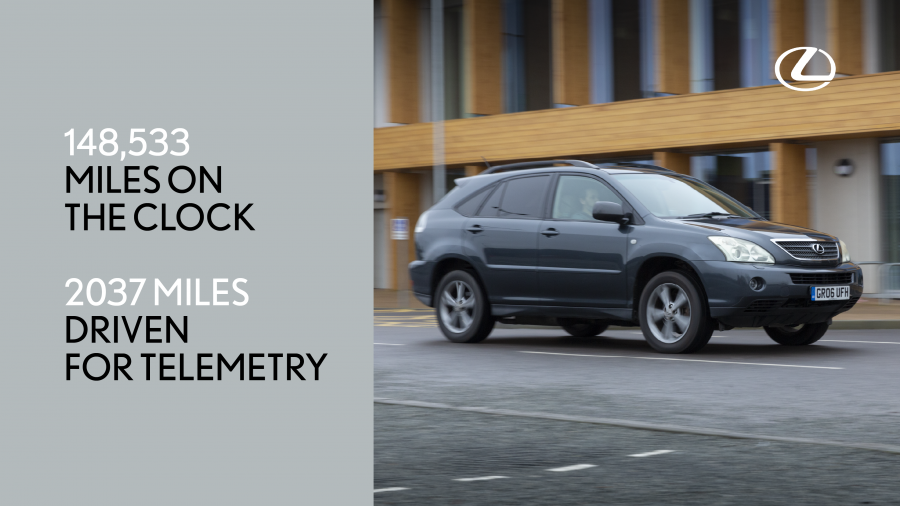 To help prove this fact, the Lexus UK social media team purchased a relatively high-mileage Lexus RX 400h from an independent motor trader in the summer of 2019. Since then, we have taken the 2006 car through a series of health checks, a major service, an MoT test, and treated it to new OEM tyres on all four corners. In between these publicised events, the RX has been used as a support vehicle on photoshoots, a department pool car and even a development mule for the accessories division. The mileage now stands at 148,533, which is roughly equivalent to almost six times around the globe.
Why did we fit a telematics device?
Soon after purchasing the RX 400h, we installed a sophisticated telematics device to capture the driving data of every journey undertaken, irrespective of the distance, road conditions, route or driver.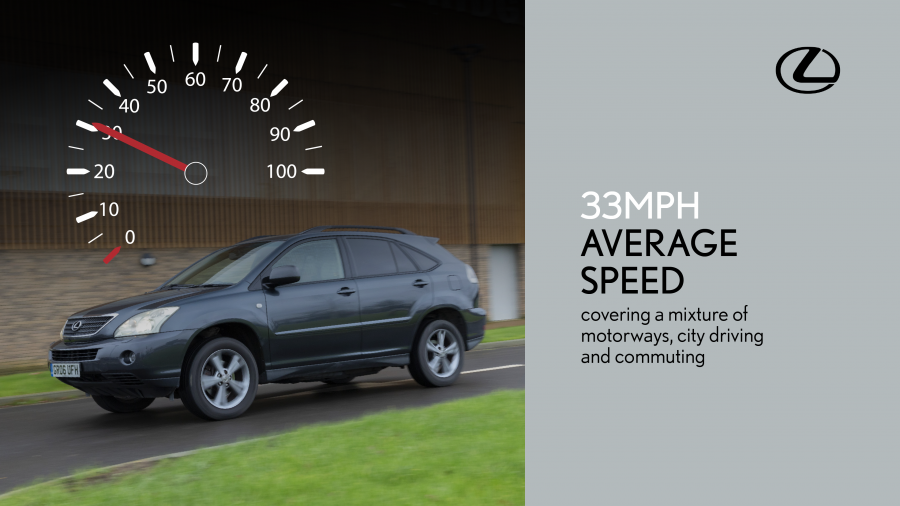 Its combination of GPS and OBD-sourced data gave us detailed information on the effectiveness of the vehicle's hybrid technology in everyday driving. This included not only straightforward parameters such as distance, time and average speed but also the average fuel economy and proportion of each journey carried out on EV power alone.
What did the results of the telematics device show?
Our telematics device recorded over one hundred individual journeys by seven different drivers. The shortest distance was 0.61 miles and the longest in a single stretch was 131.51 miles, all of which averaged out at around 20 miles per journey over a total test distance of 2,037 miles. To put this into context, the average daily commute in the UK is a round trip of 23 miles.
Of greater interest, however, were the figures relating to fuel economy and EV assistance – areas that have a direct bearing on the effectiveness of the hybrid battery and associated hardware.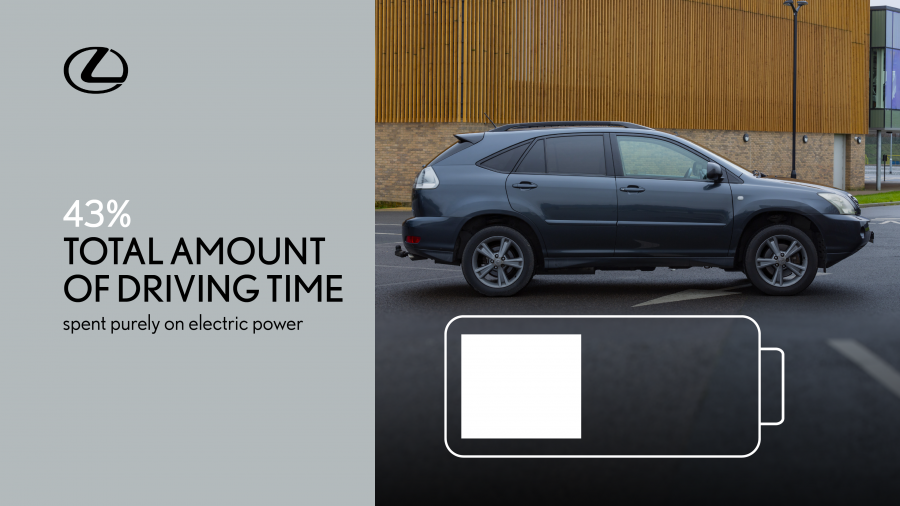 When the Lexus RX 400h was launched in 2005, it offered the lowest fuel consumption in the premium petrol SUV market – a combined figure of 34.9mpg. Incredibly, our data showed that even with intergalactic mileage under its belt, 64% of our journeys exceeded that official figure. The RX frequently recorded economy in the mid-to-high 40s and beyond. In fact, the highest recorded fuel economy was a remarkable 62.3mpg in a nine-minute urban journey over 2.48 miles, where the RX remained in zero-emission EV mode for 79% of the time and 73% of the distance.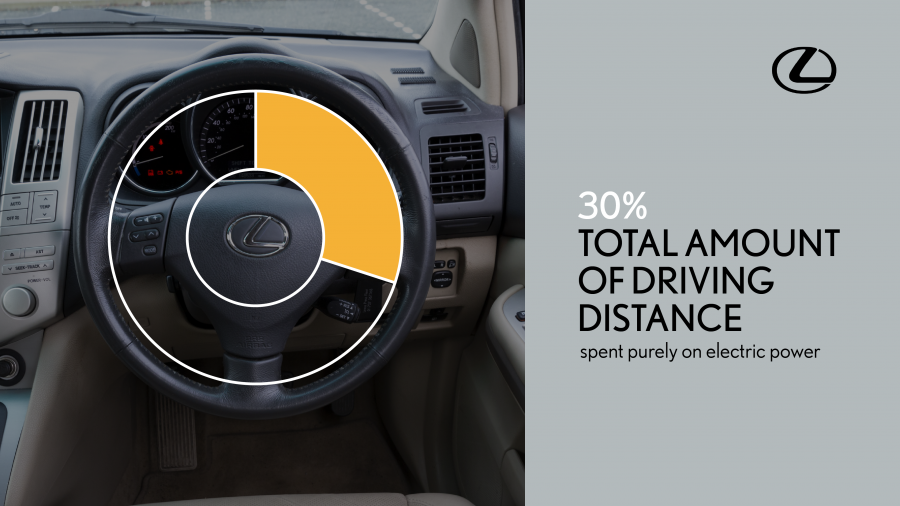 The technology behind Lexus Hybrid Drive constantly looks for opportunities to switch the petrol engine off and rely on pure EV power. This is why the percentage of time spent in EV mode varied greatly, from just 5% to 100%. However, data from across the entire 101 journeys revealed that the RX spent a significant 43% of its driving time purely on electric power, which equated to 30% of the total distance travelled. That's more than 600 miles of silent, luxurious travel using no fuel whatsoever.
What has our telematics test proved about the used Lexus hybrid system?
As you can see from the above infographic images, the results were encouraging and provided convincing proof that the hybrid system in our RX 400h remains fit, healthy and ready for many more years of service: for the lifetime of the vehicle, just as we said at the beginning.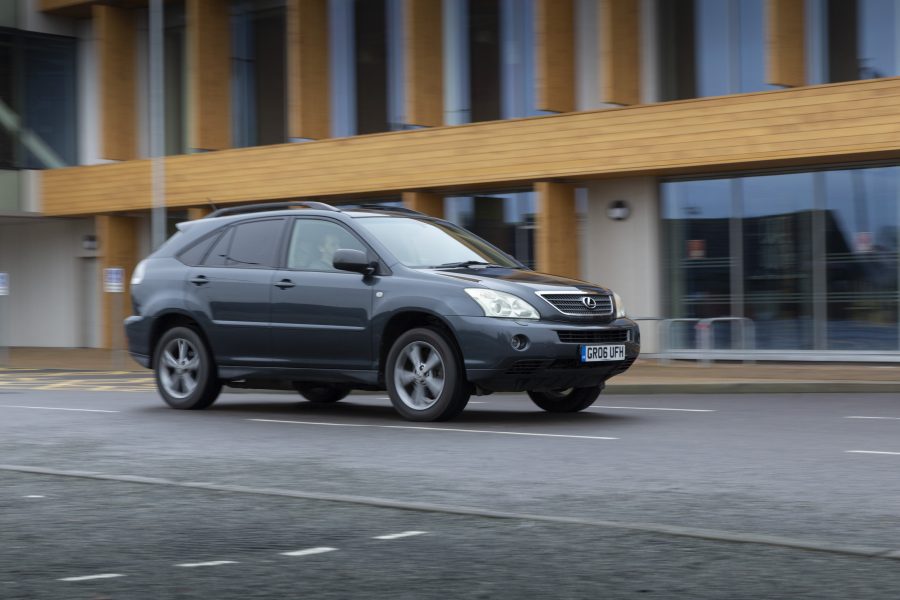 Independent driver surveys have frequently hailed Lexus vehicles as the best-used cars on the market. Our experience with a 15-year-old RX 400h – the first of all Lexus hybrid models, remember – and hard data extracted from its day-to-day use reveals a car that is also reliable, economical and built to last.