Eighteen months ago, Lexus reached the milestone figure of ten million global sales, and this year we celebrated the sale of our five-millionth SUV. Now, following the calculation of September 2020 registration figures, Lexus is delighted to announce that we have accumulated more than one million vehicle sales in Europe*.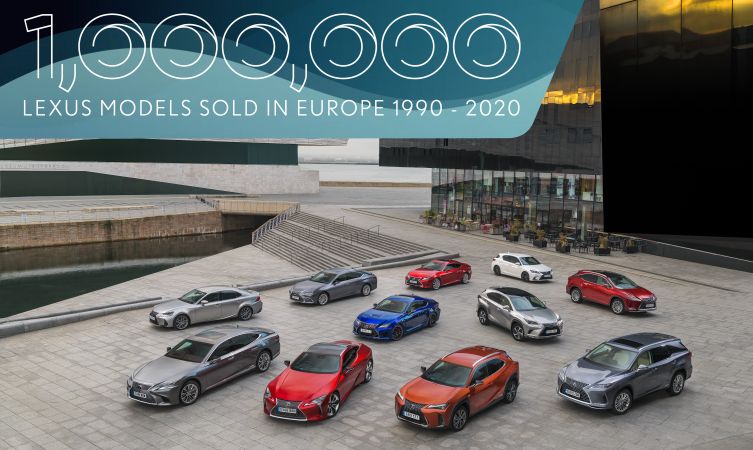 This timely achievement coincides with the 30th anniversary of our launch in Europe, as well as the start of a new era in Lexus history with the introduction of our first battery-electric vehicle, the Lexus UX 300e.
In 1990, just a few months after the brand's global debut in the United States, Lexus launched in Europe with a single model, the LS 400. This luxury saloon redefined the class in terms of performance, efficiency and advanced equipment features, signalling the start of transforming the premium car market. Following the Japanese principles of omotenashi, Lexus simultaneously introduced a new approach to customer care and service that continues to set the industry standard.
Rather than follow established norms, Lexus has always endeavoured to chart its own course, not least in taking the lead in developing hybrid electric power. Since introducing the world's first luxury hybrid vehicle, the RX 400h SUV, in 2005, we have continued to develop the technology to achieve even more outstanding performance, efficiency and driver rewards.
As a result, 45% of the one million vehicles Lexus has put on European roads since 1990 have been hybrids. Today, hybrid models currently account for 96% of our total sales in Western Europe.
Lexus has also closely followed the changing needs and preferences of customers by developing new models that are in tune with market trends. This has brought a focus on SUV crossover models, which now represent more than 80% of our European sales. Of these, the recently released compact UX urban crossover has quickly become the continent's best-seller.
The importance of driver rewards has not been neglected either. This is witnessed in a series of performance-focused models bearing the Lexus F designation, including the hand-built LFA supercar and the RC F coupe, a derivation of which competes in international GT racing. The spirit of these factory specials feeds directly into the standard model range in the form of sports-styled and engineered F Sport versions.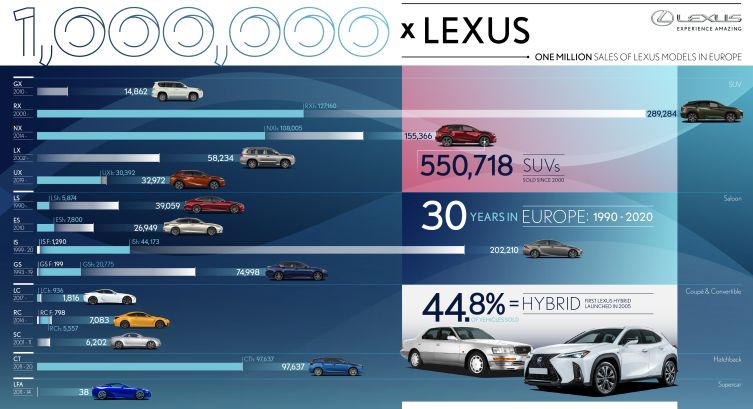 Lexus has also evolved its brand identity beyond the automotive world, such as promoting excellence in craftsmanship, supporting exciting emerging design talent through the international Lexus Design Award and helping its customers discover and enjoy amazing experiences.
Lexus cumulative European sales
European sales figures to the end of September 2020.
LEXUS MODEL

LAUNCH YEAR

UNITS SOLD

LS

1990

35,059

GS

1993

74,998

IS

1999

202,210

RX

2000

289,284

SC

2001

6,202

LX

2002

58,234

GX

2010

14,862

ES

2010

26,949

CT

2011

97,637

LFA

2011

38

NX

2014

155,366

RC

2015

7,083

LC

2017

1,816

UX

2019

32,972

GRAND TOTAL

1,006,710
* Lexus Europe sales include Western Europe (European Union countries, UK, Norway, Iceland and Switzerland), as well as the following Eastern markets: Russia, Ukraine, Kazakhstan, Caucasus region, Turkey and Israel.