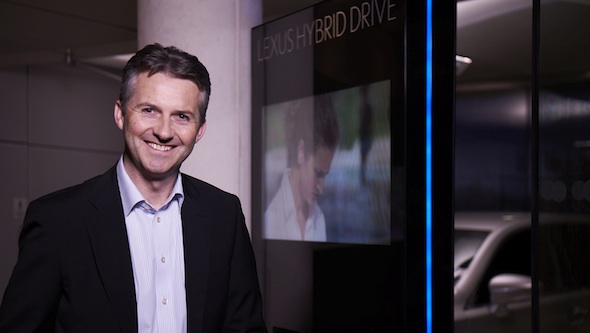 Paul Van der Burgh is Director of Lexus Europe and is the key man in shaping the business, cars and image of Lexus in the UK and beyond.
We set up an exclusive Q&A with Paul this week, using our Lexus UK Facebook page to help us research the questions. Read on to see Paul's answers, as he discusses everything from new models, to Lexus design and production plans, to which Lexus model he's just ordered as a company car…
Lexus Blog: How does it feel to work at Lexus at the moment?
Paul Van der Burgh: I think we're in a great place right now. We have the momentum of new products, we've created some amazing looking, leading-edge concepts that highlight the new Lexus brand direction. We're becoming genuinely different. We also have some very interesting ideas for the future, so I'm really enjoying it!
What do you drive?
I drive the RX 450h, but I have ordered a white IS 300h F Sport.
Nice choice! What's your favourite Lexus concept of the past couple of years?
I loved LF-CC. As a concept it was fantastic because it really brought together our new design philosophy, and led the way to the new IS. I also think the LF-LC is fantastic. Those two coupes really allowed us to demonstrate what our future design direction. The reaction to LF-LC was especially strong, and made people say 'Wow, that's sensational.' That's the reaction we want to create when people see our new cars.
The most provocative concept has undoubtedly been LF-NX. It caused quite a stir, which was our aim, and provides a visible statement about how unique we can be. Our concept cars provide a clear illustration of our new design language and the personality and character that future Lexus products will have.
Is Lexus going to make a car smaller than CT?
That's certainly an interesting sector of the market. We always look at consumer trends and our strategy has been to enter segments where we feel we can deliver a relevant product that's differentiated from our competitors. We've obviously had a strong heritage with hybrid technologies, and in SUV and saloon, but where there has been a clear consumer trend, and when we can develop a product that meets those needs, then we will always look at it – we produced CT 200h in recognition of demand in the compact segment, for example.
Our Facebook fans have some questions for you too. Here's what they wanted to know…
Will there be another LFA? (Noel Farrugia)
I get asked about this a lot… And if you've been reading the news, you'll probably have noticed that our President Akio Toyoda is a real car enthusiast and we do have a lot of car enthusiasts working in Lexus, so who knows what the future might bring? At the moment, though I haven't heard of any plans to bring out another super car in the LFA mould.
Will you PLEASE make a production version of LF-LC with minimal changes from the concept? (Akshay Mahesh)
I can confirm that this is something we're investigating – in terms of our capability to produce a car true to those design credentials. I can also say that there are exciting things coming inspired by LF-LC. Elements of that car can already be seen in our newer models and concept cars. The reaction to the LF-LC has been amazing ever since we launched it, and we can't ignore that.
If you were producing another sports car, would it be in association with BMW? (Mark McAuley)
That's a reasonable question, but this is a sensitive area. We haven't made any announcements on the collaboration with BMW yet, so I can't comment at this stage.
Are we going to see a new Lexus IS F or GS F? (Sam Portez)
With the team we have at Lexus, there's definitely the potential to bring out more exciting, driver orientated products. We've done that with RC Coupe, which could be a great platform on which to investigate future performance models. Stay tuned, I think you'll find we are ready to talk in more detail on this shortly.
Meantime, It's important to remember that a GS F is not something we've had in the range before, and that the GS 450h does actually offer a lot of performance. Is there a market for a GS F? Our customers will be the judge.
Will there be a convertible version of the latest-generation Lexus IS? (Jason Lyons)
That's a great question. We actually see a bigger demand for the coupe than for a convertible, so the reality of the business is that we don't have any plans to bring out a convertible at this stage. I'll let you into a secret – we looked at both body styles and our opinion was that a coupe would have wider appeal. It's important to note that RC is not an IS Coupe though – it is a unique model in itself.
Will there be a tourer version of the IS? (Paul Whittaker)
That's something we offered on the first generation IS, but not for the last model, so it's not on the agenda. To be honest, for buyers wanting more space, there is of a shift toward small SUVs and away from tourers. As we announced last September in Frankfurt, we intend to enter the SUV segment with something smaller than RX to cater for this demand. The LF-NX concept pointed the way.
Why can't I buy an IS350 like I could in the USA? (Colin Hynard)
We only sell that in Russia and some other Central and Eastern European markets, and that is with the AWD system. When we were looking at the IS line-up, particularly for Western Europe, due to the taxation situation in the West, demand for that sort of engine size is very low.
In the past we've focused on the top-end performance IS F version in this segment, with the 5.0-litre model, for example. So, if we assess that there is sufficient customer demand for a higher performance vehicle than the 223 horsepower IS300h, we would look to an F model rather than the 350.
Whose idea was the spindle grille design? (Lasse J. Nordvik)
Good question – the spindle grille came from the Lexus Design Centre. One of the things we're very conscious of is that Lexus is about design, finesse and leading-edge technology, something we describe as L-Finesse.
We wanted to move in a more bold, confident and emotional direction, however, the grille provides a very strong visual design cue and brand differentiator. We have now introduced it across our range, and the latest models have an even stronger and more confident interpretation. Strictly speaking, it's not a spindle, but it is true to the Japanese aesthetic that characterises our designs – bringing together an interesting combination of curved and sharp, straight surfaces.
It's symbolic, and with a relatively low volume of cars on the road, having a strong design and defined road presence creates more of an impact, as well as creating the individual identity that buyers really want.
Does Lexus have any plans for production in Europe? (Erich Kerner)
It's something I think every car enthusiast would like to see happen. However, I have to say, we've no plans for that at this stage. With the exception of the RX, Lexus products are made in Japan and we've invested in very detailed production processes at our plants there. With our volume, it is hard to divide up production in a way that would provide an effective volume in each location. As a corporation we want to build cars close to their market but because Lexus is a relatively young (albeit global) brand, there isn't a huge weight of volume so it makes sense to concentrate production in one place, given our supplier bases and the award winning Lexus plants we have in Japan.
Are there any thoughts about an LS Coupe? (Ken Fisher)
The LF-LC provides an insight into what a high-end Lexus badged coupe could look like… But we don't have any plans for an LS Coupe right now.
Thanks for your time, Paul.
Thanks to all our Facebook fans who asked a question – sorry we could not answer them all.
Read our previous interview with Paul here.