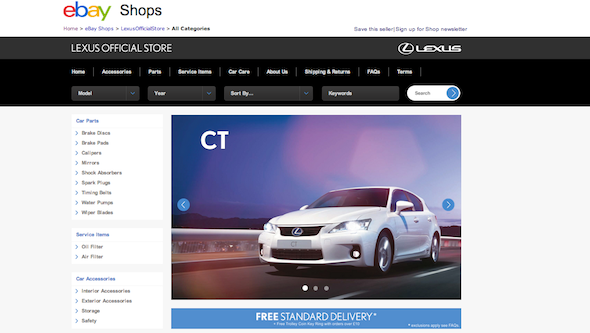 Lexus UK has taken a further step toward offering the perfect car ownership experience by opening an official store on eBay.
The Lexus Official Store stocks genuine parts, accessories, service items such as lubricants, polishes, filters and car care products such as touch-up paint for many Lexus models. The range of products offered will expand over time.
Buying direct from Lexus means you can easily source what you need with confidence, knowing that the product you buy is made to fit or work with your vehicle perfectly.
On top of that, every item you buy through the store is covered by a minimum one-year guarantee, giving you the peace of mind you expect from Lexus. Full details on warranties are available on the 'About Us' page on the store.
Prices in the store are the same as you would pay at your local dealership, but the inventory supports a wider range of older vehicles, typically four to eight years old. The store will add 'click and fit' and 'click and collect' services in association with Lexus centres in 2014.
Steve Settle, Toyota GB's director of customer services, said: "Opening our new e-commerce channels helps us make genuine parts and accessories available to a much wider customer base. Working alongside our centres, they will help us provide customers with an alternative, convenient purchase method."
The store is stocked through the central Lexus distribution centre and can deliver anywhere within the UK. Standard postage service is free (a courier surcharge is payable for delivery to certain areas). Fast delivery options are available if an item is needed urgently.
Visit the Lexus Official Store on eBay at stores.ebay.co.uk/LexusOfficialStore/.