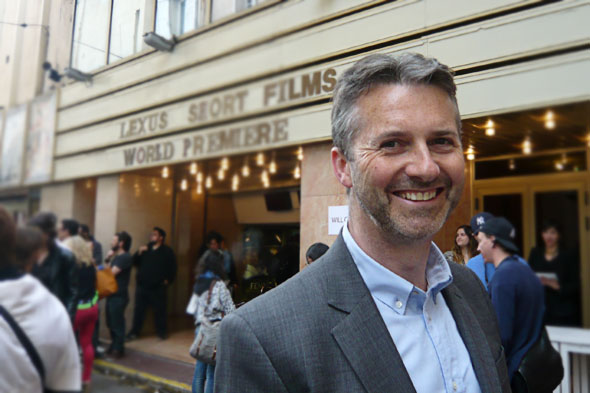 There's a twinkle in the eye of Paul Van der Burgh on the day of our interview, writes Guy Bird.
He's a no-nonsense 48-year old from the North East of England, but we're at the world-famous Cannes Film Festival in the South of France and Hollywood superstars Clive Owen, Naomie Harris and Zoe Saldana have just walked into the inaugural Lexus Short Films premiere – something Van der Burgh helped make happen.
But this is only the 'icing' part of the cake. It's the culmination of endless meetings and negotiations that took months of planning and represents just a small part of the big drive to boost and change the profile of the Lexus brand and its products. Why did Lexus specifically chose to sponsor world-famous cultural events like Cannes and Milan Design Week though?
"One of the challenges is to break through the awareness gap and get people talking about the brand", explains the Tynemouth, Newcastle-born Van der Burgh, in his strong but calm Geordie accent. "The sort of activity we're doing now at Cannes and Milan creates those discussion points. We want a dialogue with a broader audience – to create an emotional connection – that's why we chose to involve Lexus in design and the arts. It's a very different approach for us."
Lexus's European director since 2011, he's aware the brand still has work to do in order to compete with the more established premium car brands with longer histories to draw upon, but he's confident about Lexus's current and forthcoming products.
"Brands take quite a long time to change direction. The CT allowed us to re-position. It gave us an awareness among younger and more female buyers with a more affordable model. The GS was the first full interpretation of our new look and now the IS is coming along. Each product allows us to connect to a wider audience. I'd say we're about a third of the way along the journey. That said, we've renewed our whole line-up in the last 24 months, the hybrid range is now complete, and in the 'CO2 discussion' we have a competitive product in all the main segments for Western and Eastern markets."
Along with the promise of improved driving dynamics trickling down from the LFA supercar plus stronger and more emotional designs like the IS, Lexus's products seem to be gaining momentum. And from Milan to Cannes plus its first major presence at the Goodwood Festival of Speed in a month's time, the way people like Van der Burgh are telling those product stories is changing too. 40 years as a passionate Newcastle United football fan and a keen helicopter pilot to boot, he could be like just the sort of competitive and ambitious man Lexus needs to steer the brand in its exciting new direction.
Biog
Guy Bird is a freelance writer and editor specialising in cars, design and art for the likes of Esquire, CAR magazine and Wallpaper*. He attends the world's auto shows from Paris to Tokyo and has road-tested the vast majority of vehicles available in the UK over the last 18 years. www.guybird.com