The new Lexus UX 300e is not only our first battery-electric vehicle (BEV) but the first production model produced under the Lexus Electrified strategy.
Originally revealed at the 2019 Guangzhou International Automobile Exhibition, the UX 300e was given its European debut at the Kenshiki Forum in Amsterdam in January. The new BEV is scheduled to go on sale in China and selected European markets later this year and in the UK by 2021.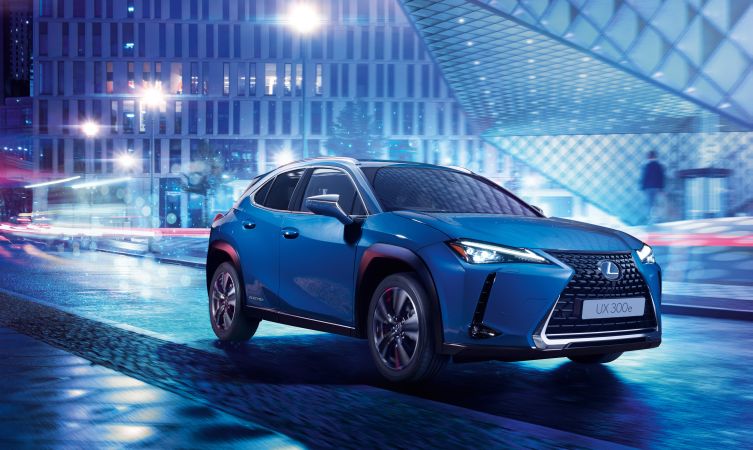 Lexus UX 300e: principal features
Developed for excellent on-road performance, our engineers have preserved the distinctive design and convenience features of the Lexus UX compact SUV. They also focused on the opportunities to build on the performance advantages that are unique to EVs, thereby holding true to our 'yet' philosophy.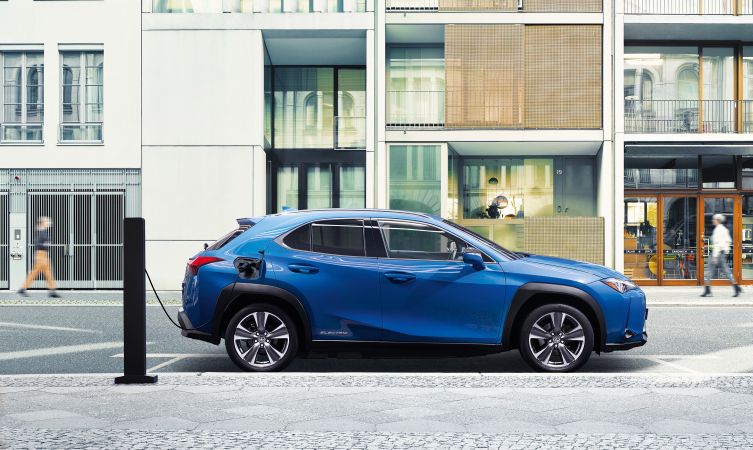 In these respects, the high-output, 150kW/300Nm motor of the new Lexus UX 300e provides natural yet brisk acceleration, the precise delivery of which can be modified through the Drive Mode Select function and four levels of deceleration and regeneration management.
The model's high-capacity, 54.3kWh lithium-ion battery is located directly beneath the cabin floor to ensure a low centre gravity as well as optimum front/rear weight distribution. Similarly, the strategic application of additional bracing and special shock absorber tuning to match the dynamic nuances of an electric car, have served to enhance the car's already high-performance GA-C platform.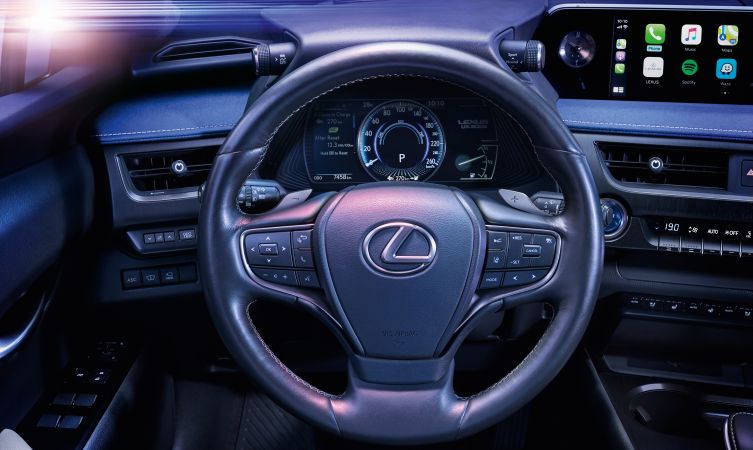 While EVs are naturally quiet in operation, the UX 300e goes further by adding insulation to suppress noises that would otherwise be noticeable in the absence of an engine and transmission. Engineers also addressed the sound generated when the vehicle is driven. Active Sound Control is used to transmit natural, ambient sounds to communicate driving conditions to the vehicle's occupants. Nevertheless, the UX 300e will offer one of the most tranquil cabin environments in its class.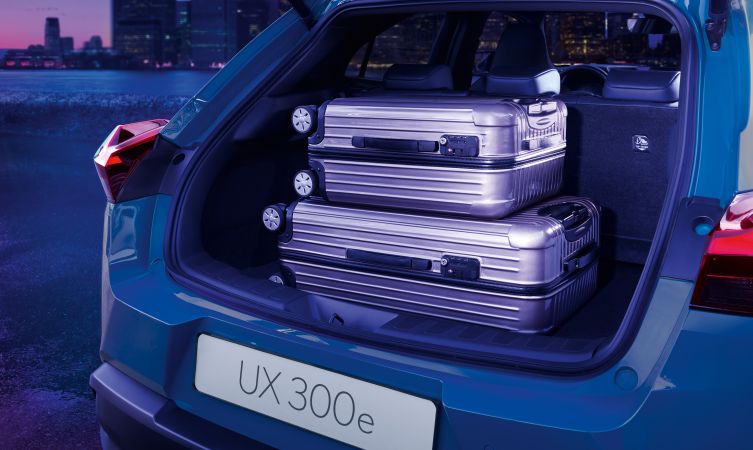 Lexus UX 300e: reliability and hybrid heritage
The knowledge we have gained from more than 15 years of industry-leading hybrid systems was applied in the development of the new Lexus UX 300e. This experience directly assisted us in maximising the efficiency of the motor, inverter, gears and high-capacity battery – in fact, the performance of the entire system – to deliver an anxiety-free driving range. The UX 300e achieves a range of 249 miles/400km in the correlated NEDC cycle, corresponding to a more than 186-mile/300km target range in the WLTP cycle.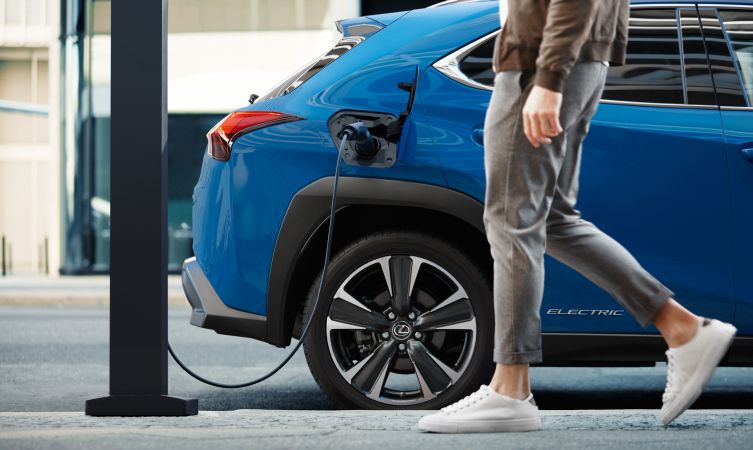 For example, the battery is equipped with a sensitive temperature management system, while further monitoring systems regulate charging and prevent issues related to over-charging. It should therefore deliver outstanding battery reliability.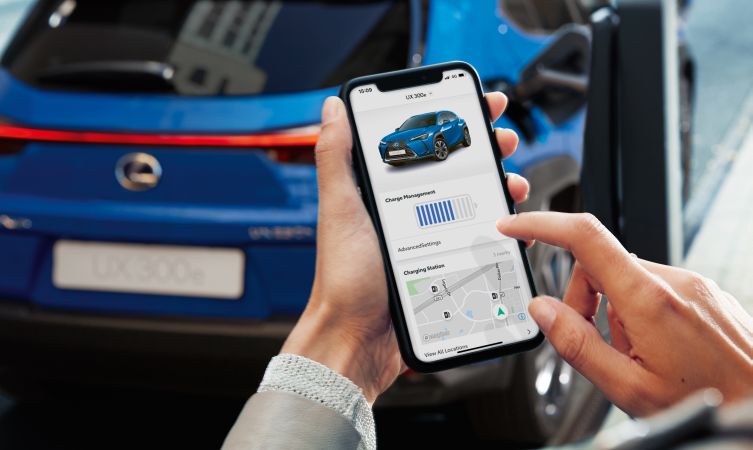 The engineering team has also adopted the latest connectivity technology to maximise the car's everyday usability and functionality. By linking their smartphone with the Lexus Link app, UX 300e owners will be able to remotely check battery charge and driving range.
The app includes further controls, such as a timer to indicate when a full charge will be reached, and a charging schedule for when the vehicle is next expected to be driven or timed to commence when energy prices are low. It will also be possible to remotely tune the cabin climate before you jump in.
Distinctive design and high functionality
Lexus carried over the distinctive styling and high functionality of the UX compact SUV to the new UX 300e, developing new aerodynamic wheel designs and an underbody cover. Locating the shift-by-wire system on the centre console contributes to the simplicity and functionality of the interior.
True to Lexus's prioritisation of new, advanced safety technologies and quickly making them available to customers, the UX 300e is equipped with Lexus Safety System+, helping in the prevention of accidents, injuries and fatalities. At the same time, the development of driver assistance systems helps reduce driver stress and promote a more natural and safe driving experience.
Technical specifications
| | |
| --- | --- |
| DIMENSIONS & WEIGHT | |
| Overall length (mm) | 4,495 |
| Overall width (mm) | 1,840 |
| Overall height (mm) | 1,545 |
| Wheelbase (mm) | 2,640 |
| Loadspace volume (rear seats upright, to luggage cover, l) | 367 |
| Loadspace volume (rear seats upright, to roof, l) | 486 |
| PERFORMANCE | |
| Battery capacity (kWh) | 54.3 |
| Cruising range – NEDC correlated (miles/km) | 249/400 |
| Cruising range – WLTP (miles/km – target) | 186/300 |
| System output (kW) | 150 |
| System torque (Nm) | 300 |
| 0-62mph acceleration (sec) | 7.5 |
| Max. speed (mph) | 99.5 |
| CHARGING | |
| Charging speed – AC (kW) | 6.6 |
| Charging speed – DC (kW) | 50 |
| Charging time – AC (hours) | 7* (200V/30A, estimated value) |
| Charging time – DC (0-80%, minutes) | 50* (max. 125A, estimated value) |
* Dependent on battery temperature, usage history, charging stand (charger) and operating voltage.
All information was correct at the time of publishing.