Our first all-electric model has been engineered to combine world-class refinement and quietness with razor-sharp dynamic performance and a fun-to-drive character. The team behind the new Lexus UX 300e worked closely with expert takumi master drivers to deploy an array of new technologies to define a new Lexus Electrified driving experience.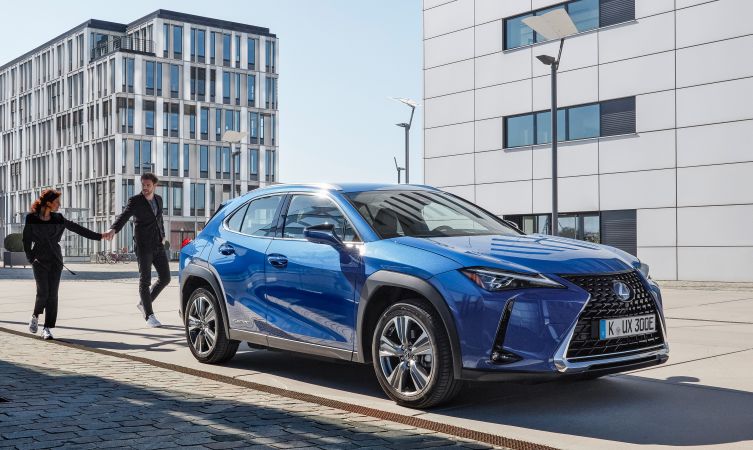 "We've created an electrified driving experience that is unique to Lexus," revealed chief engineer Takashi Watanabe. "The thousands of hours invested by our takumi master drivers have resulted in a dynamic refinement that sets a new standard for the segment."
Below are six key ways this expertise can be experienced in our new urban SUV, due for launch in the UK in late 2020.
Building the 'fun' factor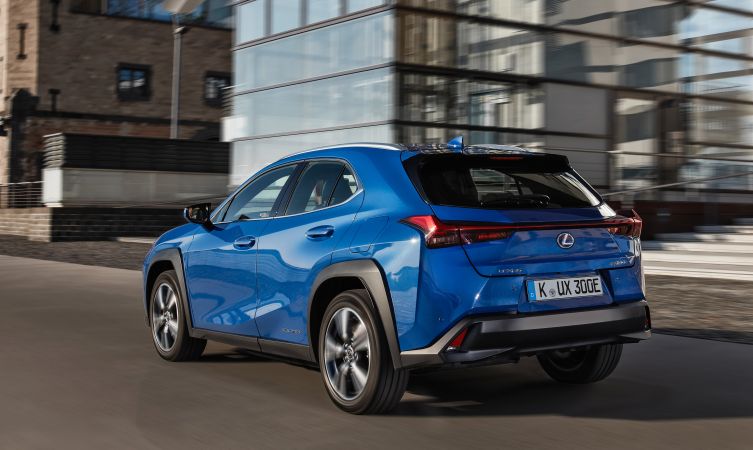 Fun was a key requirement in Watanabe's list of priorities for the UX 300e, an ambition that has delivered a driving quality that is dynamic yet extremely refined. Building on the high rigidity that is a fundamental quality of the GA-C platform, Watanabe ensured the UX 300e possessed a low centre of gravity. This was secured by locating the battery as low as possible within the vehicle body and setting the electric motor low down in the engine bay.
Tuned on European roads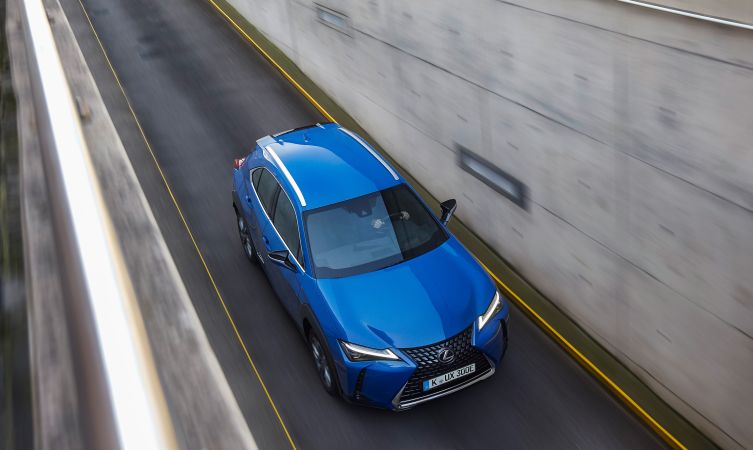 Although initial test drives were conducted by takumi master drivers on roads and test tracks in Japan, the chassis was fine-tuned in Europe. These test sessions led to the development of bespoke shock absorbers for the UX 300e, calibrated to produce a linear steering feel, damping rate, and precise control of vehicle posture.
With unrivalled experience of the full range of Lexus vehicles, the takumi provided detailed feedback that prompted valuable adjustments. These included the addition of a reinforcement brace between the steering gearbox and front suspension to generate a precise and more immediately responsive steering feel.
Bespoke brakes and tyres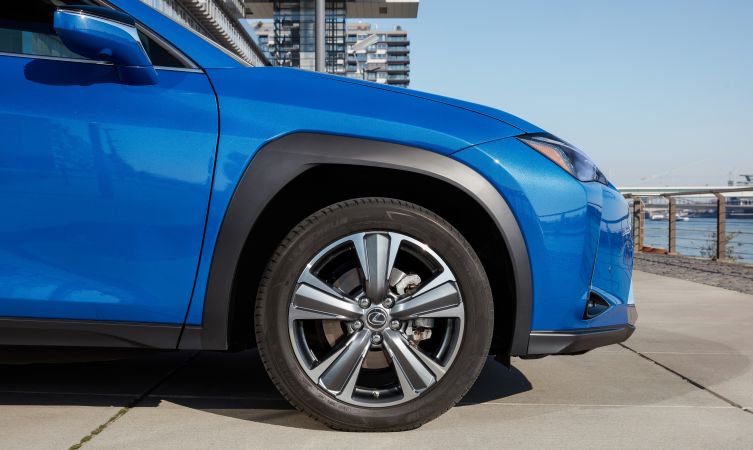 The braking system has been developed specifically for the UX 300e, with front and rear ventilated discs. The SUV also rolls on 17- or 18-inch alloy wheels and uses dedicated tyres to support its all-round quietness and handling stability.
All-electric powertrain
Optimised for agile urban driving, the all-new, all-electric powertrain of the UX 300e features a 201bhp (150kW) electric motor/generator that delivers effortless acceleration. The dash from rest to 62mph is accomplished in 7.5 seconds before reaching a top speed of 100mph.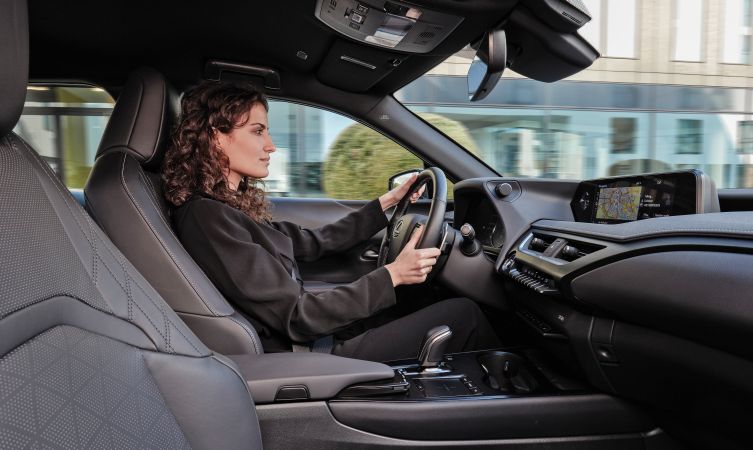 The acceleration characteristics have been tailored to suit city streets. At low throttle in stop-start driving, speed control is prioritised, whereas at mid-to-high throttle, such as when merging onto a motorway, the focus is on continuous, powerful acceleration.
A compact new transaxle delivers class-leading drivetrain performance, with details such as gear tooth surface polishing and an optimised lubrication system contributing to its super-smooth running.
Linear acceleration and four levels of deceleration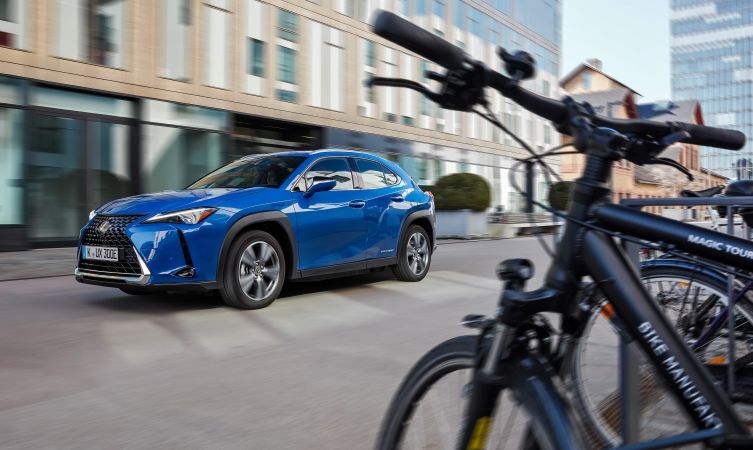 A new power control unit enables effortless driving with minimal accelerator inputs. Lexus engineers have also ensured acceleration is smooth even when the driver's use of the accelerator pedal is slightly erratic. Irregular speed fluctuations are reduced, even when travelling over varying road surface gradients.
For a more engaging drive in situations such as stop-go traffic, the driver can control the car's deceleration in four levels, using the paddle shifts on the steering wheel.
Shift-by-wire technology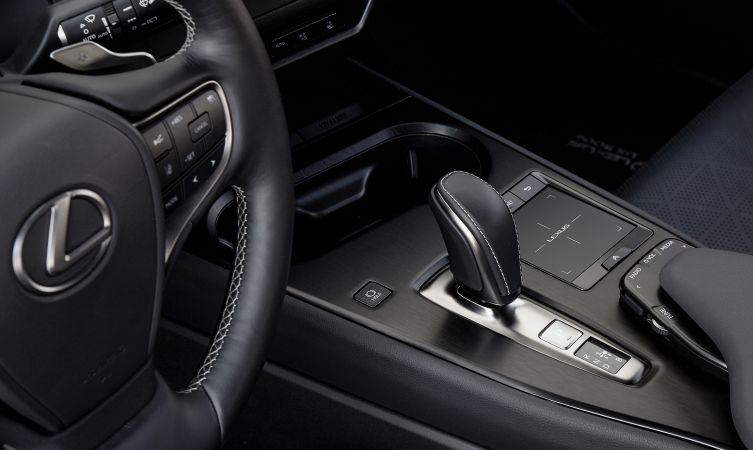 The selection of drive, neutral and reverse uses shift-by-wire technology, controlled using a drive selector in place of a conventional gear shift lever. This fits snugly in the hand and has a short stroke that enables rapid shifting.
Regenerative braking
As on Lexus's self-charging hybrid models, the UX 300e has a regenerative braking system. It converts the kinetic energy produced under braking into electricity, which is then fed back to charge the battery. Drivers can use the paddle levers on the back of the steering wheel to adjust the level of regenerative braking to suit their style of driving, ranging from mild to heavy.