Lexus knows how to rock the premium car market. From the marque's introduction in 1989, the list of Lexus firsts has grown and grown.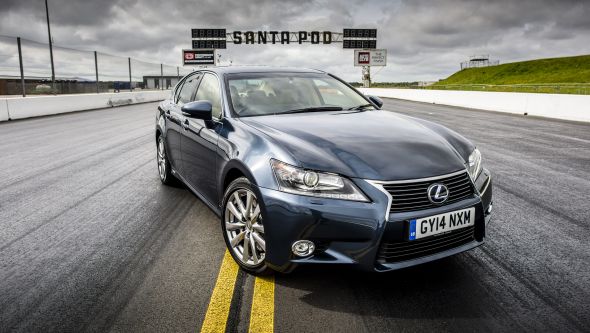 The Lexus GS 450h, for example, was the world's first hybrid luxury saloon and the first full hybrid vehicle with a front engine and rear-wheel drive. This ground-breaking vehicle applied proven hybrid technology to deliver what until that point had been the mutually exclusive qualities of fuel economy and sports-car like performance.
The second generation of Lexus Hybrid Drive in the latest Lexus GS 450h offers a combined petrol/electric output of 341bhp – similar to that produced by a 4.5-litre V8 engine and hence the 450 designation – allied to an incredible combined fuel economy figure of 46.3mpg.
Perhaps even more impressive than the car's sub-six second dash to 62mph is the torque delivered during mid-range acceleration. The system's high-output, water-cooled permanent magnet electric motor produces maximum torque immediately upon demand; a characteristic that is most noticeable, and most useful, during 30-50mph passing manoeuvres.
So accessible is this performance that you could easily arrive at an iconic speed testing facility like the drag strip at Santa Pod Raceway, seen here in these photos, and despatch a blisteringly fast quarter-mile time without breaking so much as a sweat. But more than simply offering straight-line pace up to its 155mph maximum, Lexus has developed the GS 450h to deploy technology to actively enhance handling performance too.
By incorporating the four-wheel steering function of Lexus Dynamic Handling into the standard Vehicle Dynamics Integrated Management (VDIM) system, Lexus has equipped the GS 450h F Sport with the most technologically advanced active safety and driver assistance system on the market.
Proactive rather than reactive in application, VDIM distances itself from the competition by activating control of braking, steering, stability and traction control systems before physical limits have been reached rather than immediately afterwards. As a result, the performance threshold is extended through less obtrusive intervention, thereby enhancing the driving experience.
That experience can also be altered through the Drive Mode Select function, which switches between environmental efficiency and dynamic qualities through Eco, Normal, and Sport settings.
A further layer of dynamic performance is unlocked by the Adaptive Variable Suspension feature on F Sport and Premier models, which allows the vehicle to enter Sport Plus mode. This tightens and automatically adjusts the suspension on all four corners independently for improved body control. Sport Plus also reduces the steering gear ratio by 10 per cent and increases the level of steering assist torque by about four per cent for a more 'meaty' steering feel. It is accompanied by a flash of attractive graphics on the ultra-wide screen and a change to more evocative instrument lighting.
But while the GS 450h is engineered for performance and the enjoyment of the driver, the sumptuous leather interior is an award-winning delight for all occupants. Front seat passengers get heated and ventilated front seats, while rear passengers can enjoy taking control of the ventilation and audio systems (17-speaker Mark Levinson system in the Premier model) from a compact command centre in the pull-down arm rest. In fact, everywhere you look there are thoughtful touches that display the Japanese desire to show hospitality to visitors.
Except that with the powerful yet economical Lexus GS 450h, you wouldn't want to be just a visitor; you would want to be a permanent resident.
See more: The full collection of images from our shoot at Santa Pod can be viewed here
To arrange a test drive of the Lexus GS 450h leave a message in the comments section below and we'll get right back to you. Or visit the designated area of the Lexus website.
All information is correct at the time of publishing.