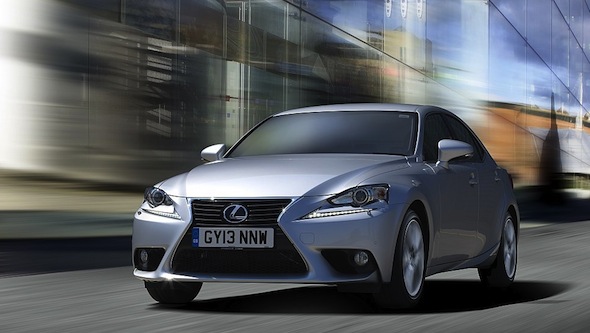 Lexus dealers have been hailed as the very best in the UK by Auto Express readers after taking first place in the magazine's Driver Power survey.
Just a few weeks after winning the Best Manufacturer title at the Auto Express awards, which followed another Driver Power win, the sterling service offered at Lexus centres led to the latest success.
The win is pretty conclusive, too – Lexus scored highest in six of the seven categories in which car owners judged their dealer. Those were helpfulness & attitude, standard of workmanship, cleanliness & atmosphere, technical knowledge, progress & cost of work and overall service. Lexus placed ninth of 31 brand in the other measure, value for money.
Auto Express Editor-in-chief Steve Fowler said: "Lexus proves once again that it's the best at keeping customers happy with a Driver Power double this year. According to our readers, Lexus make the best cars and have the best dealers – it clearly sets the standards that other car makers have to reach.
"It's hard to see how any other car maker will put an end to this, either. Lexus owners are quick to reveal just how pleased they are with their local franchise, too. With such high praise being heaped on it, Lexus deserves its place as the leading light in the world of dealer service."
Comments from Lexus owners included: "Best service I have ever received at any business", and "A shining example of what a dealership should be like".
Lexus RX450h owner Bob Gledhill, who lives in Halifax, West Yorkshire, served as a case study in the magazine's analysis. He praised the service he receives at Lexus Bradford, saying: "I can't fault them at all… You can drop your car at the showroom and use its business room to work, or staff will pick it up and drop it off.
"They don't pester you, as some dealers have done with me in the past. All this makes owning a Lexus very easy."
Find out more about our range and find your local Lexus centre at lexus.co.uk.
See also:
Lexus Still Leads As Britain's Best Car Dealer
Lexus tops What Car?/JD Power customer satisfaction survey
Lexus leads latest Driver Power satisfaction ranking
Lexus dealers offer UK's fairest prices, JD Power study finds
Lexus cars named Best Buys in the Which? Car Survey
Lexus wins top customer service satisfaction award