One of the highlights at the recent BBC Good Food Show at the NEC in Birmingham was Michel Roux Jr's appearance at the event's Supertheatre last Saturday. Watching the demonstration in VIP front row seats were the winners of the Lexus Good Food Show competition.
As well as seeing the Michelin-starred chef make a delicious dish of lobster with garlic, followed by a divine fraises Sarah Bernhardt, our winners got to meet Michel Roux Jr, were given signed copies of his latest book and access to the VIP green room.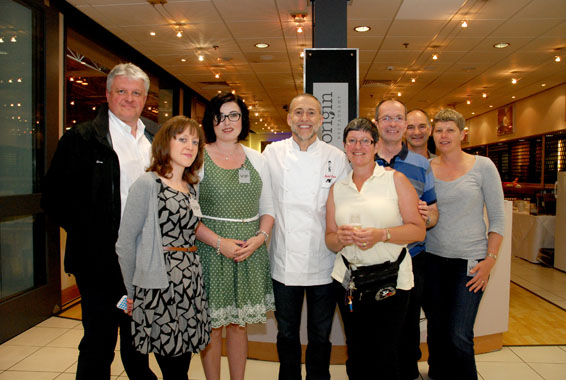 Lexus ambassador Roux Jr kicked off his Supertheatre appearance in French, then asked if there were any French people in the audience. When there were a few 'Oui's from the crowd, Michel quipped: "What are you doing here?"
It was this humour and charm that endeared Roux to French food lovers Ian and Claire, from Spalding in Lincolnshire.
"The highlight of the day was meeting Mr Roux of course!" they told us. The couple also had a good look around the Lexus stand at BBC Good Food Show, where the new Lexus NX was on display.
"This has been an ideal opportunity to take a closer look at the NX," said Claire. "We're looking to swap our Range Rover Evoque for an NX and are surprised by the amount of tech that comes as standard."
Foodies Serena and Lindsey, from Gloucestershire, also loved the opportunity to meet Roux Jr and the whole experience of visiting BBC Good Food.
"Apart from meeting Michel, my highlight of the day has been trying all the different food on offer," said Serena.
If you missed the chance to check out Lexus at the BBC Good Food Show in Birmingham, there are more chances to catch up with us at the following shows:
BBC Good Food Festival, 29-31 August, Hampton Court Palace
BBC Good Food Scotland, 6-8 November, SECC Glasgow
BBC Good Food Show London (including Bakes & Cakes Show), 13-15 November, Olympia London
BBC Good Food Show Winter, 26-29 November, NEC Birmingham