Michel Roux Jr, one of Britain's most celebrated chefs, has been named brand ambassador for Lexus in the UK.
Chef patron of the legendary two Michelin star rated Le Gavroche restaurant in London's Mayfair and one of the country's most well-loved fine dining experts, Michel Roux Jr has joined the Lexus fold to complement our sponsorship of BBC Good Food Shows.
We caught up with him as he received delivery of his new Lexus RX 450h F Sport to discuss cars, how technology is moving from the professional kitchen into the home and what he's looking forward to in the culinary world this year. Read on for our Michel Roux Jr interview.
Lexus Blog: Hi Michel, it's great to meet you. How did this relationship with Lexus come about?
Michel Roux Jr: I own a Lexus RX myself, albeit a slightly older one, and had seen the new cars at the Good Food Show events I've been at. I thought they looked great, ended up meeting with the Lexus team and it's developed from there.
Originally, though, it was through my mum – not that that sounds very cool! She owned the Lexus that I've since bought from her, which is a 2007 RX 400h. She picked it because she had driven French cars for a long time and had a bad run with them, so she wanted something more dependable.
I took it on gladly, it's a great car – roomy but not too bulky – and I've always got on with it very well. It has all the comforts and capacity I need, it's efficient, and when I got it, it was exempt of the congestion charge, which is great for me as my restaurant is inside the congestion charge zone. It's now done more than 90,000 miles and it's just been perfect.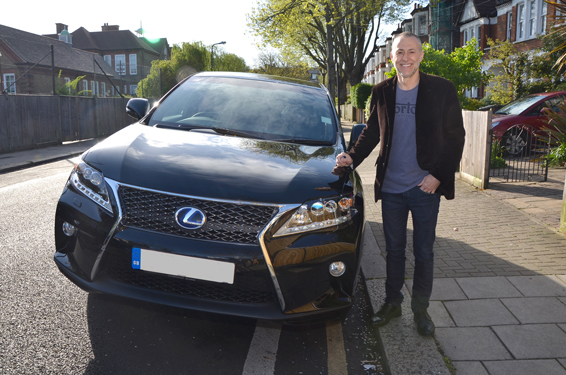 LB: What do you think of your new RX 450h?
MR: It looks great, and I can't wait to drive it. The interior is fantastic. I purposely haven't looked at any pictures for the past couple of days as I wanted to be surprised, but I'd forgotten how sleek it is. It's a very nice looking car.
LB: Do you use your RX mainly for getting to work or do you travel further afield when you can?
MR: Absolutely, I use it all the time. It's a good car on the motorway; it's got a smooth ride. My wife and I have used it a lot going to visit restaurants around the country. She's even driven me home as I'm sat on the rear seat, having had a bit too much champagne – so I can vouch for it being comfortable in the back as well!
LB: High quality customer care is critical within your industry and your own restaurants in particular – that's something Lexus is known for as well. Was that important to you?
MR: Certainly, all of that. It shouldn't just be the car, or its looks, or its efficiency that help make your decision to buy one, it's everything that comes with it – the after care, service and so on. All of that should help make your mind up.
When you're paying a fair amount of money, you should expect to get good service and Lexus has always been excellent on that side of things.
LB: Your current RX is a hybrid – is that important to you, or just a nice benefit?
MR: I do enjoy that. I like that it's efficient.
I'm actually a member of a car club, so I occasionally get to drive these massive gas-guzzling sports cars, but I would never ever want to buy one. I'm lucky that I can try them from time to time, but buying a Ferrari or a supercar is not something I'm interested in. Yes, they do look beautiful but they're not practical, they depreciate completely, and they seem to just gather dust most of the time.
I want something that's practical – and that looks good – but which delivers on all fronts, and I think my Lexus does.
LB: We will be seeing you again soon at the Good Food Show Summer. Are there any new food trends you're excited to see there?
MR: There's a lot of Korean-style food going around at the moment, which is really interesting. Korean food and pickles, things like that, there will be a lot of that going on. It can be fabulous but the only problem with either of them is that if they are done badly it stinks! It can go really badly so you have to get it right.
LB: You're a bit of a technology fan, and there seems to be a move toward more technology in the home kitchen. What do you make of that?
MR: I think all chefs are tech fans. Take water baths and vacuum pack machines, they're mainstream now, you can buy them in most shops, or at least mini kits and versions of what would be used in a professional kitchen – 'Heston kits' as I'd call them. It's good to see that people are actually trying out these new techniques at home.
LB: Will we be seeing you on TV again soon?
MR: Yes, in two things. I'm filming a show called First Class Chefs at the moment, which will be shown on the Disney channel. It's a cooking competition for nine, 10 and 11-year-olds, and they're cooking as teams representing their school. It is a proper cooking competition, and I feel terrible, as I have to eliminate them – I never used to like doing that with the professionals on Masterchef, so it feels awful saying no to children! The winner gets a £10,000 prize for their school to fund a food-related project, so it's great for the school and the kids as well. It's amazing how good they all are – the knowledge and skills they've got are fantastic.
I'm also starting to film for Channel Four in a few weeks' time, for a new show. It's me teaching people with learning disabilities how to operate a restaurant, so be it chef or front of house, waiting or serving wine. We have eight candidates with different abilities and issues, and I'm taking them through the whole process, so it's going to be a tough journey for them but also me, having never worked with people with learning disabilities before. That's going to be aired in the autumn.
LB: We're coming into the summer months now. What do you like to eat or cook this season?
MR: Seasons are amazing, that's what turns chefs on. For me, this time of the year is about asparagus, lots of asparagus. Give it another three weeks of good weather and we'll have proper English strawberries too, lots of different-coloured carrots, orange and purple cauliflower… it's wonderful to see. I'm enjoying seeing the different array of heritage vegetables that are coming through now, that's a really booming area.
LB: Thanks for your time Michel.
Michel Roux Jr will be appearing at the BBC Good Food Show Summer at the NEC in Birmingham on Saturday June 13th. The show runs from Thursday June 11th to Sunday June 14th. You can buy tickets from the BBC Good Food Show.