As a direct result of its development of the Lexus IS F CCS-R concept, official tuner TRD Japan has recently released a new range of Circuit Club Sports Parts (CCS-P) for the Lexus RC F which embodies the spirit of that track-only special.
Equipped with the full catalogue of new CCS-P components, TRD Japan believes it creates the 'ultimate public road specification' for the high-performance luxury coupe.
Lexus-developed carbon fibre reinforced plastic (CFRP) is used extensively by TRD throughout the CCS-P programme. This is most noticeable in the way the lightweight wonder-weave has been shaped to further improve the coupe's aerodynamic profile. But its incredible strength is also exploited beneath the surface through reinforcements that brace the bodyshell.

The CFRP aero components comprise a front spoiler, side skirt extensions with vertical spoiler, rear skirts, rear valance and diffuser, and a rear spoiler.
Expertly honed through wind tunnel development, some of these parts generate tangible benefits elsewhere. For instance, airflow encouraged by the front spoiler assists cooling of the exhaust and differential, while the skirts on either side of the rear bumper enhance the effect of the rear spoiler. The rear spoiler itself has a bolder ducktail design yet still sinks into the original recess in the boot lid.

Mechanical components include a titanium exhaust back box specially designed to make best use of the reduced aperture generated by the rear valance and diffuser. A 1.5-way Torsen-type mechanical limited-slip differential can be specified for cars not already equipped with the torque vectoring differential, and BBS Japan has tailor-made a set of 20-inch alloy wheels in staggered 9-inch and 10-inch widths specifically for the CCS-P programme.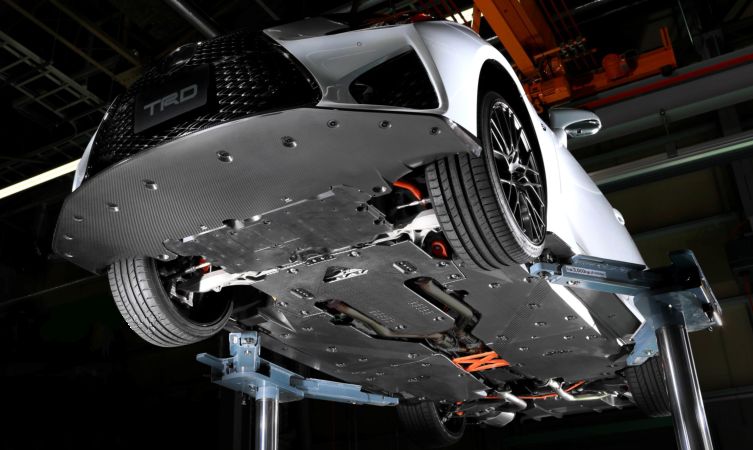 Finally, with regards to the chassis, TRD Japan has developed a set of performance dampers that link left and right sides of the bodyshell (these orange links can be seen in the images above and below). These not only strengthen the body but improve steering feel and allow the suspension and tyres to create a flatter, more predictable contact patch with the ground. A supple new CCS-P suspension package is also available, adopting single-cylinder gas strut and large piston valve construction for improved responsiveness.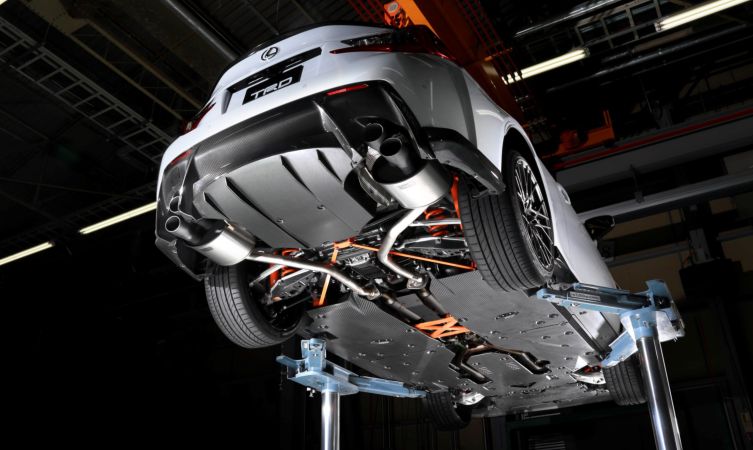 Though currently only available in Japan, visit the dedicated page on the TRD Japan website to view the price list and download the PDF brochure.
Learn more: Was there another CCS-P car before this Lexus RC F?
See more: TRD Japan's aftermarket components for the new Lexus RX