The 2024 Lexus LC Coupe and LC Convertible see a raft of revisions focusing on comfort, convenience and an even more rewarding driving experience with a new Ultimate Edition version also being introduced, for both body styles.
Production of the new models will commence in May, with the Ultimate Edition following in September. Details of UK availability will be confirmed later.
2024 Lexus LC: multimedia and connectivity
Lexus's latest multimedia system, Lexus Link Pro, is featured in the new 2024 Lexus LC models, introducing a new 12.3-inch touchscreen, positioned 86mm closer to the driver for easy operation.
This comes with an enhanced voice control system that recognises commands from both the driver and front seat passenger via the "Hey Lexus" onboard assistant. It responds to around 100 different requests, for example, to adjust the climate controls, search the internet or connect phone calls. Lexus Link Pro can save customised settings for up to three users, covering their navigation, audio, driving position and safety warning preferences.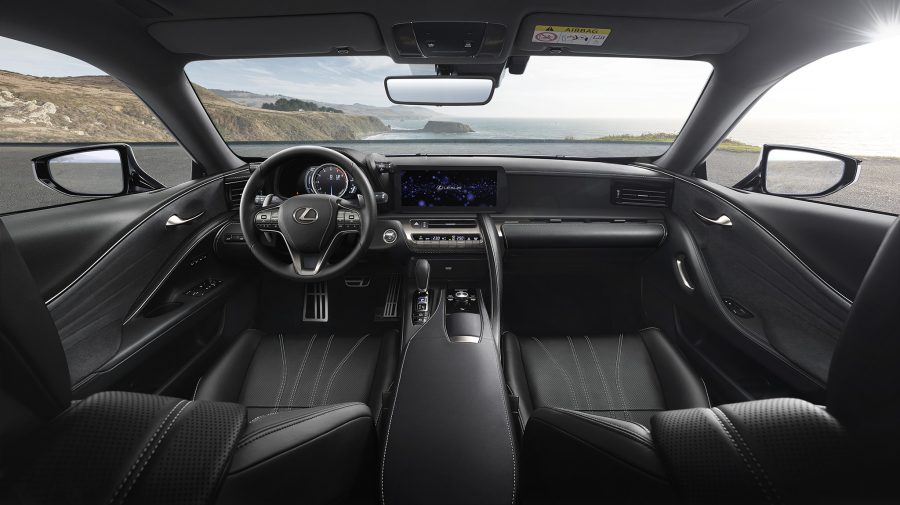 Owners can integrate their smartphone with ease, using a wireless or wired connection via Apple CarPlay, or wired link with Android Auto. The Lexus Link smartphone app offers a range of useful functions, including remote activation of the climate control system to warm or cool the car ahead of making a journey.
Cloud-based navigation is part of the multimedia package, which connects with real-time road and traffic information to make journey planning more efficient. Local information such as parking locations can be accessed using the "Hey Lexus" assistant. If a cloud connection isn't available at any time, the system also provides an embedded navigation function.
Adopting the new touchscreen dispenses with the previous trackpad control. This has allowed for a slight redesign of the centre console layout. There is easy access in the rear console storage to a 12V power outlet, USB-C charging port and USB-A port for high-resolution audio file playback.
Interior colour options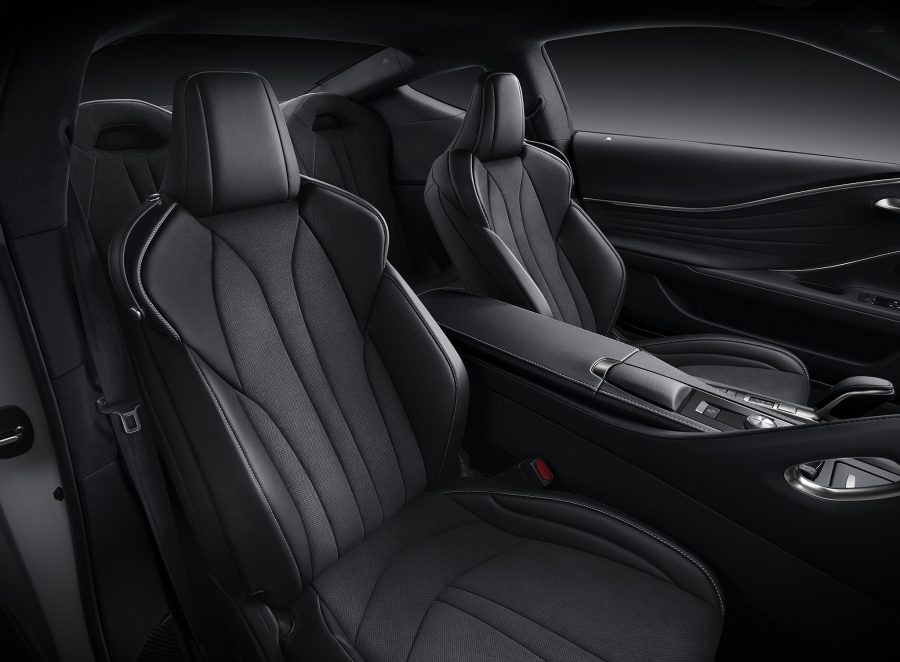 Both the LC Coupe and LC Convertible adopt a new blue and white two-tone interior colour scheme option, inspired by the previous Regatta Edition model. This introduces blue highlights on the steering wheel, shift lever, lower door trim and scuff plates (these are now made from a light carbon material). A Dark Rose option provides a sportier look, contrasting dark black with a rich red finish on the seats, centre console, instrument panel and door trim.
Exterior paint finishes and wheels
Two new paint choices have been introduced for the coupe and convertible: Azure Blue and Sonic Copper. Azure Blue is a clear, pure shade with strongly contrasting highlights and shading. Sonic Copper, first seen on Lexus's all-new RX and RZ SUVs, is a chromatic colour with a rich reddish hue.
Equipping the cars with a Panoramic View Monitor has added cameras to the door mirrors, bringing about a slight change in the shape of the housing. This adjustment has further reduced wind noise and improved aerodynamic performance.
According to model grade, three forged alloy wheel designs are available: 20-inch with a super-gloss black metallic coating; 21-inch with a machined finish; and 21-inch in two-tone black and hyper-chrome.
2024 Lexus LC: enhanced Lexus Safety System+
The Lexus Safety System+ active safety and driver assistance features, provided as standard on all LC models, have extended capabilities. The Pre-Collision System's functionality now includes the detection of bicyclists in the car's path during daylight driving. New Intersection Turning Assist helps the driver make safer turns across junctions and Emergency Steering Assist automatically makes small corrective steering inputs if the vehicle unintentionally begins to move out of its traffic lane.
Changes to the Road Sign Assist and Dynamic Radar Cruise Control allow for easy adjustment of vehicle speed when road limits change. The cruise control also has a new Curve Speed Reduction function, which automatically adjusts vehicle speed appropriate for an approaching bend.
2024 Lexus LC: driving refinement
The LC Coupe marked the introduction of the Lexus Driving Signature, the quality of the driver feeling confident, comfortable and in control at all times that has since been developed through all subsequent new Lexus models. For the 2024 LC and LC Convertible range, detailed adjustments have been made to suspension systems, steering, wheel hubs and engine mounts to improve the cars' responsiveness and give the driver a stronger sense of the car being planted on the road.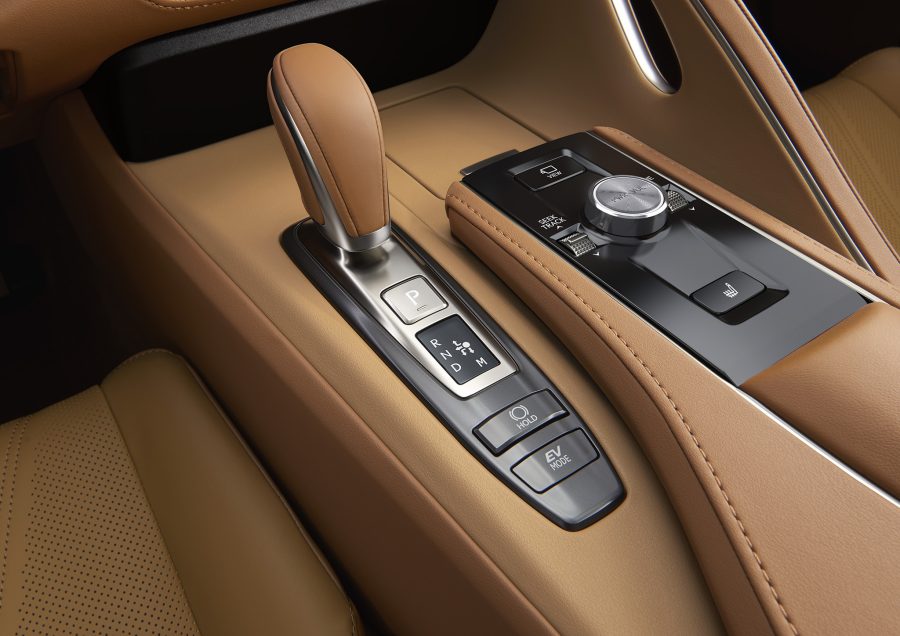 The brake-by-wire system has been retuned for a more natural, seamless feel, and the 10-speed automatic transmission's shift control has been revised to better anticipate the driver's intentions when in D mode. Selecting the Sport S and Sport S+ drive modes produces a sportier feel with the transmission (in D mode) selecting the optimum gear for acceleration and deceleration, and performing downshifts under braking.
The V8-powered versions of the LC and LC Convertible have a new Expert drive mode, suitable for track driving, which turns off the car's traction control system.
In the LC 500h hybrid electric Coupe, the cells in the lithium-ion battery have increased capacity. This allows for quicker power delivery, which in turn improves responsiveness and acceleration feel.
LC Ultimate Edition
The new Ultimate Edition versions of the LC 500 and LC Convertible are distinguished by a more exclusive, performance-focused image and tuning of their V8 engine. 
The Ultimate Edition's Hakugin White paintwork has an elegant matte finish,  inspired by Lexus sport line up symbolized by the Lexus LFA. This unique effect – sealed in by a satin lacquer topcoat – contrasts with black bodywork ornamentation. Black appears at the front of the car on the radiator grille and moulding, headlamp surrounds and washer cover, bumper garnish, and outer mirrors. Black appears at the rear on the lamp cover, bracket, lower bumper garnish, and exhaust baffle. 
In a world first, the front bumper has integrated, incrementally formed canard fins – aerodynamic details used on race cars and aircraft. Here they help regulate air flow and reduce front lift.
The coupe's automatically deploying rear wing is gained through Lexus's association with aerobatic and race pilot Yoshi Muroya, the 2017 Red Bull Air Race World Champion.
The cabin has a Kachi Blue interior, a colour long considered auspicious in Japan, where kachi-iro (winning colour) threads were featured in samurai warriors' armour. Exclusive details include Alcantara upholstery on the console and door trim, Limited Edition scuff plates and an aluminium plate stamped with the car's serial number on the centre console.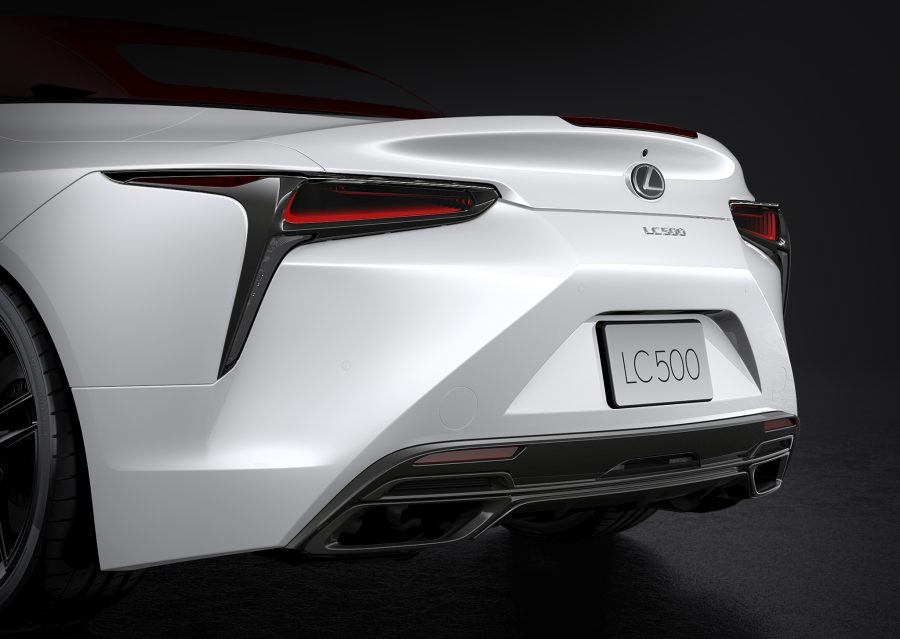 The V8 engine has been tuned by a Lexus Takumi master engineer for a smoother rotation feel and enhanced sound and accelerator response.
Exclusivity is guaranteed: just four LC Convertible and one LC Coupe Ultimate Edition models will be available in the UK.
All information was correct at the time of publishing.