The Lexus LC Convertible is acclaimed as one of the "finest things that Lexus has ever put into its showrooms", a masterful blend of exhilarating performance from its 5.0-litre V8 powerplant and stunning design – roof up and roof down. While its promise of open top driving holds obvious appeal on a warm summer's day, how does the luxury convertible cope when it gets cold…really cold?
To put the LC Convertible to the ultimate test, we dropped its four-layer soft-top and subjected the car to an icy overnight deep freeze – watch our film to see how our frozen Lexus fared.
Why make a frozen Lexus LC Convertible?
Lexus is renowned for the quality and Takumi craftsmanship found in its models. However, a convertible presents a different set of engineering and design challenges. Firstly, can you preserve the striking design of the Lexus LC so that the convertible stirs emotion not only with the roof down, but also roof up? Secondly, can you build a car capable of withstanding the elements when its exposed interior essentially becomes part of the outdoors? Lastly, can you deliver a driving experience that is without compromise, no matter the weather?
Lexus's designers emphatically answered the first question by fulfilling their brief to deliver the world's most beautiful open-top car. But to answer the second and third questions, we took the LC Convertible to a specialised test facility for its extreme deep freeze test before immediately putting it through its paces around a challenging test track.
Discover the LC Convertible
How to freeze a vehicle
The first thing you need is a freezer – a big one. For our test, we took the Lexus LC Convertible to Millbrook Proving Ground and specifically its Large Climatic Chamber.
As the name suggests, this test chamber is spacious enough to accommodate vehicles up to the size of a double-decker bus. Also, it's more than just a cold chamber – the climatic chambers at Millbrook can simulate a variety of extreme environments from scorching desert heat at 85 degrees Celsius to the icy depths of an Arctic winter at -60 degrees Celsius, as well as a range of humidity levels.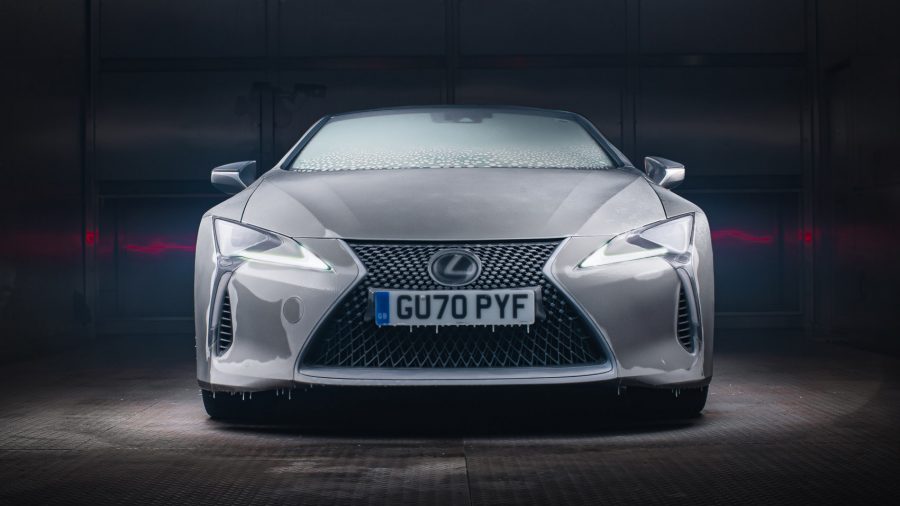 Gary Fleming, senior engineer of Millbrook's vehicle testing lab, explains the need for manufacturers to test vehicles in such a wide range of conditions: "Customers are coming to test so that they can make sure they have a robust vehicle. When somebody buys that vehicle they know it's going to be of good quality and it's going to work in generally any condition that they're going to be in."
The demands of these tests upon the vehicle are great. "Your exterior surfaces – your metals and things like that – they're going to contract under extremely cold conditions," explains Gary. "Manufacturers are going to look to ensure that their vehicle is capable of dealing with that condition and that things aren't going to start falling off or when they start a vehicle up, it actually is able to start up in that condition."
Freezing the Lexus LC Convertible
For our test, Millbrook's engineers subjected our Lexus LC Convertible to -18 degrees Celsius, the same harsh temperature prescribed in regulations for a manufacturer's vehicle defrost test. The conditions are so severe that Millbrook operates a buddy system when inside the chamber to protect the safety and wellbeing of its staff.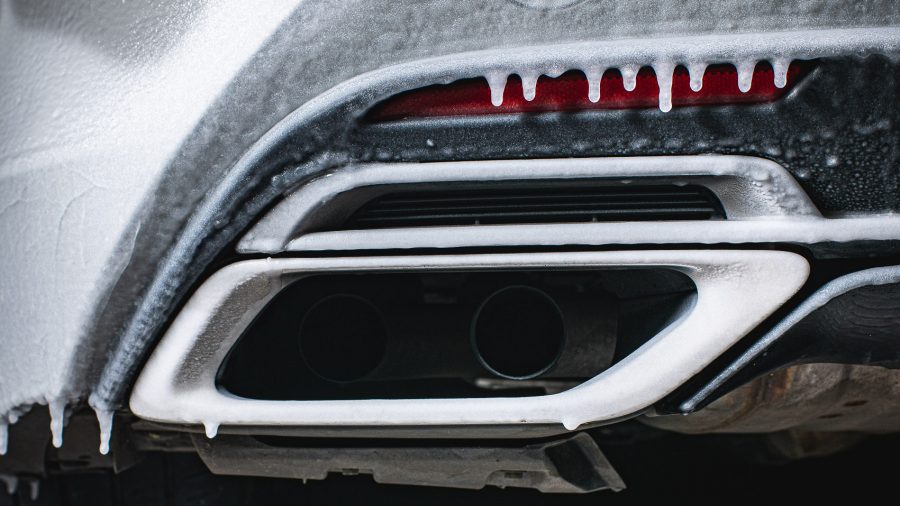 It took several hours for the ambient temperature of the chamber and the top-down Lexus within to plummet to the intended conditions. Once at -18, the engineers next applied a water spray to fully freeze the LC Convertible in ice before leaving the entire vehicle for a chilly night's rest.
The soft-top remained firmly stowed in the chamber, exposing the LC's perforated leather interior and advanced infotainment system to the freezing conditions for 12 hours. This was a unique aspect to our test, as noted by Gary: "All the interior components are going to be in an extremely stressed condition. It's not going to be particularly nice to sit in there from an occupant's point of view," he explains, adding that "deep freezing on electrical components can be challenging – infotainment screens…aren't particularly robust in those temperatures." Apart from anything else, the LC Convertible's Climate Concierge system was in for a test the following morning.
How did our frozen Lexus LC Convertible perform?
After a dark, cold night, the frozen Lexus LC Convertible was ready to emerge from the chamber. How had it coped with the biting cold? In a testament to Lexus's incredible engineering and build quality, the LC Convertible instantly awoke, Climate Concierge immediately responding to the frigid conditions as the heated steering wheel and heated seats warmed professional driver Paul Swift.
Within minutes, the frozen Lexus had shed the layer of ice from its windscreen – exactly as required in the test – and the slowly-thawing convertible headed out onto Millbrook's twisty and challenging Hill Route (also known as alpine test track). Here the Lexus experience really hotted up – in more ways than one. With sheets of ice cascading off the LC's sculpted lines, Paul expertly piloted the convertible around the undulating circuit, unleashing the awesome power of the naturally aspirated 5.0-litre V8. Meanwhile, inside he experienced the unmatched level of luxury provided by the warmth and comfort of the LC's exquisite interior.
More on the frozen LC Convertible
What did we learn from creating the frozen Lexus LC Convertible? While it's unlikely that you'll be facing -18 degree Celsius temperatures when you awake on a winter's morning, our experience gives you the confidence that, no matter what the environment might throw at your Lexus, it's more than up to the challenge. Without a moment's hesitation, the LC Convertible performed flawlessly despite the extremes to which it was subjected, underlining the unparalleled craftsmanship and engineering expertise found throughout the Lexus range.
NB: This film was created using a highly trained, professional driver working in strictly controlled conditions and with comprehensive safety equipment. This should not be attempted by members of the public at any time.