On its introduction, the Lexus NX luxury crossover was acclaimed for its mould-breaking, muscular design – qualities reinforced by our punchy Striking Angles launch campaign. Based around a diamond-shaped cabin, the multi-faceted exterior is arresting to look at, immediately suggesting the athleticism required of a crossover vehicle. But it also envelopes generous interior proportions and energy-efficient powertrains.
Similar philosophies can be found in modern architecture, where some buildings are designed to challenge set-square conventions yet offer spacious accommodation, a sympathetic approach to materials and the surrounding area, energy efficiency and low environmental impact.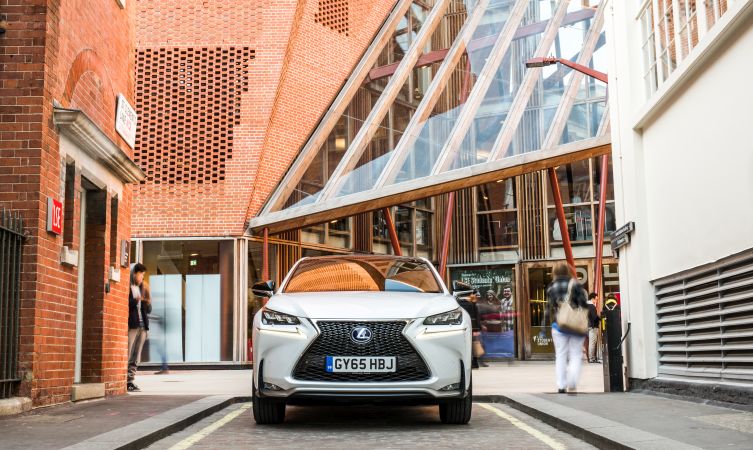 With that in mind, we wanted to photograph the striking Lexus NX with three recently completed buildings in London that share a similar design ethos, both in terms of their function and angular aesthetic. We have also tried to create extra depth to some of the images by capturing them as cinemagraphs embedded with subtle motion.
Our journey begins with the Saw Swee Hock Student Centre at the London School of Economics.
Saw Swee Hock Student Centre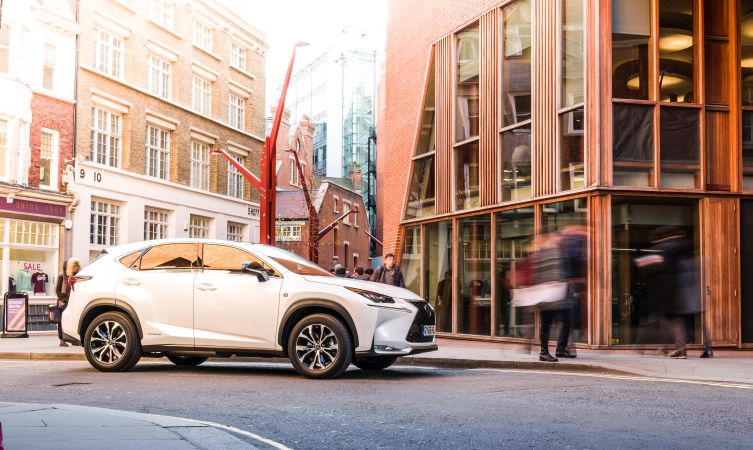 Opened to the public in 2014, the Saw Swee Hock Student Centre sits in a complex warren of mediaeval streets within the Aldwych campus of the London School of Economics (LSE). The centre was named after a generous donation from Singaporean philanthropist Professor Saw Swee Hock in commemoration of the 50th anniversary of his graduation from the LSE. It is also the LSE's first new building in 40 years.
Spreading upwards in geometric planes from a busy public square, one specialist architecture website described the seven-storey construction as "an object lesson in mobilising the limitations of a site into a startlingly original building which makes a massive contribution to its townscape."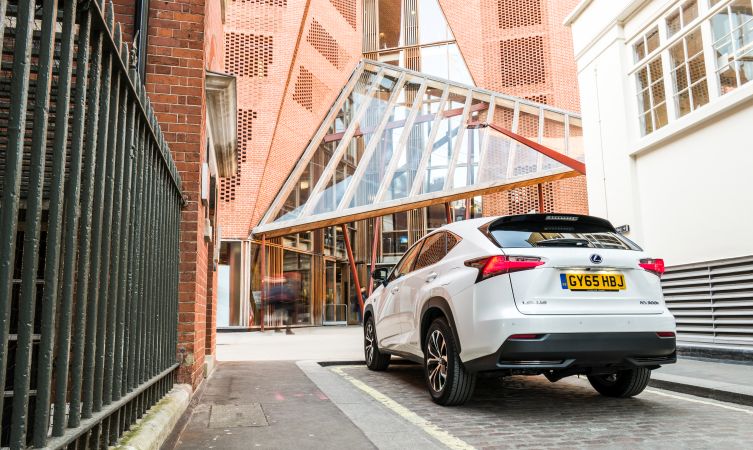 The use of self-finished Brazilian hardwood and latticed Flemish bond brickwork provides texture to the building's surface as well as allowing light to flood the interior in interesting patterns. Unusually, 46 standard brick types and 127 non-standard brick types were used, not one of which needed to be cut on site.
Thanks to the unusual, tradition-breaking shape of the building, surrounding properties are treated to considerable amounts of light which would otherwise be blocked by a development of this scale in such a relatively small space. Indeed, every angled facet is placed in response to rights of lights of its neighbours. Architects O'Donnell and Tuomey described the centre as a "Japanese puzzle, carefully assembled to make one coherent volume."
The sharp-suited Lexus NX sits perfectly with this ethos, having been designed with origami-like L-finesse design language. Nobuyuki Tomatsu, leader of the exterior design team, explained some of the thinking behind the car's complex yet human-focused form: "I reduced body volume on the four corners where there are no occupants, leaving just the cabin where they sit. Extra space was made for the rear seat occupants' heads, creating a peak after which the roof sloped down abruptly to create a tight silhouette."
Smart panels allow the building's occupants to monitor energy use in much the same way as the hybrid energy flow display in NX. What's more, just as NX regenerates braking force to provide electrical power, the building is designed to harvest and reuse rainwater to maximise thermal efficiency. The centre also holds a BREEAM Outstanding environmental assessment certification for exceeding required energy regulations.
The Royal Institute of British Architects commented: "This is a building that has a striking and original appearance while fitting happily into its context. It has a complex and unusual plan form that accommodates functions with effortless ease. To build it required a high degree of craftsmanship and care, and one feels like this was achieved through the sheer willpower of the architects."
We are convinced that Nobuyuki Tomatsu and chief engineer Takeaki Kato would be proud that clear parallels can be drawn between the Saw Swee Hock Student Centre and the conception and realisation of the Lexus NX – an urban crossover that Tomatsu describes as "not only a cool object but a highly usable tool."
Read more: Striking angles of Lexus NX and architecture – part 2