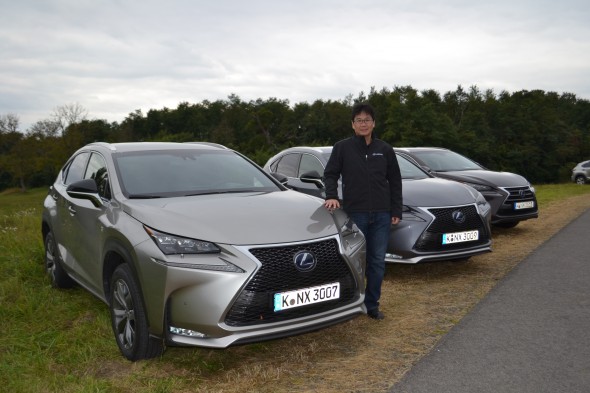 We've rounded-up everything Takeaki Kato, chief engineer for the Lexus NX, has said about the sensational new compact SUV and Lexus' developmental direction, to give you an insider's view on what it takes to make a car.
Name / Job Title: Takeaki Kato, Chief Engineer, Lexus International
From: Japan
Toyota / Lexus CV: Joined Toyota Motor Corporation in 1986. Transferred to the Toyota Technical Center in the USA in 1994. Returned to Japan in 1997 and pioneered development of safety and restraint features such as knee airbags, pre-crash seatbelts and twin-chamber airbags. Joined the Product Planning Division in 2005, prior to becoming chief engineer for the NX at Lexus International (est. 2012).
Also worked on: IS, RX
We spoke to Kato briefly at the pan-European launch of the NX 300h in Vienna, Austria, and were keen to find out what gives the model an edge over its established European rivals.
Lexus Blog: The NX exhibits a greater focus on design and driving dynamics than perhaps some of the other models in the range. But how is the model underpinned by the Lexus qualities of supreme quality and peerless reliability?
TK: Good question. I think that the quality of our cars has and will always remain the same. I tested IS before I started work on NX to ensure that cars qualities are present in NX. We benchmarked NX against its rivals – Q5, X3 – and we discovered that they cater for more aggressive handling tastes; in my opinion Lexus stands for good refinement and quality, but since we unveiled the GS in 2012, we have become much more focused on driving dynamics and the joy of driving.
LB: What do you think gives the NX 300h an edge over its established European rivals?
TK: I think the steering and the stiffness of the bodyshell – especially on the F Sport model – the ride is sporty rather than hard.
LB: How do you think the NX 300h challenges people's perceptions of hybrid cars?
TK: In the past, hybrid was seen as special, out of the ordinary, but I think the NX 300h normalises hybrid. Hybrid powertrains have previously been associated with more traditional sedans, but thanks to sophisticated engineering, like pitch control, we are are able to change that.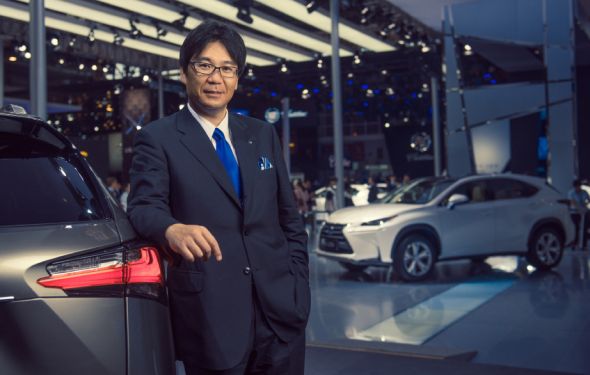 Lexus International first caught-up with Kato at the unveiling of NX in Beijing in April, where he was asked questions that had been submitted by fans on Twitter using #LexusInBeijing. The Q+A is below.
Lexus International: When did development work on the NX begin?
Takeaki Kato: We began the concept back in 2009, however the design was only finished recently. The environment in 2009 was tough due to the shock bankruptcy of Lehman Brothers, and there were many challenges that we had to clear, so we had to find innovative solutions to core technical issues such as the engine and platform.
LI: What inspired you to create this beautiful car?
TK: Usually this kind of vehicle is a saloon and SUV crossover; but for the NX, I envisioned something different – a sports car and SUV crossover. To me, the NX is like a raised sports car: it has a sharp, sporty body, built for an on-road, sporty lifestyle. The 'S' in this SUV stands for both sports car and on-road sports.
LI: What was your overall aim with NX?
TK: Our aim was to develop a vehicle capable of good sales in this competitive segment. To convince our management we revised our product concept over and over, eventually arriving at the final concept of Premium Urban Sports Gear. 'Premium' stood for a feeling of quality, the same as for any Lexus, even for a compact model. 'Urban' signified a fashionable car that suits urban style and use. 'Sports' meant dynamic driving performance and a design that expresses that performance. And 'Gear' represented not only the feeling of a cool object but also the usability of an SUV as a tool.
LI: What new technologies are incorporated into NX?
TK: In order to realise our Premium Urban Sports Gear concept we had to adopt many new technologies. Of course, one important focus was the development of a brand new turbo engine. As a corporation we already had the 3S-GTE turbo technology that won past WRC events. I believed that combining this turbo technology with modern environmental technology would create an advantage for Lexus. We worked hard to get the engine sound just right. For the F Sport model we wanted a more emotional engine sound, so we electronically developed a note that sounds great acoustically. I think you'll be surprised at how smooth the turbo engine accelerates.
LI: Is there any new information on the hybrid NX 300h powertrain?
TK: The NX 300h uses full Lexus Hybrid Drive, offering smooth and seamless driving. We also added a kick-down switch that delivers added power when necessary.
LI: Are the turbo and hybrid both all-wheel drive?
TK: All the engines are built with all-wheel drive. Mechanically, they are almost the same as the RX, however the software controlling the all-wheel drive system is improved.
LI: How rigorous was the testing programme for NX?
TK: During testing, an NX was driven for over one million kilometers. Some of these roads were in harsh environments, including high altitudes exceeding 3000m, scorching temperatures of 50 degrees celcius, and frigid temperatures below minus 30 degrees celcius. We developed the vehicle while repeating driving tests over and over in such environments.
LI: Which details on NX are you most pleased with?
TK: We were obsessive about fine details such as the LED headlamps and exhaust tips, and for the interior that included the method of stitching the upholstery and the adoption of LFA cosmetic bolts. The instrument panel is an important item for the driver, so we added a boost meter for the turbo and a G-meter, plus a whole new console area with a newly developed touch pad type Remote Touch Interface. Countless other new specifications and features are available, developed by a team of more than 2,000 engineers. While each of these things might be small, we're convinced they will provide a high feeling of satisfaction to our customers.
LI: What audio options will be available?
TK: Three audio systems will be available in the NX: an eight-speaker system, a ten-speaker system with a centre speaker and subwoofer, and a 14-speaker Mark Levinson option.
LI: How will you differentiate NX from RX?
TK: Both vehicles have the same innovation and finesse of Lexus. One customer might choose the RX for its elegant, stately and sophisticated shape, just as another customer might want an NX for its more edgy, dynamic personality for active lifestyles. Customers might have a difficult time choosing between the two, but at Lexus we want to provide as many options as possible.
LI: Which colour do you think suits NX best?
TK: I think all the colours are great but my personal favorite is Sonic Quartz, which is a new and unique white color that we spent a lot of time developing. Although it is pure white, the finish has a crisp metallic quality that brings out the shadows and angles of the sides and compliments the overall design of the NX. Also, the contrast between the white body and black wheels looks really great.
LI: What do you think makes NX stand out from its rivals?
TK: The NX offers the full package. It's sporty and compact but has best-in-class interior and utility space compared to other compact crossovers. We spared no expense on the leather and stitching, and a lot of thought was put into the design of the seats. I'm confident that the NX has turned out to be a very dynamic and exciting vehicle. Early customer feedback during market research has been extremely positive. I cannot wait for our customers to see, drive and feel the NX and experience our brand new Lexus by themselves.
See also:
New Lexus NX 300h: Interview with Lexus UK Director, Richard Balshaw
Everything you need to know about the Lexus NX, including prices and specs
Where next?
Register your interest in the Lexus NX here and we will be in contact shortly. If there is anything you wish to know about the NX, leave a comment below and we'll get back to you.