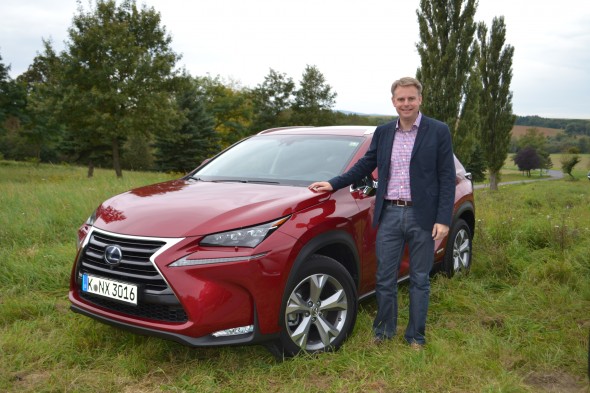 The Lexus NX 300h is one of the most anticipated new cars of the year. Striking to look at, sharp to drive, packed with intuitive technology and boasting significantly lower running costs than like-for-like rivals – it's the whole package.
We caught up with Lexus UK Director, Richard Balshaw, at the press launch of NX 300h in Vienna, Austria, to discuss how the model builds on traditional Lexus qualities and aims to attract new Lexus customers.
Name / Job Title: Richard Balshaw, Director, Lexus Division, Toyota (GB) PLC
From: England
Toyota/Lexus CV: Joined Toyota (GB) PLC in 1994 as an area aftersales manager, moved to Network Development in 2000 and then to marketing in 2002. Promoted to general manager, aftersales in 2006 and was later appointed as general manager for Toyota and Lexus fleet services. Appointed as Toyota sales director in 2009. Transferred to current role in 2011.
Lexus Blog: Hi Richard, thanks for agreeing to talk to us today. Let's begin by talking about NX 300h and its rivals.
What gives NX 300h an advantage over established European rivals such as the Range Rover Evoque and Audi Q5?
Richard Balshaw: First of all, its Lexus Hybrid Drive drivetrain. It is unique within the segment and delivers outstanding CO2 emissions and fuel economy for a very low cost of ownership. Lexus Hybrid Drive also provides a very relaxed and smooth driving experience.
Secondly, there's the styling – I think NX really stands out within the segment. Thirdly, NX represents a good value proposition, offering increased specification over competitors but for no extra cost. Being the first in its segment to make features such as adaptive cruise control and pre-crash safety standard means that NX is a very accessible car.
LB: The NX exhibits a greater focus on design and driving dynamics than perhaps some of the other models in the range. But how is the model underpinned by the Lexus qualities of supreme quality and peerless reliability?
RB: Lexus is 25 years old this year, which, in automotive terms, is nothing. Most manufacturers have been around for a century or more, and those that haven't were still founded decades ago, but the advantage of being younger means that we can all remember why Lexus started. Lexus was founded on two basic principles: The first was to build the best car in the world – the LS 400 – and the second was to provide the best customer experience. Those two elements have remained constant in Lexus – in every model that has followed LS right up until today.
Moving forward, we want to move Lexus forward in terms of emotional appeal and the way we intend to do that is through more interesting and dynamic design for our vehicles, and also to increase driver engagement – our F Sport models are a good example of how we've begun to do this. Essentially, we're building on the traditional Lexus strengths of quality, luxury and customer experience, but with a new angle – we're very lucky that we have such a good reputation for quality, engineering excellence and luxury. We're building on those traditions with NX to broaden Lexus' appeal and customer base.
LB: What do you regard as the most successful element of NX?
RB: It has to be the exterior and interior design. For me, it's the best in the segment; it looks dynamic, ready for business and appealing from every angle.
LB: How do you think NX 300h challenges people's perceptions of hybrid?
RB: As its the first hybrid in the segment, potentially, there will be a perception that an SUV needs to be equipped with a traditional petrol or diesel powertrain, but once people drive the car I think they'll realise quite quickly the savings they could make.
LB: To what extent is value for money a key selling point of NX?
RB: Lexus has always stood for good value for money, as well as quality, and I think a key part of NX is that you get a lot of specification. We've always stood for that; I think it's quite a dissatisfying experience for customers if they're always being asked to add options just to get the car that they want – that goes against our philosophy of offering a fantastic customer experience. I think with NX all of the extra touches and attention to detail such as the vanity mirror integrated into the centre console and the door handles which illuminate as you approach the vehicle are what make a Lexus a Lexus – we go that little bit further.
See also:
Interview: Mark Templin, Executive Vice President of Lexus International, on NX
Lexus NX advocates speak up
World-first: General public share their thoughts on the Lexus NX
Where next?
Build your NX 300h here. If you would like to arrange a test drive, leave a comment below and we'll be in touch shortly.