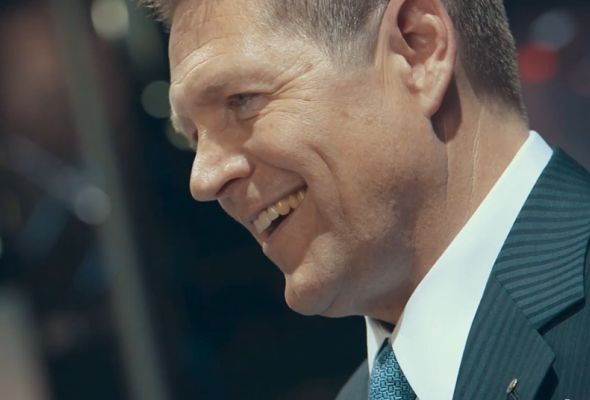 Blog: Why did Lexus decide to launch the new NX in Beijing, China?
Mark Templin: China is such a huge opportunity for us. This is the fastest-growing luxury market in the world, and this particular segment of the market is exploding here, so we see a lot of potential. Consumers in China are very brand-conscious and very image-conscious. What's more, they're design-focused, so this was a great car to bring to this marketplace and show them what Lexus stands for.
Blog: Where do you see the global luxury market heading?
MT: What we see within the global automotive market is that luxury is growing faster than mass-market sales, and that bodes well for us. We call it the 'democratisation of luxury' — more people being able to afford luxury and wanting luxury at a younger age.
Blog: What plans does Lexus have for the future?
MT: Everybody expects us to come out and do things that will grow our volume substantially within a short period of time. I have to keep reminded them that this is not what we're about. The things that we're doing today, with regards to driving dynamics, design and the expansion of our product portfolio, are all about laying the foundation for future growth. We're not looking for huge growth over night; we're looking for long-term sustainable growth. I would love to see five-to-ten per cent growth per year for the next thirty years; that would be my preference versus huge growth in any one year. Because if we want to continue to deliver a superb customer experience we need to make sure we grow at a measured pace.
Blog: How important is NX to the overall Lexus strategy?
MT: Our global volume has grown to the point where 30 per cent of sales are now hybrid-powered, and we see that percentage continuing to increase. In fact, before the end of this year, when the NX and RC arrive in the marketplace, we're going to have ten hybrids within our global portfolio. This is great for us because now everybody else is validating our strategy from a decade ago that hybrid was where the market was going to go, and most of them are only now launching their first hybrids.
Blog: Could you expand on how Lexus is leading in sustainability?
MT: We have a great reputation for sustainability based on our hybrid leadership, which has really created a halo over the Lexus brand in that respect. Here in China, 80 per cent of all hybrid vehicles sold here are Lexus hybrids. So we have a leadership position and an image of sustainability, which is why we have rolled out yet another hybrid — the NX. We see this car being a spectacular seller in many markets around the world. In Japan, Lexus is mostly a hybrid brand; in Western Europe we're mostly a hybrid brand; and here in China it's growing rapidly. Even in the US, our hybrid sales are growing at a pretty steady pace.
Blog: When will we get a chance to drive the new Lexus NX?
MT: Later this year you'll actually be able to get one of these. We're really excited about it. All of our global partners have come and learned about the product, and they've told us how excited they are about it, too. Reaction to NX within the marketplace is spectacular and we can't wait for it to hit the ground running.