The Lexus LFA may have finished its limited production run of just 500 units in December 2012, but its alluring rarity and incredible abilities resonate as strongly as ever, a point excellently demonstrated in this month's special 200th issue of evo magazine.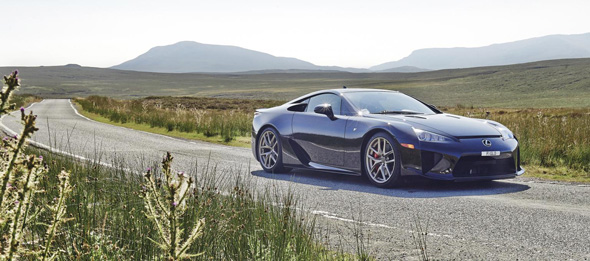 Since its first issue, evo magazine has championed 'the thrill of driving', placing greater emphasis on this unquantified feeling behind the wheel than on the usual Top Trumps spec sheet highlights like power, top speed, and price.
For the title's 200th issue, the editorial team brought together 20 of the best cars that evo has ever driven, and took them to its famous hunting ground in north Wales to determine which car epitomises 'the thrill of driving'. Included in the 20-strong group was a black Lexus LFA, described by evo contributor Dickie Meaden as "immaculately designed, engineered and presented, with every single facet of the car benefiting from an obsessive attention to nano-detail."
The LFA's precision, control, comfort and refinement – hallmarks of the Lexus brand – and its "banshee V10 engine" sent the 552bhp, carbon fibre Lexus supercar through to the top five final shootout, proving that the LFA is a true great, no matter what the company. Nick Trott, editor of evo, summed up the Lexus supercar in these words: "The LFA deservedly made the final five of the best cars evo magazine has ever driven. Flawless build quality, meticulous construction and exquisite detail dovetails with a sublime engine, engaging dynamics and supercar performance. The result? A true automotive jewel."
For the inside line on the Lexus LFA's performance in the 'This is evo' mega-test, pick up a copy of the 200th issue or download the free evo app (iOS or Android) . And while the app downloads, sit back and enjoy this compilation of evo's encounters with the LFA.