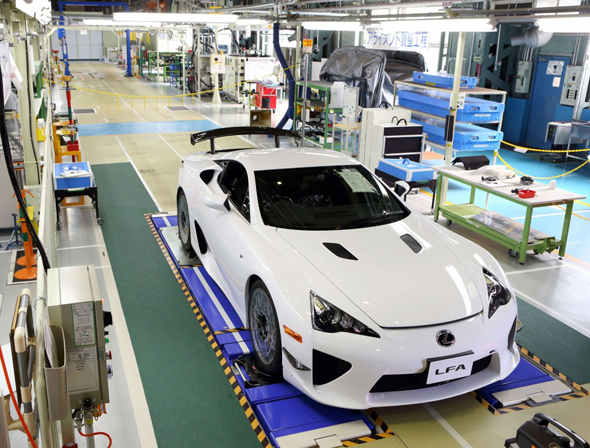 The 500th and final Lexus LFA supercar made rolled off the line at LFA Works in Japan early this morning.
Production of LFA, the very first Lexus supercar, started two years ago and has continued at the rate of one car per day, reflecting the high level of hand-crafted parts and advanced techniques that go into making one.
The LFA is constructed largely from carbon fibre and the expertise gained from the production process will be channelled into future models, Lexus says. It features a 4.8-litre, 552bhp V10 engine and has been hailed as one of the greatest performance cars ever.
As the final vehicle left the production line, LFA chief engineer, Haruhiko Tanahashi said, 'I've lived and breathed supercars for the past decade. Specifically one supercar, LFA. Very few people have the opportunity we had to create a world-class supercar from a blank sheet of paper.'
Production at LFA Works, which is located within the Lexus Motomachi plant, involved a team of around 170 hand-picked specialist 'takumi' workers involved in parts manufacturing, vehicle assembly and painting.