The letter 'F' attracts worldwide attention as the exciting sports series of the Lexus brand. But do you know how the designation started and how it has progressed over the years? Why not scroll down for our multi-stop timeline in the history of F.
History of F: 1983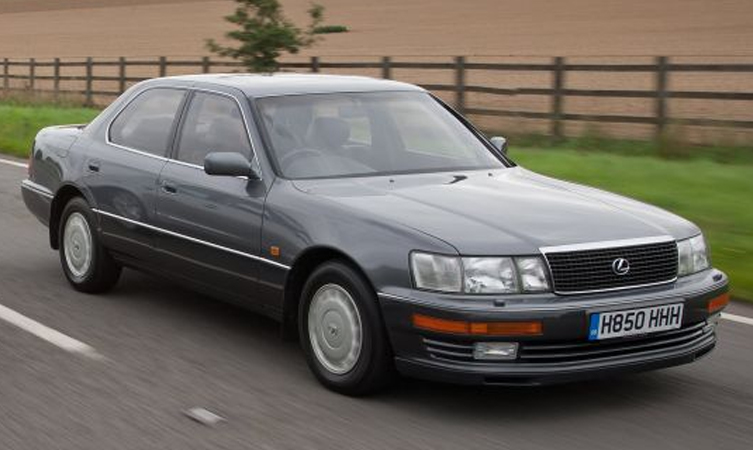 Lexus's first use of the 'F' designation can be traced back to August 1983, when parent company chairman Eiji Toyoda launched what was known internally as the Circle F project. Top secret in nature, little was initially known about the aim of the project outside of the boardroom. Only later was it revealed that the 'F' stood for flagship and that the programme would eventually become the Lexus Division.
The designation further evolved into the codename Flagship One, or F1, a concept that developed into the Lexus LS 400. Since then, the 'F' code came to signify special vehicle programmes that fell outside normal engineering and development processes.
History of F: 2003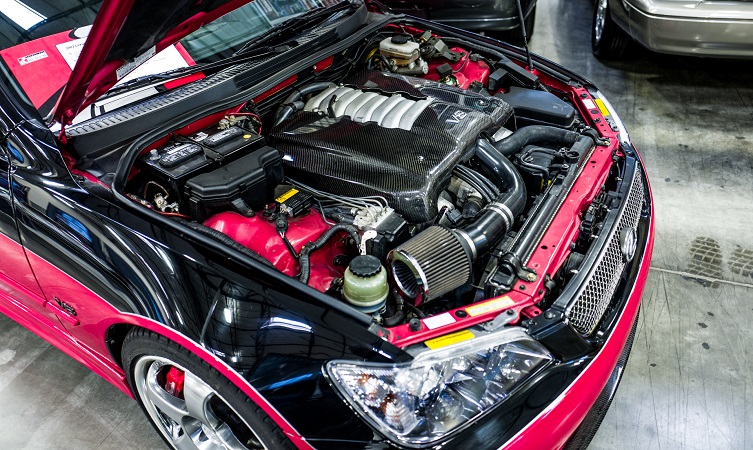 Although something of a wildcard in our history of F, this two-tone Lexus IS 430 prototype set an official precedent for modifying a cooking saloon with a powerful V8 engine. Never intended for production, it was commissioned by Lexus and built by the specialists at Rod Millen Special Vehicles for unveiling at the SEMA aftermarket tuning show in Las Vegas, USA. Under the bonnet was a 4.3-litre UZ-series V8 taken from the contemporary Lexus GS 430.
History of F: 2006
Lexus filed patent applications for an 'F' emblem. The design saw a silver, three-dimensional letter 'F' raised against a black background and framed with a blue outline. Less obvious, however, was how the shape of the letter subtly incorporated the curvature of Turn One at Fuji Speedway, chief test site of Lexus performance vehicle development in Japan.
History of F: 2007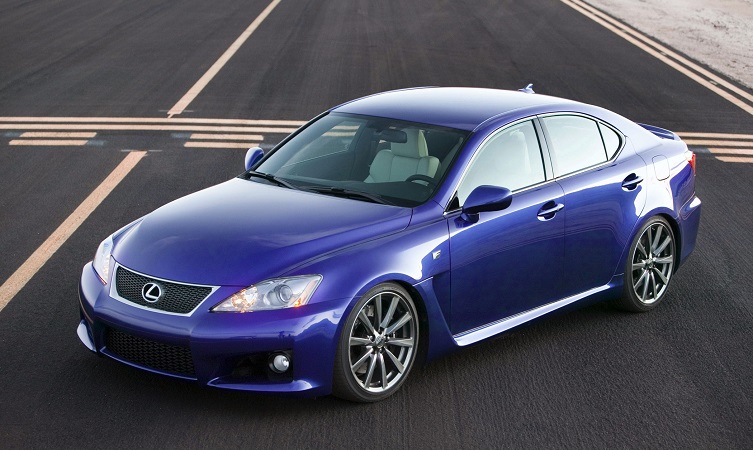 The high-performance, 2008 model year Lexus IS F sports saloon made its debut at the North American International Motor Show, equipped with a 417bhp 5.0-litre V8 and the world's first eight-speed automatic transmission. Our new 'Q car' was displayed alongside the second Lexus LF-A supercar prototype, now less conceptual in appearance compared to the design study unveiled two years previously.
History of F: 2008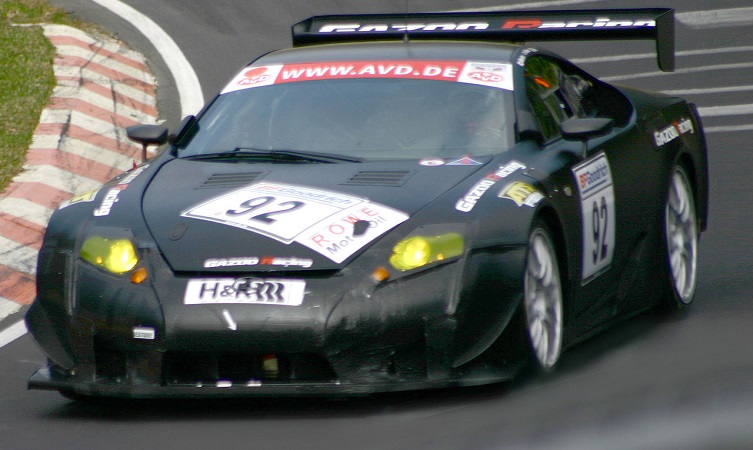 This stealthy, all-black Lexus LF-A prototype was the first 'F' marque car to enter an official motorsport race. Although still very much a development mule, the #92 car won the SP8 class in the Nürburgring 4 Hour VLN endurance race. Later that same month, Lexus entered the same prototype in the punishing Nürburgring 24 Hour race.
History of F: 2009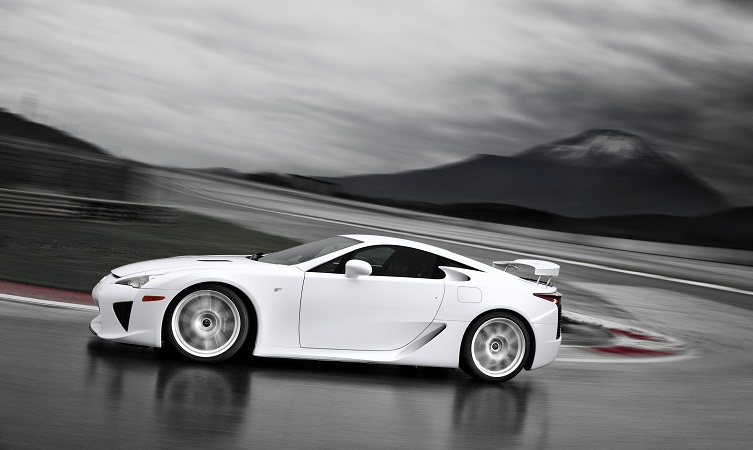 The production Lexus LFA was revealed by Akio Toyoda on the first press day of the Tokyo Motor Show, a fitting celebration of 20 years of the Lexus marque. There it was disclosed that only 500 examples would be produced – all hand-assembled at the Motomachi Plant at a rate of 20 per month to ensure the finest build quality and attention to detail. Each V10 engine would be assembled by a single engineer and would bear his signature as testament to each LFA's bespoke status.
History of F: 2010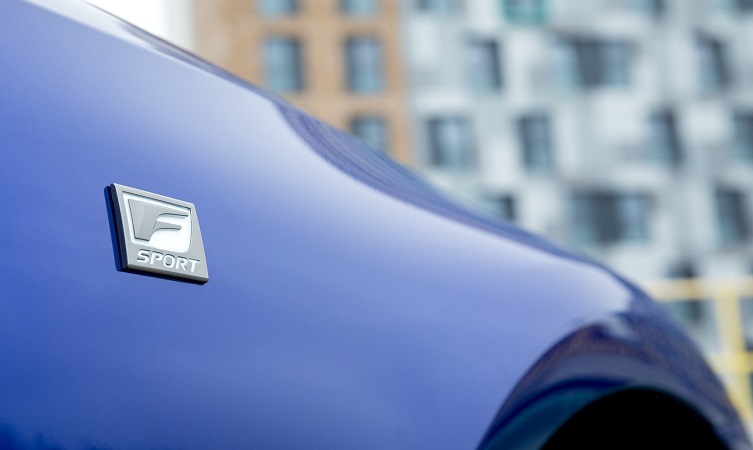 A new performance-theme F Sport factory model line was launched globally. The launch was in response to a successful trial in the United States that started in 2007, where IS and (from 2009) GS models could be enhanced with special F Sport accessories. These models could be easily identified by their bolder, more sporty styling treatment inside and out, while the F Sport badge was similar to that found on full-blooded 'F' models but featured the silver letter set against a white background.
History of F: 2014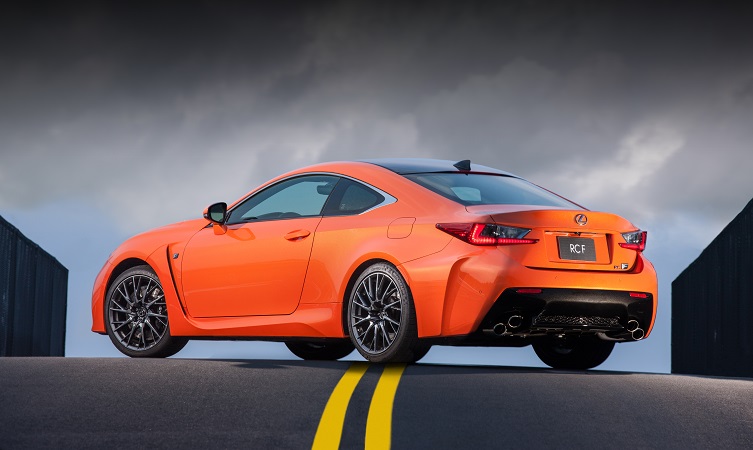 The Lexus RC F high-performance coupe was unveiled at the North American International Auto Show, opening the next chapter in the F programme with a thoroughbred model based on the still-new RC coupe. It was equipped with a revised version of the IS F's 5.0-litre UR-series engine, tuned to 467bhp to make it the most powerful road-going V8 Lexus had ever offered.
The RC F's epic pace was reflected in styling optimised for high-speed stability, including bespoke bodywork to cover wider wheels and tyres, an active rear wing, air scoops, cooling ducts and carbon fibre components. Each element delivered functional beauty to the overall design.
History of F: 2015
The performance blueprint executed for the RC F was applied to the GS saloon in 2015, creating the GS F. Using the same atmospheric powertrain, the GS F's handling was further developed in track testing on the famously demanding Nürburgring Nordschleife. Designed to offer the best of both worlds, its 5.0-litre V8 engine and track-tuned chassis delivered thrills and excitement on challenging roads, while its practical, four-door saloon body was able to take you there and back in style and luxury.
History of F: 2018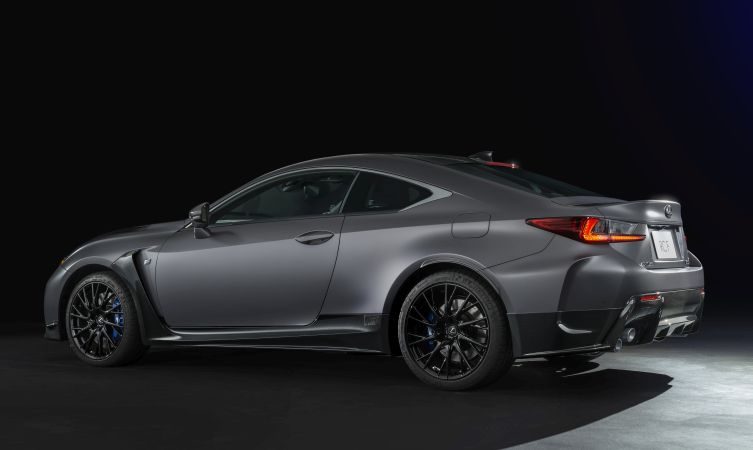 This year marked ten years since Lexus first introduced the 'F' car concept – cars that are designed and engineered specifically to deliver exhilarating performance. To celebrate this landmark, Lexus revealed exclusive tenth anniversary versions of the RC F and GS F at the Chicago Auto Show. Each was presented in special Mercury Grey paint – the first time a matt finish was ever offered on a Lexus – with vibrant blue leather and blue carbon trim across the interior.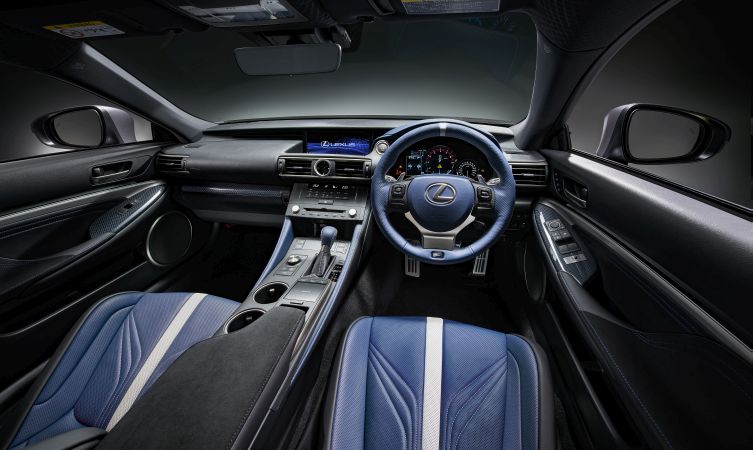 Fittingly, this exclusive newcomer was revealed at the same time as the RC F GT3 race car achieved success in international motorsport, including victories in the Blancpain GT Series in Europe and IMSA sportscar racing in the USA.
History of F: 2019
This year the RC F coupe underwent a raft of changes to boost performance and freshen the model's appearance. Beneath the updated headlights and reshaped bumpers lay a lighter, tighter, more accelerative beast with a punchy and more easily accessible mid-range. The engineers were instructed to never compromise the model's highly admired refinement and solidity – a brief that allowed a little extra space for something rather special…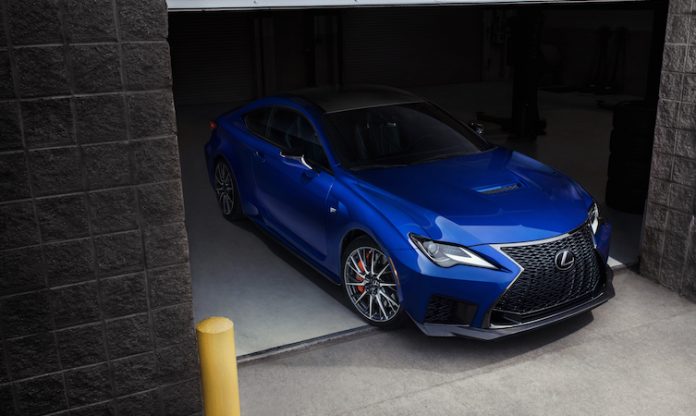 Which is where the new RC F Track Edition comes in. This factory special features precisely engineered motorsport upgrades that work together to take performance to a new level. These include a carbon fibre front lip spoiler and fixed rear wing, a Brembo braking system with ceramic discs and lightweight 19-inch BBS forged alloy wheels. Around 80kg has been saved by using additional carbon fibre parts, including the roof, bonnet, rear cabin partition and bumper reinforcement.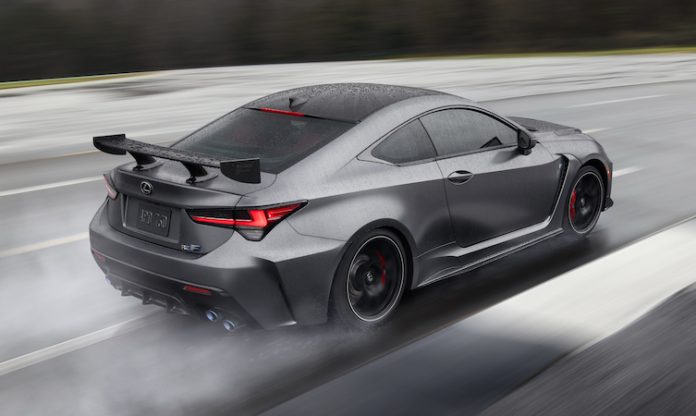 As standard, the RC F Track Edition comes with a red leather interior, with Alcantara upholstery accents and red carbon trim details. The body colour choices are Ultra White and Nebula Matt Grey – the latter exclusive to the Track Edition.
Read more: Power and control, brought to you by the letter F