Along with innovations such as advanced body adhesives, Lexus has developed a new production process called laser screw welding used in the construction of many of its current models, including the new RC F sports car, NX crossover, IS sports saloon, and the recently unveiled GS F performance saloon.
Laser screw welding supplements traditional spot-welding during the manufacture of the chassis and body of these Lexus vehicles, increasing body rigidity and strengthening the chassis to provide greater handling dynamics and ride comfort.
Conventional resistance spot welding applies an electrical arc to layers of sheet metal, heating them to the point where they weld together. The downside is that the heat generated can cause the metal panels to deform or distort, so to prevent this happening automakers have to space spot welds apart at regular intervals. It's also time-consuming, with each spot weld taking two or three seconds to complete.
In contrast, laser screw welding uses a laser to weld the sheet metal panels together, but is much faster (as seen in the video above) and generates so little heat that there aren't any issues with heat distortion. As a result, Lexus' laser screw welding technique can be used to, in effect, fill in the gaps between conventional spot welds, thereby increasing the rigidity and strength of the joint between the panels. Conventional welds can be spaced further apart too, decreasing the risk of heat distortion further.
Other benefits include the ability to perform one-sided welds on areas such as the outside of box section parts like door and roof pillars – indeed, laser screw welding is often utilised around front and rear door openings – and the fact that the strength and quality of the finished weld is more consistent than other laser welding methods, particularly where multiple layers are welded together.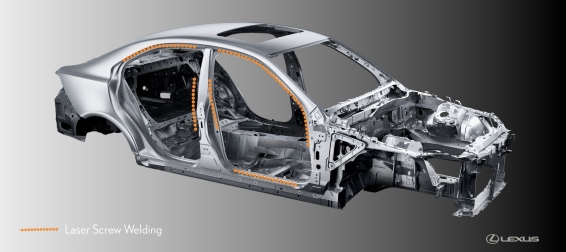 Lastly, laser screw welding brings advantages to Lexus' production efficiency and carbon dioxide emissions. As the same laser screw welding process can be used for both steel-to-steel and aluminium-to-aluminium fabrication, two existing production lines can be consolidated to a single line for vehicles of both body types, reducing production processes by up to 40%. The unique welding method will also help to reduce carbon emissions by up to 50% (source).
See also:
Engineering the future: Four Lexus innovations
25 Lexus world firsts
How Lexus builds-in strength