As Lexus strives to exceed its customers' expectations, the company is at the forefront of the latest manufacturing and engineering methods that ensure the quality and excellence of every vehicle that rolls out of the factory. Consequently Lexus engineers are continually implementing new production techniques and processes to improve production methods, and ultimately to build better cars.
So how do you improve on traditional production methods that have been optimised over decades? The answer is a rather sticky point: glue, or more properly, advanced body adhesives.
See also:
Engineering the future: Four Lexus innovations
As a way of creating a strong bond between two surfaces, adhesives like superglue have long been known to be highly effective. Today's advanced body adhesives such as the latest cyanoacrylates – the group of adhesives often referred to as 'superglue' – are stronger than ever before, but the relatively high cost of bonding car parts together with advanced body adhesives rather than using conventional spot-welding was a barrier to the adoption of adhesives in mass automotive production.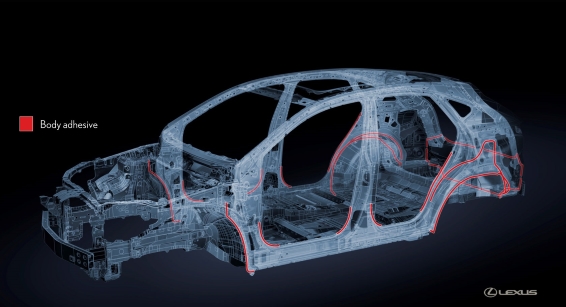 Nevertheless, when Lexus needed high-strength, lightweight solutions for the ground-breaking LFA supercar, its engineers quickly identified advanced body adhesives as having a part to play. Their experience with the LFA  has trickled down to the other models in the Lexus range;  among others, the new Lexus RC F sports car, new Lexus NX crossover (shown above) and current Lexus IS also employ construction methods that use advanced adhesives in place of traditional spot-welding.
See also:
Lexus GS F: a new chapter in GS history
Lexus RC F Sport coupe – new pictures
New Lexus IS – glued to the road…
This innovative bonding process brings with it greater benefits than simply a strong joint. When developing the IS, Lexus engineers discovered that the body adhesive was the most significant factor in improving the car's ride quality. The increased rigidity of bonding together entire sections of chassis rather than just welding it in spots translates into a car that is more fun, more agile and better to drive.
In combination with other engineering techniques like laser screw welding and vacuum-cast aluminium, Lexus demonstrates how it continues to lead the way in technical innovation, resulting in even better cars for you to enjoy.