We believe that Lexus values set us apart from other manufacturers. They guide everything we do, every interaction with customers, and every vehicle we produce. Our refusal to compromise these values has a direct bearing on the quality of engineering and the craftsmanship evident in the construction of our cars. But it also leads to the development of innovative technologies and world-first features.
What are some of these world firsts? We invite you to scroll down this page and discover our special selection of 25 assets – some of which are well-known, others less widely publicised. Perhaps you have personally experienced the benefits of these innovations.
1. Full hybrid V8 powertrain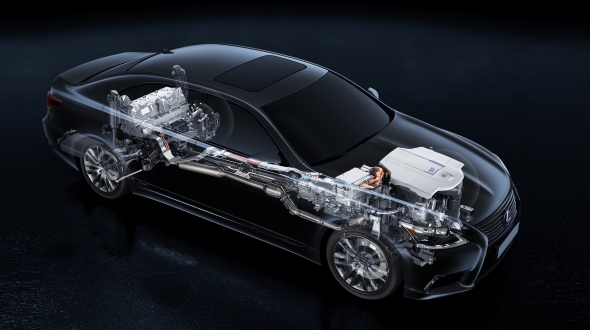 The Lexus LS 600h was the world's first full hybrid V8 at launch in 2007.
2. Climate Concierge system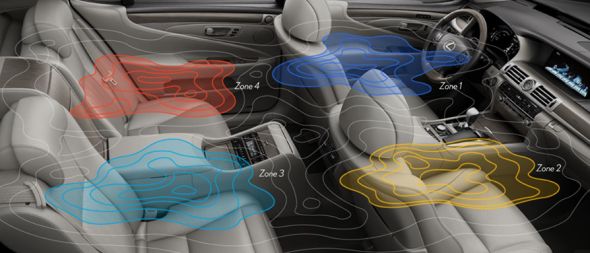 The Climate Concierge system fitted to the current-generation LS 600h is a world-first climate control technology. It uses infra-red sensors to monitor the facial temperature of everyone on board and adjusts the temperature of each zone accordingly.
3. Satellite navigation system as standard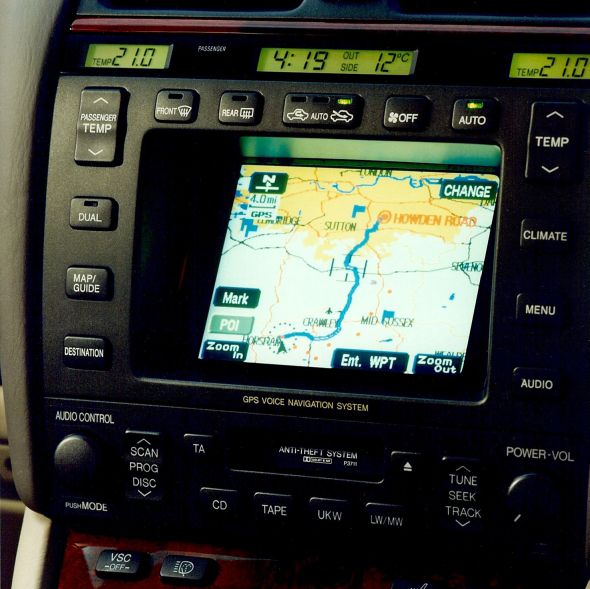 The European-specification LS 400 of 1998 was the first car in the world to have satellite navigation fitted as standard.
4. Torque-Vectoring Differential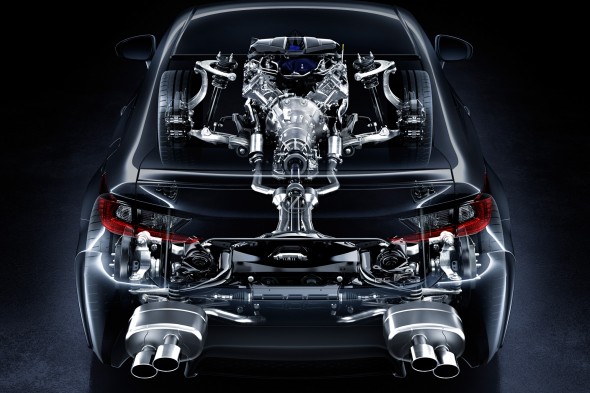 The Lexus RC F is the first front engine/rear-wheel drive sports car to feature a Torque-Vectoring Differential. It uses a series of multi-plate clutches to distribute torque between the rear wheels.
5. Clari-Fi™ premium sound system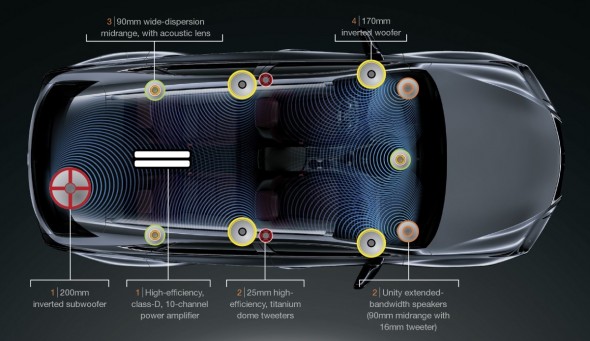 The Lexus NX 300h Premier marries a Mark Levinson Premium sound system with Clari-Fi™ – a technology that analyses and improves the audio quality of all types of compressed, digital music sources.
6. Rear-wheel drive luxury hybrid vehicle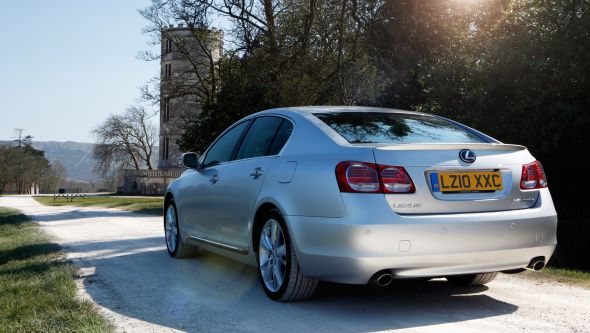 Lexus engineered the world's first mass-produced rear-wheel drive luxury hybrid vehicle, the GS 450h in 2007.
7. Eight-speed automatic transmission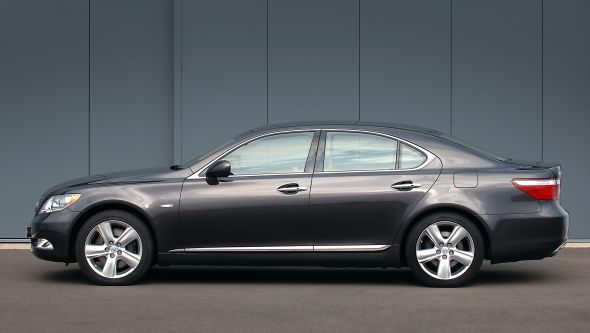 The 2006 Lexus LS 460 debuted the world's first eight-speed automatic transmission.
8. Dedicated hybrid powertrain manufacturing plant
The Lexus Kokura plant in Japan is the world's first and only dedicated hybrid manufacturing facility. The assembly line has a positive air pressure system to prevent airborne particles from contaminating any of the hybrid powertrain components.
9. Twin-chamber front passenger airbag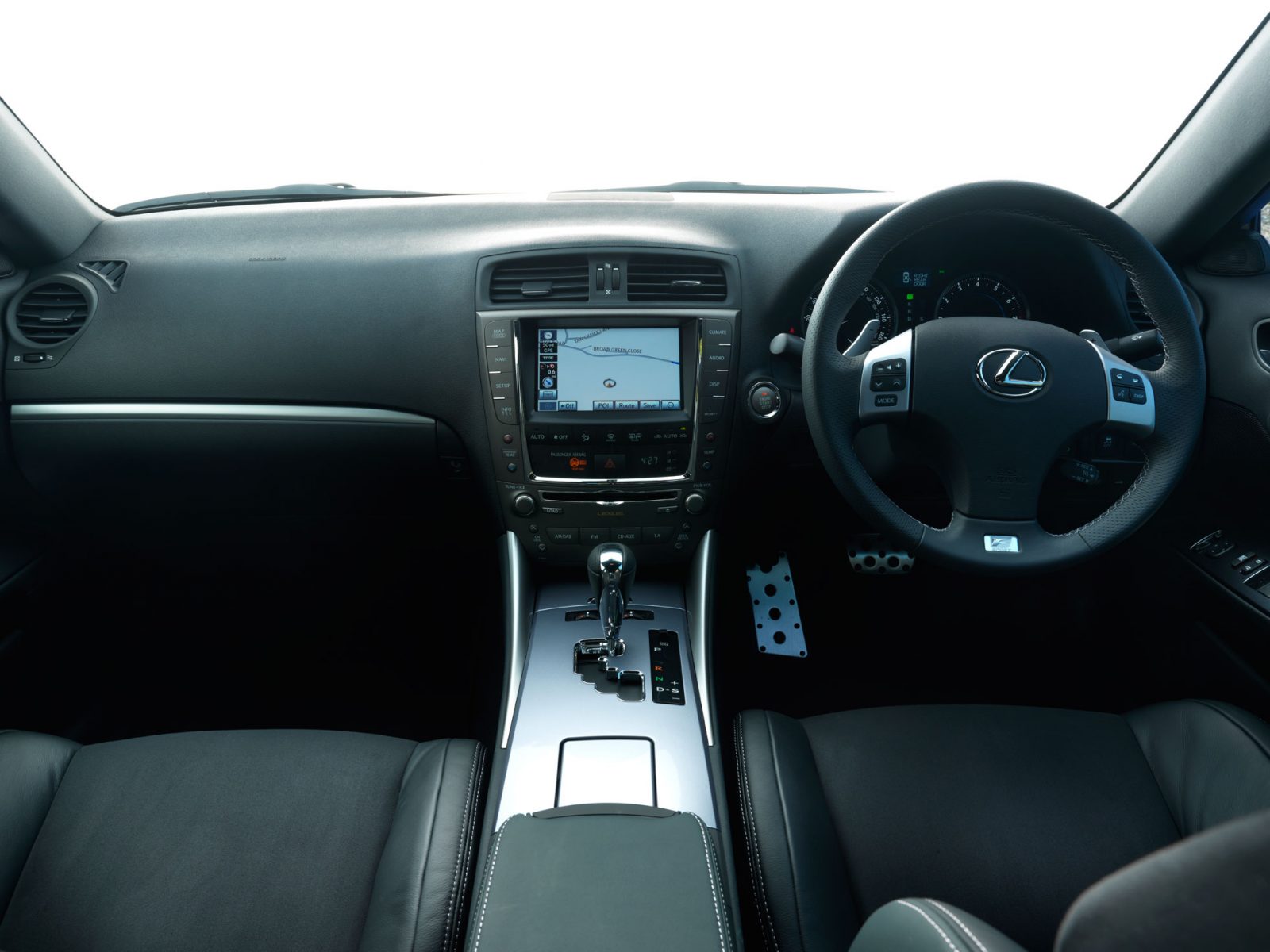 In 2005, the second-generation Lexus IS became the first car in the world to be fitted with a twin-chamber front passenger airbag, designed to deliver greater protection to the neck and shoulders in an impact.
10. Switchable air suspension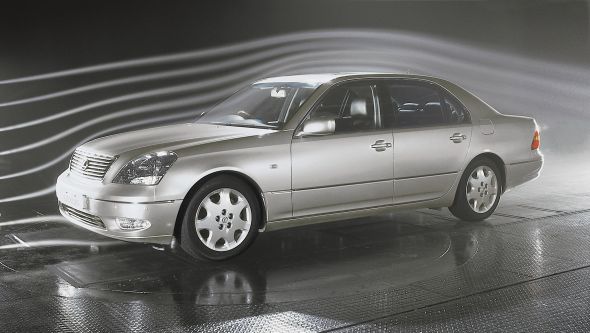 Switchable air suspension debuted on the 2000 model year Lexus LS 430. The system maintains vehicle ride height at a specified level regardless of the number of passengers or load level. It can be raised by 20mm for uneven roads and is automatically lowered at high speeds to improve aerodynamics.
11. Full hybrid luxury SUV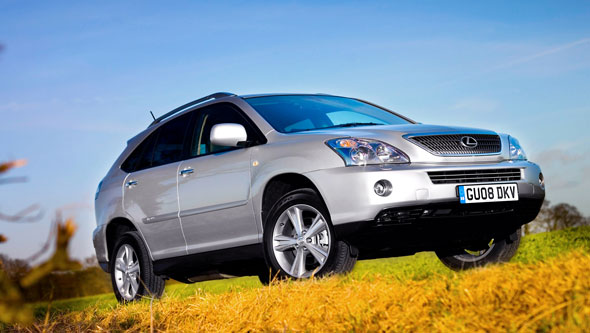 The 2005 Lexus RX 400h was the world's first full hybrid luxury SUV. It mated a 3.3-litre V6 petrol engine with an electric motor to produce 269bhp.
12. Efficient hybrid battery recycling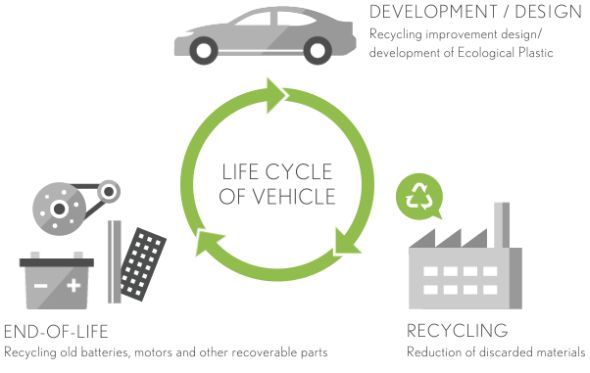 Lexus pioneered the recycling of used nickel metal hydride (NiMH) batteries from hybrid vehicles and was the first to put in place a system that recycled the rare earth metals neodymium and dysprosium that are used in the magnets of hybrid vehicle motors. Unique businesses have also been set up to recycle cemented carbide scraps into tungsten, which is then made into highly resilient carbide tools. These efforts were part of a commitment to achieve a 95 per cent recovery rate in Lexus vehicles by 2015.
13. Hybrid drivetrain silencer plate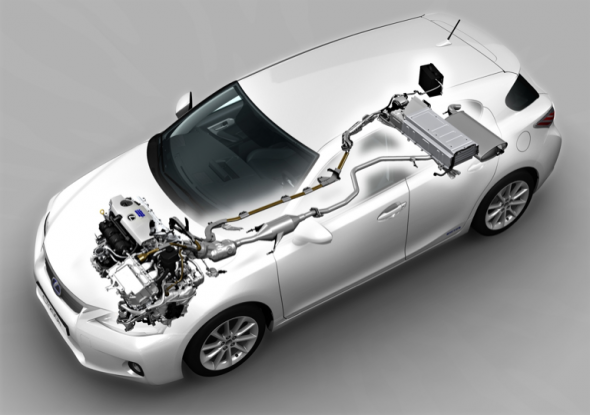 The intake tract of the Lexus Hybrid Drive powertrain on the CT 200h is designed with a special porous material featuring the world's first silencer plate. The result is quieter performance but with a pleasing air intake note.
14. High-resolution 12.3-inch wide screen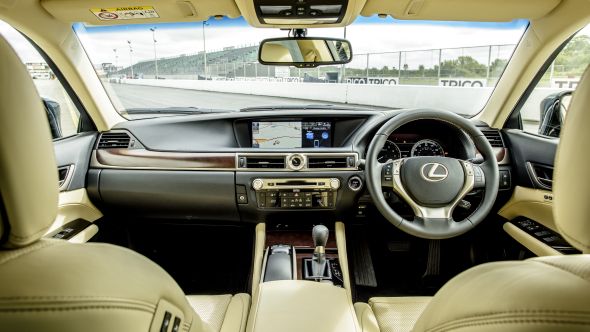 The current-generation Lexus GS 300h and GS 450h models feature a 12.3″ wide high-resolution multimedia display, a world first in a mass-produced vehicle.
15. Bamboo steering wheel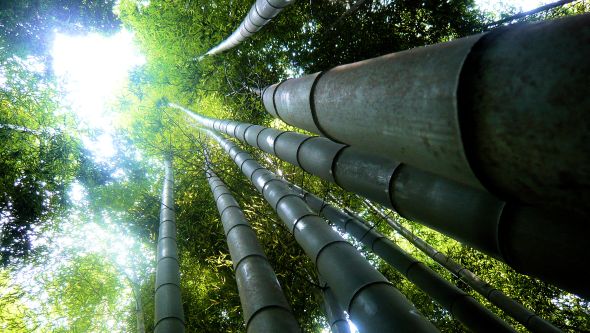 The current Lexus GS range can be specified with a steering wheel manufactured using sustainable bamboo material.
16. Joystick-operated Remote Touch Interface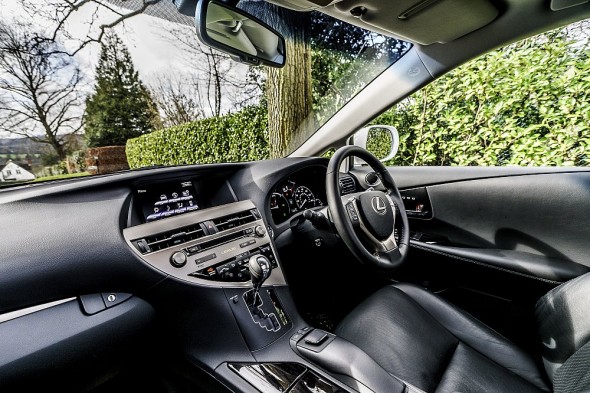 The Lexus RX 450h is equipped with a second-generation Remote Touch Interface that features the world's first slide-type joystick mechanism. The joystick functions much like a computer mouse, controlling multimedia in the cabin.
17. Quiet Mark for the Lexus CT 200h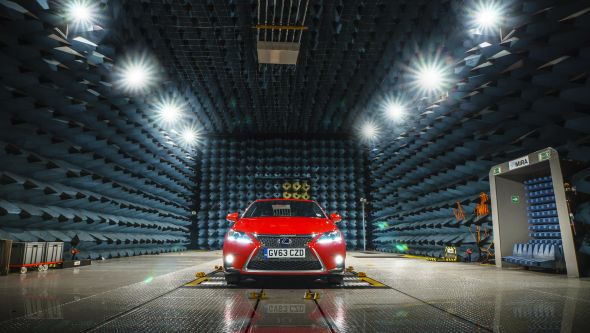 The Lexus CT 200h was the first car to be awarded the prestigious Quiet Mark, recognition from the Noise Abatement Society for its contribution to an improved aural environment.
18. Tilt-and-telescopic steering wheel with airbag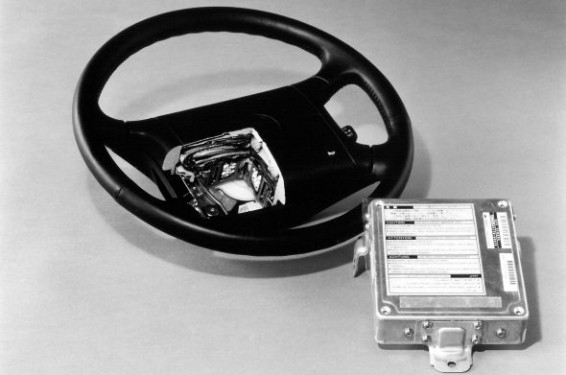 The 1989 Lexus LS 400 was the first car to feature a steering wheel with a supplementary restraint system airbag as well as a broad range of tilt and telescopic adjustment.
19. Low reflection windscreen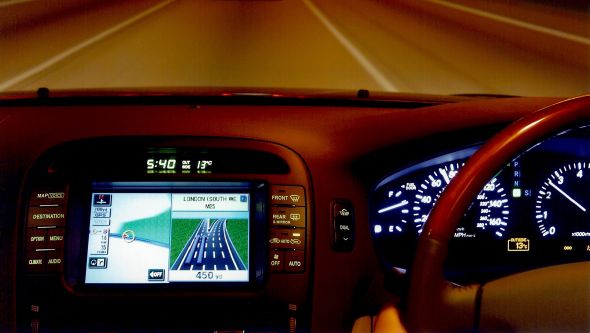 The third-generation Lexus LS 430 featured a low reflection windscreen. A special coating applied to the glass helped to reduce glare in bright sunlight, which was particularly useful on models specified with light-coloured dashboards.
20. Electronically controlled variable valve timing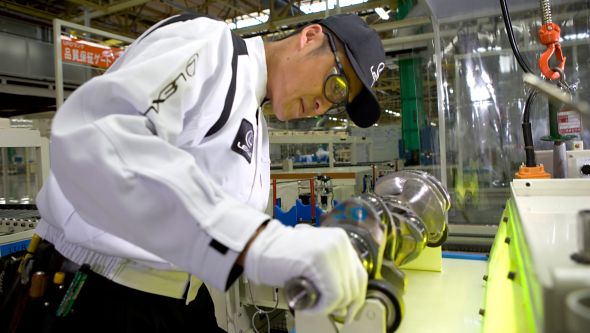 VVT-iE was the world's first electronically controlled variable valve timing system to be fitted to intake camshafts, and was fitted to the fourth-generation LS 460 of 2007. It differed to the previous hydraulically-activated system by optimising the full spectrum of engine speed and temperature. Variable valve timing continually monitors the timing and lift duration of valves in a combustion engine to improve performance.
21. Laser-screw welding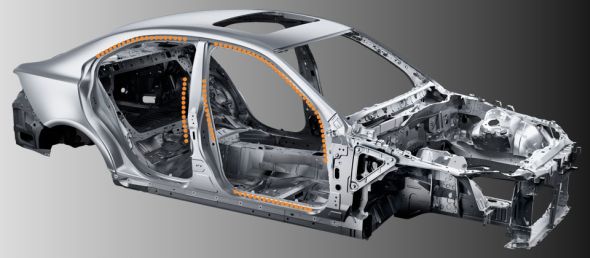 Laser-screw welding is a Lexus-first technology that employs incredibly accurate laser beams to create perfect spot welds around panel joints for optimal body stiffness and construction accuracy. It was first used on the current Lexus LS.
22. Six-disc CD auto-changer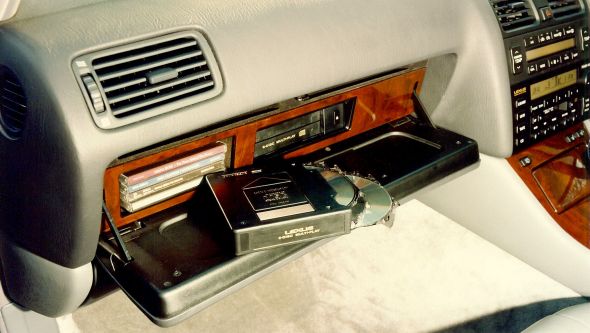 The 1995 Lexus LS 400 was the first car to offer an optional six-disc CD auto-changer as part of its audio system.
23. Engine component integration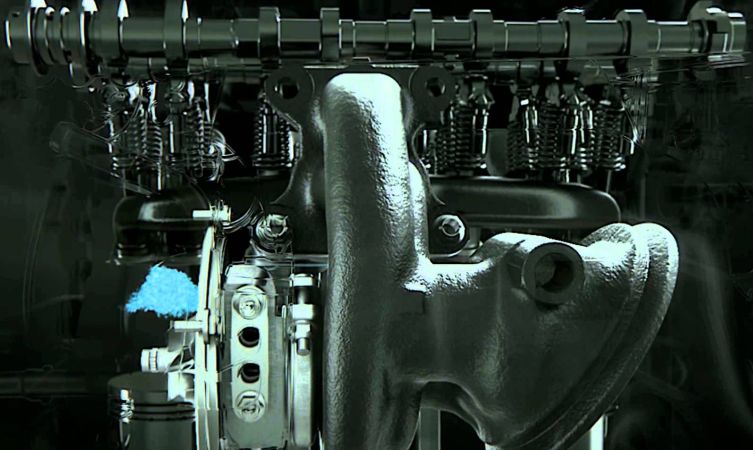 As a result of more than one million kilometres of rigorous development testing, the 2.0-litre four-cylinder engine in the Lexus NX is the first in the world to combine a water-cooled cylinder head with an integral, four-into-two exhaust manifold and a twin-scroll turbocharger.
24. Collapsible steering column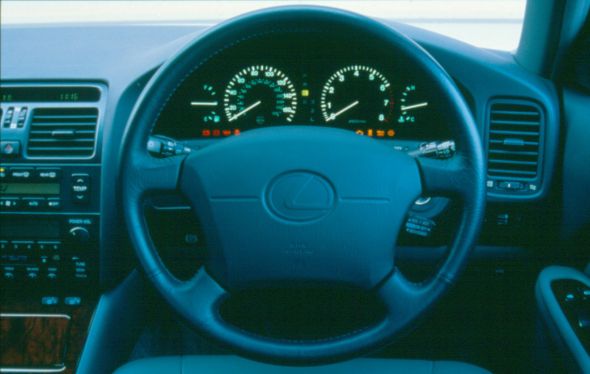 The second-generation Lexus LS 400 was the first production car to feature a collapsible steering column. This patented innovation featured a corrugated shaft coupling designed to absorb primary and secondary impacts in the event of a collision.
25. Unprecedented number of JD Power wins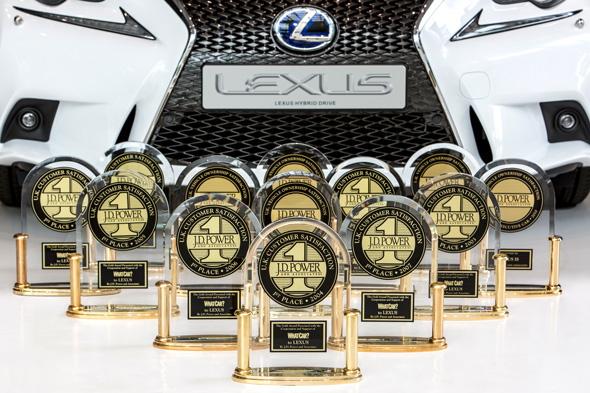 In 2014, Lexus became the first car brand in the automotive industry to top the annual WhatCar?/JD Power customer satisfaction survey 12 times.
26. Aero-ventilating wheels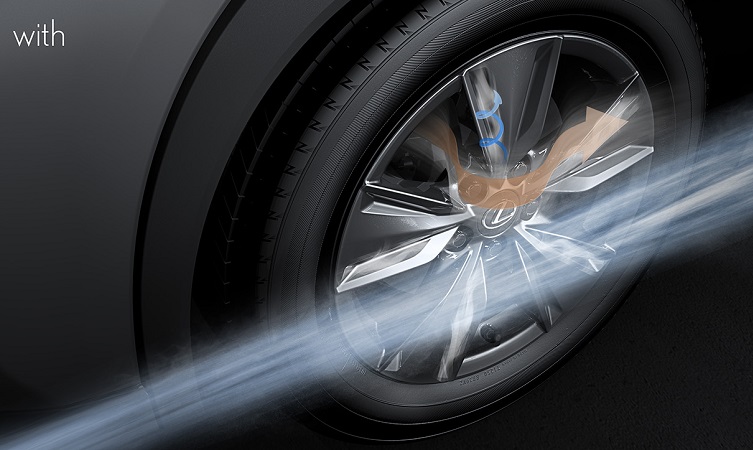 The advanced aerodynamic package designed for the UX compact crossover includes world-first aero-ventilating wheels. These feature flaps on the spokes to regulate airflow and increase down force, contributing to stable braking, better brake cooling and less turbulence along the side of the vehicle.
27. Digital Side-view Monitors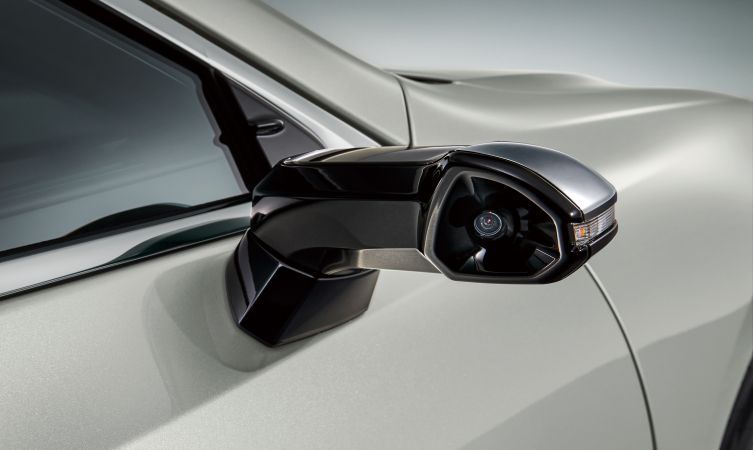 The new ES saloon was the first production vehicle fitted with digital side mirrors. Small cameras are positioned on the front doors, which feed real-time images to smartphone-size monitors located inside the cabin, at the base of the front pillars. The cameras are designed to operate consistently in all weather conditions, and automatically enhance the images shown when the indicators are activated.
28. Advertising film scripted by artificial intelligence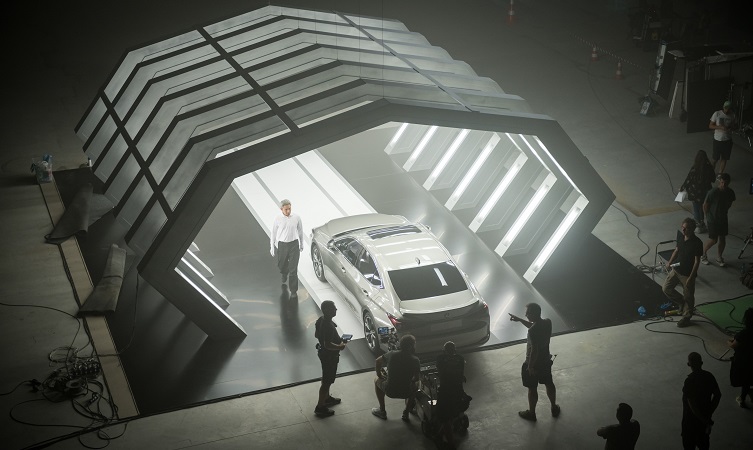 In 2018 Lexus commissioned the world's first advertising film to be scripted using artificial intelligence. Driven by Intuition, directed by Oscar-winner Kevin MacDonald, was created for the European launch campaign for the new ES saloon.
29. Active Steering Assist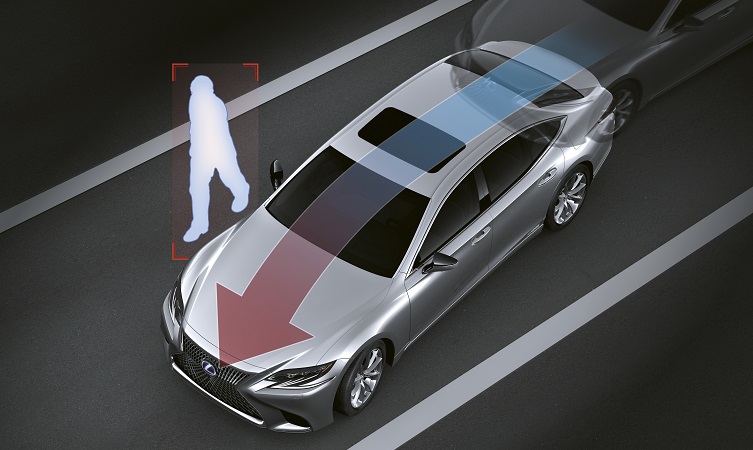 The current Lexus LS 500h is equipped with the world's first Active Steering Assist system, which can detect if an imminent collision can be avoided with automatic steering control. Besides alerting the driver and applying the brakes, the system is also able to steer around a car or pedestrian to avoid an accident.
30. BladeScan adaptive high-beam system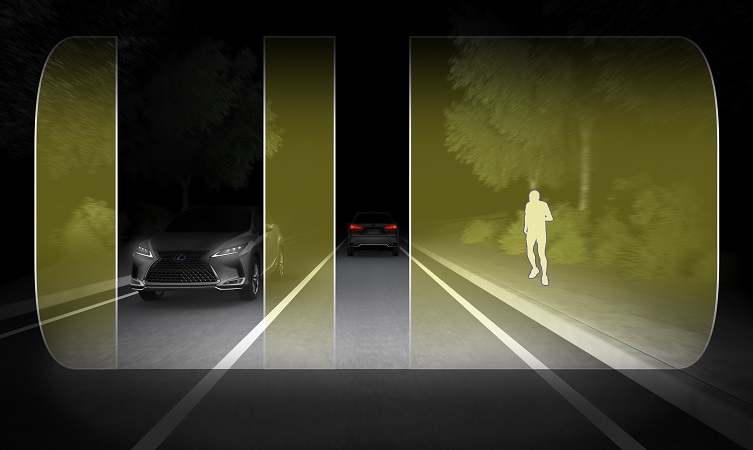 The current Lexus RX features the world's first BladeScan adaptive high-beam system, a technology which uses a rotating blade-shaped mirror to achieve finer and wider illumination from LED headlights.
Bonus world-first: tattooed car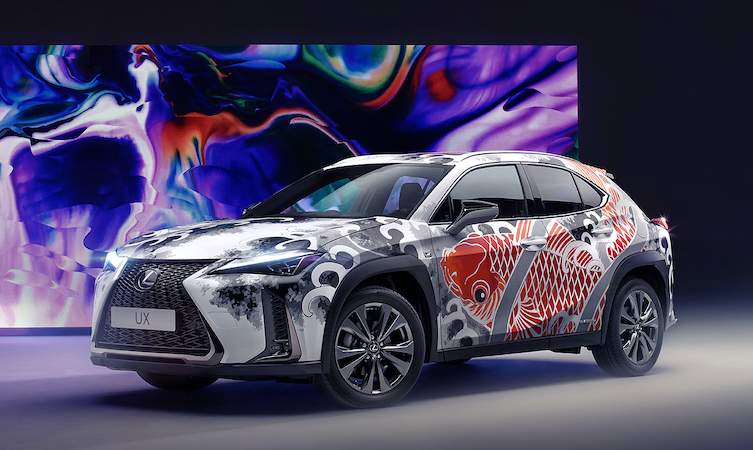 You've probably scratched your car before, but never like this… Lexus recently unveiled the world's first tattooed car. Using a pure white car as a canvas and a handheld drill tool in place of a fine tattooing needle, Lexus commissioned London tattoo artist Claudia de Sabe to produce a sweeping design featuring koi carp along the entire length of a Lexus UX.
Learn more: 14 ways Lexus innovated its way through the last decade