Slimming World, the UK's leading weight loss organisation, has put its vehicle fleet on a new diet of Lexus hybrids, signing a deal that will see 76 cars acquired for its managers during the next three years. It is the largest solus fleet agreement yet secured by Lexus, reinforcing the wide range of benefits its line-up of premium quality hybrid models can deliver to business customers.
Slimming World has long been an advocate of hybrid power, having established the nation's first all-hybrid fleet more than a decade ago. Now it is renewing its commitment with the latest generation Lexus models, led by the new NX 300h compact SUV, together with the CT 200h hatchback and IS 300h sports saloon.
Caryl Richards, Slimming World Managing Director, said: "Slimming World has always been a forward-thinking organisation and we're extremely proud of the fact that we were the first company in the UK to have an all-hybrid fleet, so when we looked at updating our company cars it was important that we were able to maintain this."
"The majority of the fleet will be used by our district and field managers, who support our 4,000 consultants and 12,000 Slimming World groups across the UK and Ireland. They cover around 30,000 business miles a year. Most of these managers are women and they are mainly visiting Slimming World groups in the evening, so it's vitally important to us that they have a safe and reliable choice of car. Our new partnership with Lexus will enable us to provide them with this as well as supporting our commitment to being environmentally responsible. And just as importantly to their drivers, they look great too."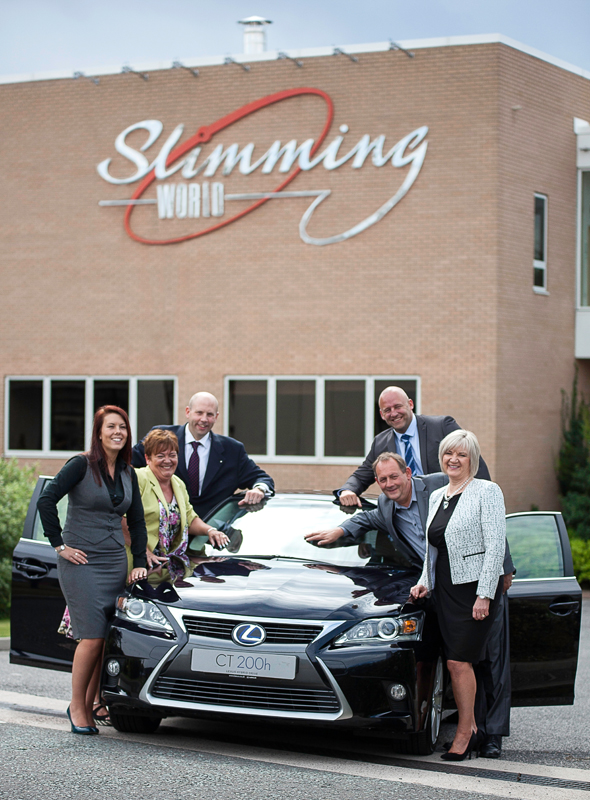 Richard Balshaw, Lexus Director, said: "We're delighted that Slimming World values the premium quality, performance, environmental efficiency and business cost benefits that Lexus hybrids provide. Its commitment to hybrid and to Lexus is another example of the growing movement among British businesses to embrace hybrid as the common sense choice for their vehicle fleets."
Thanks to their high efficiency and low CO2 emissions, Lexus hybrids attract highly competitive benefit-in-kind company car tax rates. Good fuel economy also helps keep running costs down. Lexus's hybrid technology has proven reliability and long-lasting quality, which means lower maintenance and repair bills. Notably, the cost profile of the new NX, Lexus's first compact SUV, has brought it firmly within Slimming World's fleet vehicle specifications, offering even better value than non-premium rivals.
For the driver, hybrid power delivers a quiet, refined and relaxing drive, something Slimming World's managers are sure to appreciate in the course of their extensive business mileage.
See also:
Lexus CT 200h review
Lexus IS review
Lexus NX price and specification revealed