The new Lexus NX premium crossover is packed with cutting-edge technology, an example of which is the Mark Levinson Premium Surround System (fitted to Premier models) which makes the NX sound as good as it looks.
The system includes the world's first use in a vehicle of Harman's revolutionary Clari-Fi™ technology, an audio-enriching innovation that restores lost depth to music.
To understand the impact of Clari-Fi™, it's important to know why it's needed in the first place. Over the past decade, there's been a wholesale shift in the way music is bought and listened to: instead of physical CDs that provided high-quality digital audio, the majority of people listen to music as downloaded MP3s or on digital streaming services.
To keep file sizes small and enable listeners to store thousands on tracks on their phones, USB sticks or generic MP3 players, the track's original audio data is compressed.
Even though the compression process is very clever, the end result compromises quality in favour of size – up to 90% of the original audio content can be lost.
What Harman has done with Clari-Fi™ is, in simple terms, to take the compressed audio data, expand it and cleverly fill in the gaps. Unlike other technologies that simply boost the bass and apply some equalisation effects, the advanced algorithms behind Clari-Fi™ analyse the audio signal in real time and replace what has been lost.
In so doing, the audio experience is noticeably enhanced – compare the difference for yourself by listening to the playlist below. In each of the three tracks, listen out for when the Clari-Fi™ technology comes into play.
Learn more about the technology at Harman's dedicated Clari-Fi™ website.
Combine this innovative new technology with the fantastic 14-speaker Mark Levinson Premium Surround System that delivers 835 watts of audio power, and Lexus again demonstrates its commitment to the highest quality in every area of the ownership experience.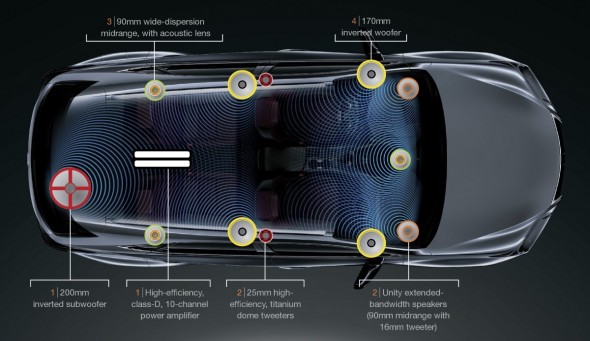 Build your NX 300h here. If you would like to arrange a test drive, leave a comment below and we'll be in touch shortly.
See also:
Lexus NX review
Lexus NX price and specification revealed
Agnieszka Radwanska models the Lexus NX
Lexus NX arrives at UK HQ
By Andrew Biddle