From phone charging to capturing an all-round view of your surroundings, the new Lexus NX 300h has new technology features that will make life on board easier, better informed and more enjoyable.
Going beyond the technical sophistication of its full hybrid powertrain and advanced safety and handling systems, Lexus's first compact crossover will be available with a raft of novel and genuinely useful features. These include a handy wireless charging tray for mobile phones and other portable devices; the first application of a new Lexus Remote Touch Interface with a touch pad control; a 360-degree Panoramic View Monitor; and a Lexus-first G-sensor.
The top of the range Mark Levinson Premium Surround Sound system benefits from new ClariFi™ technology that improves sound reproduction from compressed digital files.
Wireless charging tray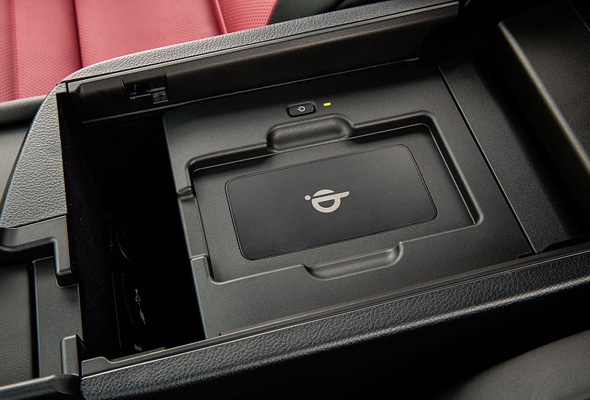 NX 300h owners can recharge their smartphones and other compatible items (conforming to the international qi protocol) simply by placing them in a dedicated charging tray located handily between the front seats, with no need for a cable connection.
The tray is part of the standard specification for F Sport and Premier models and is available as an option on the NX 300h Luxury.
Panoramic View Monitor
The NX 300h Premier is equipped with Lexus's first 360-degree Panoramic View Monitor. This gives drivers greater reassurance, especially when moving in confined spaces, on or off-road, at speeds up to 12mph (20km/h).
A dedicated ECU mounted behind the C-pillar constantly monitors input from four interconnected cameras located on the door mirrors, front grille and rear trim. It processes the images and relays them to the audio and navigation display monitor in a range of seven sequences. The driver can even view the NX as if looking down from above and accurately check its surroundings before driving off.
The monitor lets the driver see obstacles that, with conventional front and rear-view cameras, would remain concealed in blind spots. It uses full-screen imaging, without the "letterbox" effect created by an analogue camera format.
The Panoramic View Monitor works in conjunction with parking assist system and the Rear Cross Traffic Alert, which detects obstacles coming from either side in the driver's blind spot when reversing out of a parking space.
Remote Touch Interface touchpad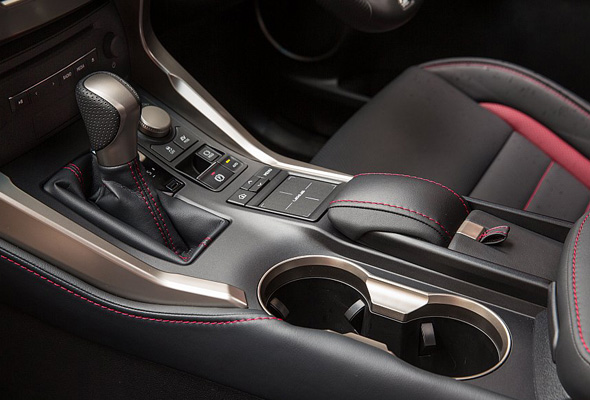 Lexus has revised and improved its Remote Touch Interface control, introducing a new touchpad on the centre console.
It's designed to make it easier to locate the on-screen icons and is fitted with a palm rest for comfort. It provides fast, intuitive, on-the-move access to ancillary controls for features such as the climate control, audio and navigation, with minimum driver distraction. It's also designed and positioned so that it can easily be used by the front seat passenger.
G-Monitor
The NX 300h F Sport features Lexus's first G-force sensors – the G-Monitor – which send live data to the multi-information display. The G-Monitor screen shows a G-ball moving in line with the lateral and longitudinal forces on the vehicle, giving the peak force experienced in each direction.
Additional display bars indicate the steering angle, throttle opening and hydraulic brake pressure.
Mark Levinson Premium Surround System with Clari-fi™
Lexus has enjoyed a long and successful relationship with premium audio specialist Mark Levinson and the new NX 300h marks another development in sound quality with a 14-speaker Premium Surround Sound System that is the first in-car package to use Clari-fi™ to improve the reproduction of sound from digital sources.
The system is fitted as standard to the NX 300h Premier. The pre-programmed sound equalising in the NX 300h differs from that in other Lexus models in that it takes into account the difference in interior space and cabin lay-out.
The Mark Levinson system has been purpose-built for the new NX, and has been engineered to enhance the quality of music sourced from compressed digital files. Key to this is the first in-car use of Clari-fi™, which analyses and improves the audio quality of all types of compressed, digitalised music sources. The Mark Levinson system also uses patented high-efficiency technology which more than doubles sound output without increasing energy use.
The package includes a 12-channel Class D amplifier and new Unity technology that places 9cm speakers at each end of the instrument panel. Total system output is 125 watts per channel and 835 watts overall, with distortion limited to less than 0.1 per cent.
See also:
Lexus NX review
Lexus NX price and specification revealed
Lexus NX advocates speak up
Inspired by the Lexus NX: Striking design meets bold creativity
Lexus NX: Right-hand drive interior images revealed
Lexus NX: 11 facts you need to know