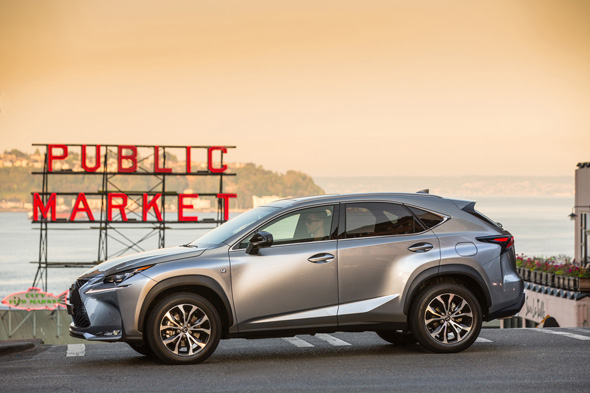 The new Lexus NX 300h isn't simply a crossover with SUV looks. It comes equipped with an intelligent electric all-wheel drive system that provides extra grip just when the driver needs it.
Light and compact, the clever technology also avoids the weight, packaging, emissions and fuel consumption penalties associated with larger, mechanical AWD systems.
Called E-Four, the system uses an additional electric motor to drive the rear axle, providing more grip and better vehicle control on slippery surfaces. The front axle is propelled by power from the hybrid petrol engine or electric motor, or both in combination.
E-Four works intelligently, varying the amount of drive torque to the rear wheels in line with driving dynamics and road conditions, to secure just the right level of stability when pulling away or accelerating in low-grip conditions. As operation is automatic, the driver doesn't have to think about engaging AWD.
It saves energy and fuel, too, as all-wheel drive is only engaged when it's needed. When the system detects a loss of traction to the front wheels, it reduces the electricity supply to the traction motor in the transaxle and increases the supply to the rear axle motor. The rear motor also acts as a generator for the NX 300h's regenerative braking system, increasing the amount of kinetic energy that can be harvested and stored as electric power.
E-Four is fitted as standard on all UK versions of the new NX 300h, apart from the entry-level S model, which has front-wheel drive only. Its efficient performance helps the crossover achieve combined cycle fuel economy of 54.3mpg with 121g/km CO2 emissions.
See also:
Lexus NX review
Lexus NX 300h: Technology to keep you in touch, in tune and in control
Lexus NX price and specification revealed
Lexus NX advocates speak up
Inspired by the Lexus NX: Striking design meets bold creativity
Lexus NX: Right-hand drive interior images revealed