Lined up together, this pair of Lexus GS 300h models cut quite a dash. Looking resplendent in F Sport white, the model on the left is an F Sport grade model, that offers aggressive looks and a sporty driving experience. Meanwhile, the Sonic Silver model in our pictures is a range-topping Premier model, that majors on luxury with a host of premium features. We compare some of the key features of each characteristically unique model.
GS 300h F Sport, £41,745 OTR*/ from £386.00 p/m (personal user)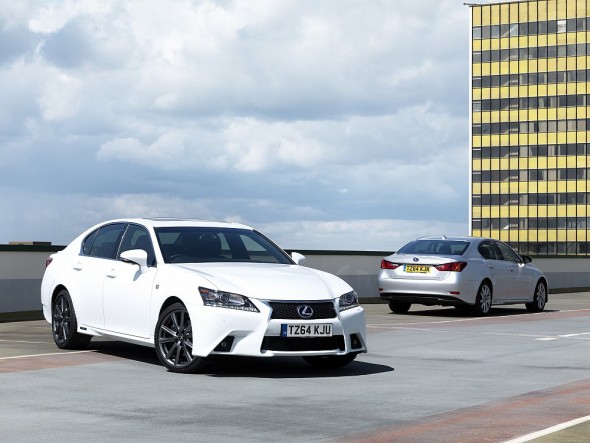 The F Sport has a more pronounced front bumper with larger side grilles. This combines with an F Sport-specific mesh design in the upper and lower grilles to give a sportier appearance.
The rear diffuser has a combination of grey metallic paint with a chrome moulding to the lower section of the bumper, and is fitted with an F Sport rear spoiler and dark-finish 19-inch alloy wheels.
F Sport models have a unique range of colours: Arctic Pearl, Sonic Silver, Velvet Black, Mercury Grey and Crimson Red.
Crimson Red features tiny flakes of glass incorporated in the coating to give a deep shine. Sonic Silver uses a new coating technology that adds an extra metallic texture to make the surface appear finely polished.
GS 300h Premier, £43,745 OTR* / from £450.27 p/m (personal user)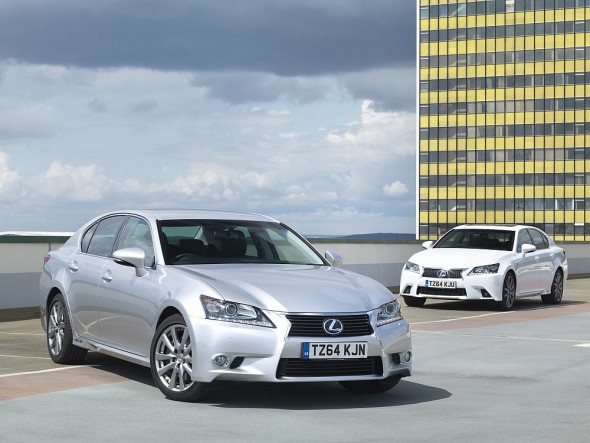 Peerless luxury is displayed in the GS 300h Premier through intuitive technology. Premier models are equipped with a 17-speaker Mark Levinson Premium Sound system, linked to a 12.3-inch central display – one of the largest on the market.
Typically Lexus flourishes adorn the Premier's cabin, and include electrically operated sunshades for the rear windows and an ioniser to help maintain an ideal environment. The sophisticated climate control system is divided three-ways between the front left and right and rear sections of the cabin.
The seats are upholstered in semi-aniline leather, with both front seats benefiting from 18-way electric adjustment and memory settings. The passenger seat offers extra leg support and a rear easy access function.
Premier models are available in a choice of eight body colours: Arctic Pearl, Sonic Silver, Velvet Black, Mercury Grey, Meteor Blue, Crimson Red, Atlantic Blue and Celestial Black.
See also:
Lexus GS 300h example finance offer and running costs
Lexus GS 300h: Reviews round-up
What is it like to own a Lexus?
History of the Lexus GS
Where next?
Further information about the Lexus GS range is available on the designated section of the Lexus UK website. If you would like to test drive a GS 300h or GS 450h, leave a comment below and we'll be in touch shortly.
*All prices correct at time of writing, finance terms and conditions apply. Further information here.
All information is correct at the time of publishing.