International design studio Formafantasma has taken inspiration from Lexus's design philosophy, craftsmanship and advanced technologies to produce an immersive exhibit that will form the centrepiece of the luxury car maker's presentation at Milan Design Week in April.
Lexus – An Encounter with Anticipation will be hosted during the world's largest design exhibition at the Spazio Lexus in Torneria from 12 to 17 April.
Produced in a unique collaboration with Michelin star-winning chef Yoji Tokuyoshi, it will provide a multi-layered experience capturing the spirit of seamless anticipation that forms a central pillar of Lexus design, and of Omotenashi, the tradition of Japanese hospitality.
It will also interpret the essence of Lexus's ground-breaking hydrogen fuel cell technology, as showcased in the new LF-FC concept.
Learn more: Behind the scenes: Lexus LF-FC
Formafantasma's Amsterdam-based Italian designers, Andrea Trimarchi and Simone Farrasin, travelled to Japan to witness Lexus's design and manufacturing techniques first-hand and learn about the qualities and values that define the brand. Their experiences have directly influenced the design of their exhibit, which is divided into three distinct spaces.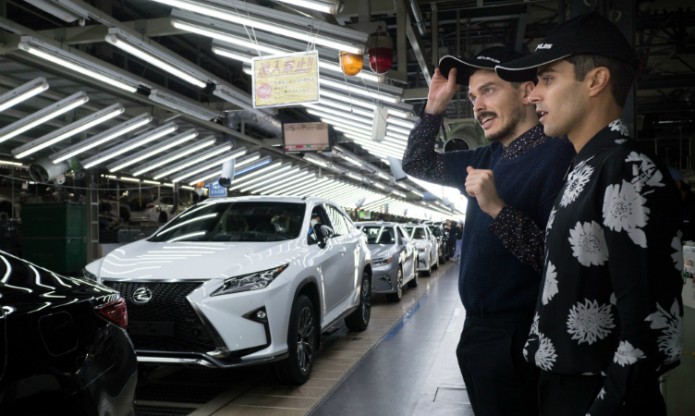 The first room in the installation will feature new furniture pieces created by Formafantasma using the same painting and hand-finishing processes Lexus used to achieve the flawless finish of its LF-FC concept car.
"We were inspired by Lexus's painting process … The colours are beautiful and their depth is impressive. These might be details, but they are beautiful and highly attractive qualities."
Moving into the second room, visitors will be introduced to an unexpected re-shaping of the LF-FC's exterior design, conceived as a tribute to the Lexus design team's constant search for perfection and anticipation of future mobility.
The final room in the sequence will contain a new kinetic sculpture, inspired by the hydrogen atom and powered by an application of the fuel cell technology used by Lexus in the LF-FC.
The journey through the installation will be accompanied by new tasting experiences, created by Yoji Tokuyoshi, inspired by the clear water that is the direct by-product of hydrogen fuel cell power generation.
Lexus's Milan Design Week presentation will also include a showcase for the work of the 12 finalists in this year's Lexus Design Award, including prototypes produced by the four leading entries, developed with mentorship from world-renowned designers.
Lexus Design Award 2016: panel finalists
Lexus Design Award 2016: AMAM
Lexus Design Award 2016: Angelena Laura Fenuta
Lexus Design Award 2016: Myungsik Jang
Lexus Design Award 2016: Studio Ayaskan
Find out more: Lexus Design Award