Introducing the new Lexus RC 300h: a premium two-door coupe that delivers impressive design, Lexus luxury and craftsmanship, and a refined and engaging driving experience, with a full hybrid 2.5-litre petrol engine.
Read more: Introducing the Lexus RC 200t
Lexus Hybrid Drive system in the RC 300h combines a 2.5-litre, four-cylinder Atkinson cycle petrol engine with a powerful electric motor and produces maximum power of 220bhp (164kW). Acceleration from nought to 62mph can be accomplished in 8.6 seconds; top speed is 118mph. The hybrid's proven efficiency balances this performance with combined cycle fuel consumption from 57.6mpg and CO2 emissions from 113g/km (with 18-inch wheels).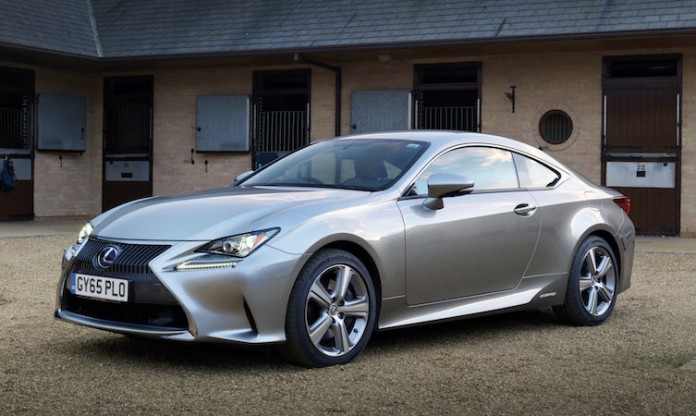 Safety
The RC is designed to provide the highest levels of safety, using both passive technologies like airbags and active technologies such as stability control, traction control and advanced braking assists. All versions of the coupe are fitted as standard with Lexus's Vehicle Dynamics Integrated Management; a Pre-Crash Safety system that also provides Adaptive Cruise Control as an option on Premier grade models.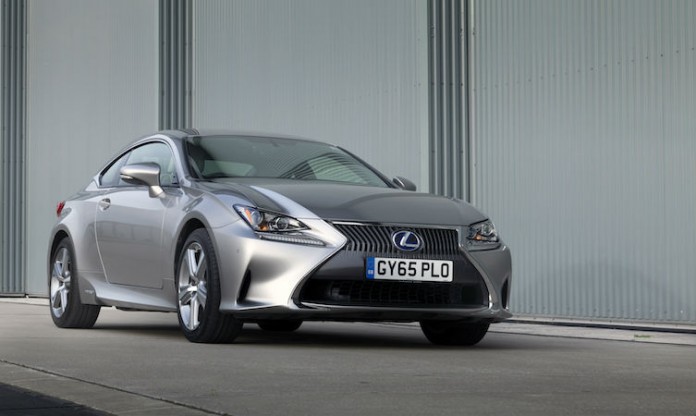 Design and packaging
The Lexus RC presents an elegant and powerful two-door exterior and a premium quality interior with a snug, driver-focused cockpit. Particular attention has been paid to providing ideal ergonomics with advanced HMI (human-machine interface) technologies that ensure quick and clear communication of important vehicle data and controls. The area around the driver is divided into two distinct areas – an upper display zone and a lower operation zone.
Find out more in the Lexus RC review.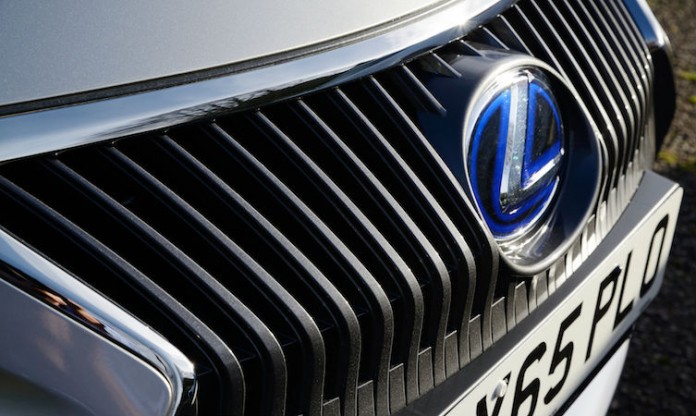 Exterior design
The RC's exterior design features a compact cabin area, powerfully flared wings and contoured bodywork with deeply sweeping lines. The coupe presents a low profile and wide stance, measuring 4,695mm long, 1,840mm wide and 1,395mm high, with a 2,730mm wheelbase.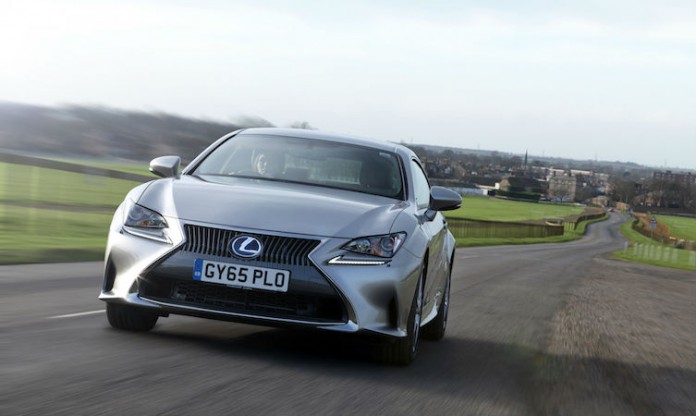 Interior design
Lexus's approach to designing the interior of the RC was to produce a snug, driver-focused cockpit with ideal ergonomics, supported by use of the advanced HMI technologies.
The layered centre console within the lower operation zone integrates the multimedia and navigation systems. Luxury and F Sport models feature the Lexus Media Display, operated using a Remote Touch rotary control. Premier versions of the RC are fitted with Lexus Premium Navigation and the Remote Touch touch pad (this is available as an option on other grades).
Further details can be found in the Lexus RC review.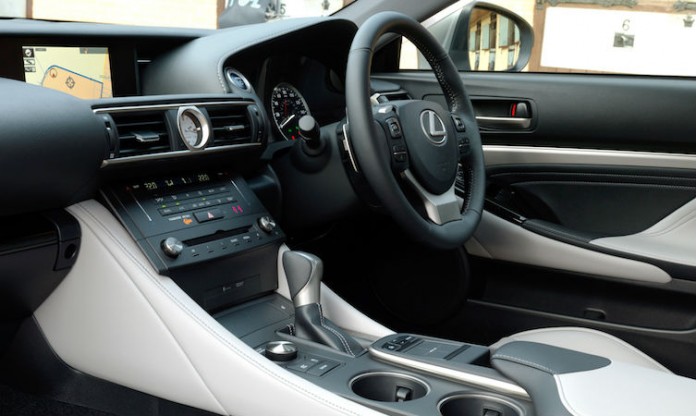 Engine and transmission
The RC 300h is a full hybrid that can be driven using its petrol engine and electric motor in combination or on its electric motor alone.
Its Lexus Hybrid Drive system features a Euro 6-compliant, 2,494cc, dual injection, Atkinson cycle petrol engine that generates 178bhp (133kW) at 6,000rpm and peak torque of 221Nm between 4,200 and 5,400rpm, and a 141bhp (105kW) electric motor. Total system output is 220bhp (164kW).
The engine and electric motor drive the rear wheels, either independently or in tandem, as conditions demand.
As well as the engine and motor, the hybrid system also features a generator, a high-performance nickel-metal hydride battery and a power split device which uses planetary reduction gears to re-allocate power from the engine, electric motor and generator as required. There is also a compact power control unit which governs the high-speed interaction of the system's components.
Acceleration from rest to 62mph can be accomplished in 8.6 seconds and the RC 300h's top speed is 118mph. Conversely, combined cycle fuel economy starts from 57.6mpg with tax-efficient CO2 emissions from 113g/km (figures for Luxury grade with 18-inch wheels).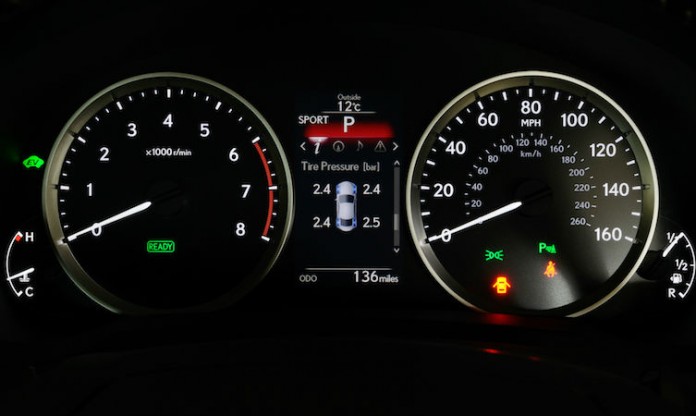 Advanced technologies have been used to optimise integration of the engine into the hybrid system, improving performance while minimising fuel consumption and emissions. Its Atkinson cycle timing gives an expansion stroke that is longer than the compression stroke, resulting in more efficient conversion of combustion energy into drive power. By using the Atkinson cycle, a higher compression ratio (13.0:1) and other technologies, Lexus has achieved a remarkable thermal efficiency for the engine of 38.5 per cent.
The new generation D-4S fuel injection system operates at a higher, 20MPa pressure with increased fuel flow volume. This helps produce a more homogenous air-fuel mixture which contributes to both higher power output and better fuel efficiency.
Details in the engine's design do yet more to secure fuel efficiency, including the use of in-cylinder direct injectors with a side slit and optimised injection hole shape; a revised intake port; improved air flow; and the use of roller-arm valve gear and a roller-type D-4 pump gear.
The friction between the sliding parts within the camshafts has been greatly reduced. Using a low-friction timing chain with better wear-stretch performance and a stretch belt to reduce tension also cuts the amount of friction. Reducing friction losses in this way adds to the engine's overall fuel efficiency.
Intelligent variable valve-timing on both intake and exhaust camshafts (Dual VVT-i) significantly improves engine performance. It allows a greater overlap between intake and exhaust valve operation which delivers benefits in low and top-end torque, as well as helping reduce exhaust emissions and give better cold-start performance.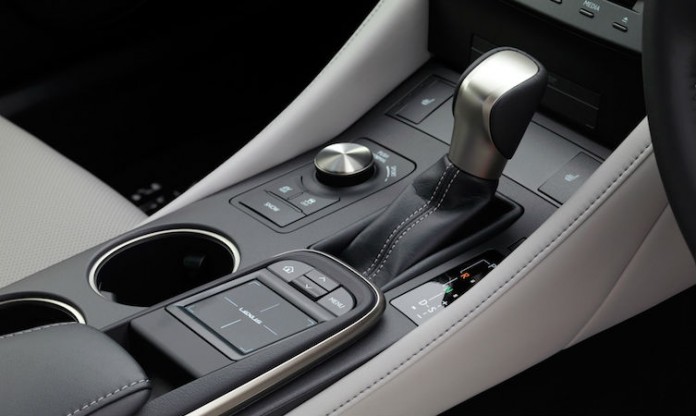 The high-efficiency exhaust gas recirculation system is water-cooled and has a step motor valve that is more responsive than conventional technology. These elements optimise EGR gas flow and help realise excellent fuel economy.
Lexus has also introduced a number of measures that further improve the quietness and smoothness that are characteristics of its hybrid powertrains.
The location of the port injectors has been optimised, together with port injection performance during idling and low-load driving, and the shape of the crankshaft. Noise and vibration levels have been reduced by increasing the rigidity of the cylinder block and intake manifold, optimising the efficiency of the balance shaft, and the use of resin gears within the balance shaft.
The electric continuously variable transmission (E-CVT) is controlled using shift-by-wire technology. It provides a six-step sequential Shiftmatic gear change function that can be operated using paddle controls on the steering wheel.
Read more: Lexus RC review
Read more: Lexus RC F UK prices and specs
Read more: Lexus and Mark Levinson: A sound partnership
Read more: Lexus car safety: Monitoring systems