Lexus develops its vehicles and technology under the umbrella of Toyota Motor Corporation's (TMC) 'Integrated Safety Management Concept', one part of a three-pronged approach which involves continual improvement in vehicle safety as well as initiatives to improve driver and pedestrian awareness and to create a safe traffic environment.
TMC's eventual aim is to realise a society where traffic accidents are a thing of the past, which is why decades of research into safety technologies have resulted in Lexus cars receiving consistently high results in Euro NCAP crash safety tests, with the CT and IS achieving the maximum five-star award.
In this post, we take a look at how Lexus' safety technologies maintain stability in all manner of driving conditions:
Vehicle Stability Control (VSC)
Traction Control (TRC)
Hill-start Assist Control (HAC)
Vehicle Dynamics Integrated Management (VDIM)
Lexus Dynamic Handling (LDH)
Vehicle Stability Control (VSC)
Vehicle Stability Control (VSC) is a technology developed by Toyota Motor Corporation in the mid-1990s, aimed at maintaining stability and preventing skidding in slippery conditions or as the result of sudden steering as when avoiding a collision. When sensors detect that the vehicle is starting to skid sideways, VSC automatically activates individual brakes and regulates engine output to regain stability and control, significantly reducing the risk of an accident.
All Lexus vehicles feature either VSC or the latest Vehicle Stability Control Plus (VSC+) system that adds steering control to automatically apply steering assistance and make it easier to get back on course.
Traction Control (TRC)
Lexus benefits from Toyota Motor Corporation's history with Traction Control (TRC), which dates back to 1987, and the technology has continually been updated as cars have become more sophisticated. The Traction Control system is designed to prevent wheel spin when setting off or accelerating on wet or slippery roads.
Sensors monitor each wheel's speed to detect wheel spin, at which point TRC will intervene to apply the brakes or reduce engine power in an attempt to regain grip and provide stable acceleration. It's particularly beneficial in a rear-wheel drive car like the Lexus IS where a loss of traction could cause the car to spin.
Traction Control is fitted to all of Lexus' current vehicles.
Hill-start Assist Control (HAC)
Introduced in 2002, Hill-start Assist Control assists in preventing low-speed collisions caused by rolling backwards while attempting to set off on an incline. When the driver has selected a forward gear, a firmer push on the brake pedal activates HAC, which in turn maintains brake pressure for up to two seconds after the brake pedal has been released. This prevents the vehicle from rolling backwards and ensures a smooth start.
Hill-start Assist Control is available on a number of Lexus models including the compact CT, and larger IS and GS saloons.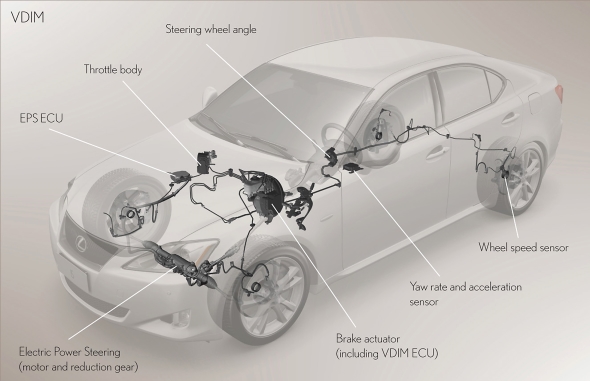 Vehicle Dynamics Integrated Management (VDIM)
Vehicle Dynamics Integrated Management (VDIM) is an overall system fitted to Lexus vehicles since 2004 that integrates control of 'drive, turn, and stop' systems to maintain driving stability. Incorporating ABS, Brake Assist (BA), Traction Control (TRC) and Vehicle Stability Control (VSC), VDIM enables all of these safety and control systems to work smoothly together in a more refined manner than if each system operated independently.
VDIM technology is fitted to all Lexus vehicles.
Lexus Dynamic Handling (LDH)
Lexus Dynamic Handling (LDH) is a system that encompasses a number of vehicle technologies including suspension, steering and VDIM stability controls. Featured on the Lexus GS 450h, the LDH system uses sensors to monitor the car's speed and direction and then constantly adjusts the suspension and steering to maintain optimum levels of stability and responsive, confidence-inspiring driving feedback.
To learn more about other Lexus safety technologies, see these related posts:
Braking technologies
Monitoring systems
Occupant safety
Safety through convenience