The 2019 Lexus ES is designed to usher in an ambitious new era for one of the marque's longest-established and most popular models. Although new to the UK and other markets in Western Europe, the vehicle actually represents the seventh generation of the ES line.
Long renowned for its comfort, refinement and luxury appointments, the new Lexus ES builds on its strengths with an all-new platform that allows for a more dynamic exterior design and even better driving performance.
It is a further expression of our commitment to crafting vehicles that provide more excitement, emotional connection and passion, helping to bring our vision for its future to a wider audience.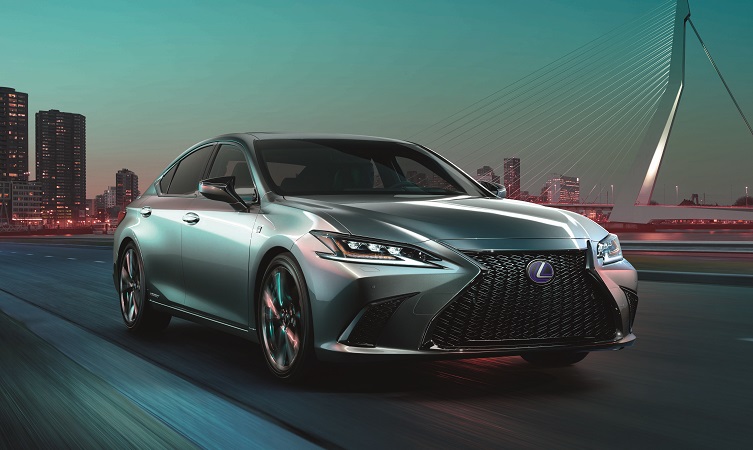 The new ES will deliver everything that traditional Lexus buyers expect, together with qualities that will draw in those who may not have considered the brand before. Stronger styling, more dynamic performance, high-quality interior finishes and the latest safety technology will help recast the image of ES into one that is new and unexpected.
The Lexus ES follows the new LS flagship saloon and LC coupe in carrying forward a new chapter in Lexus design that has a much stronger emotional quality. The eye-catching styling, made possible by the use of an all-new Global Architecture-K (GA-K) platform, underlines a more engaging driving experience and even higher safety provisions.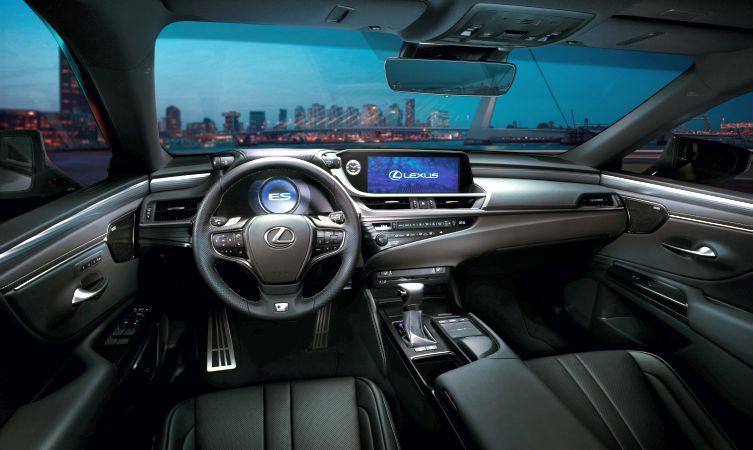 Available in the UK from January 2019, ES 300h models will be powered by a new fourth-generation self-charging hybrid system. The new saloon will become a core model in the Lexus line-up, contributing to the brand's ambition to reach 100,000 annual new car sales in Europe by 2020.
2019 Lexus ES: exterior design
The new 2019 Lexus ES is built on the all-new Global Architecture-K (GA-K) platform, which has provided Lexus with the opportunity to explore the limits of mid-size luxury saloon design.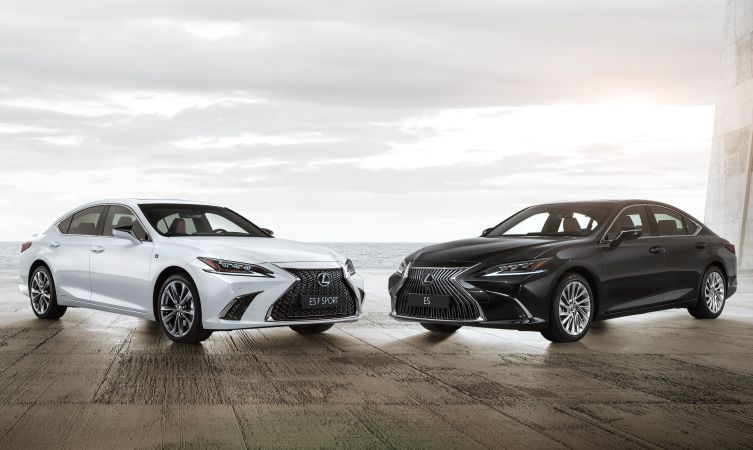 The car is longer, lower and wider than its predecessor, while the longer wheelbase allows the wheels to be pushed closer to the car's corners, with wider front and rear tracks. Its stance and proportions reflect the model's new-found performance capabilities and give the ES the kind of eye-catching appeal that will make owners and admirers take a second look.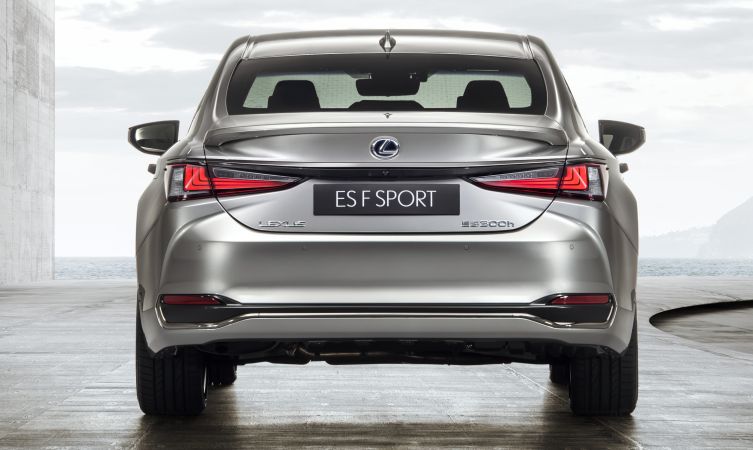 Chief designer Yasuo Kajino describes the new look as "provocative elegance." He added: "The Lexus ES has always been an elegant luxury saloon. For this generation, we have added daring design elements that challenge buyers' traditional expectations."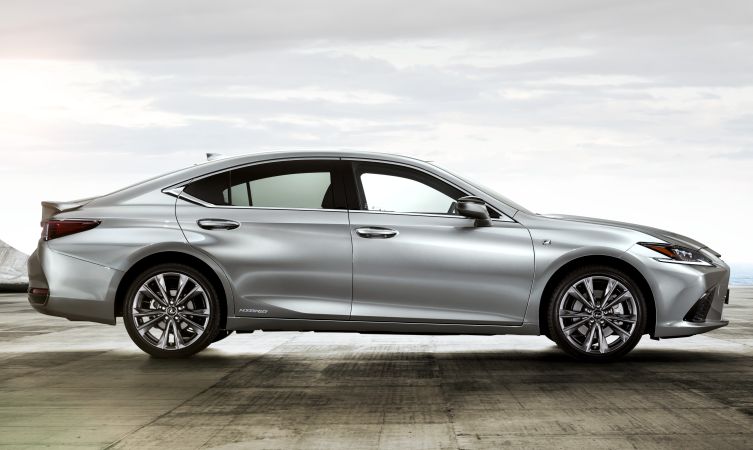 The new GA-K platform allows for a lower bonnet line, which gave Kajino's team the freedom to produce a distinctive silhouette with a strong downward slant, creating a dynamic yet fluid shape.
Up front, the ES's face is dramatically different according to the model. Standard versions display elegant, vertical bars that radiate out from the centre of the signature Lexus spindle grille, while F Sport models – featured for the first time in the ES range – adopt a black cross-hatch pattern that corresponds with cut-out sections at the car's front corners.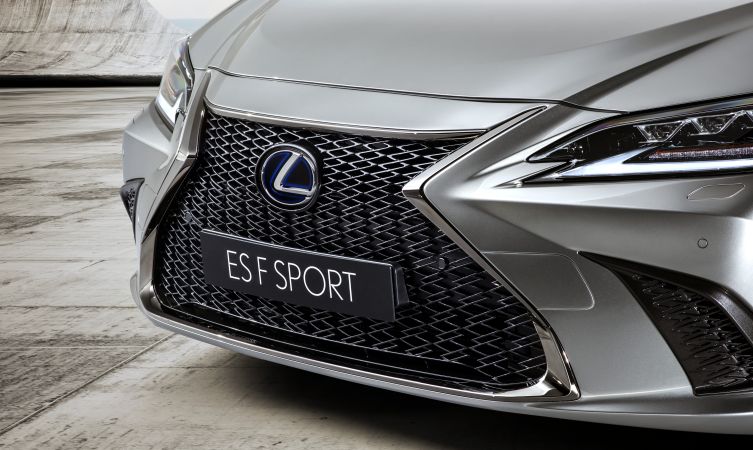 In a break with past generations, the design features a fast roofline that emphasises the vehicle's lower stance and slippery aerodynamics. The rear end is clean and sharply chiselled, with LED lamps that wrap around the quarter panels to generate a continuous styling line when viewed from any angle. F Sport models add a rear spoiler, badging and dark lower valance to add emphasis to the look.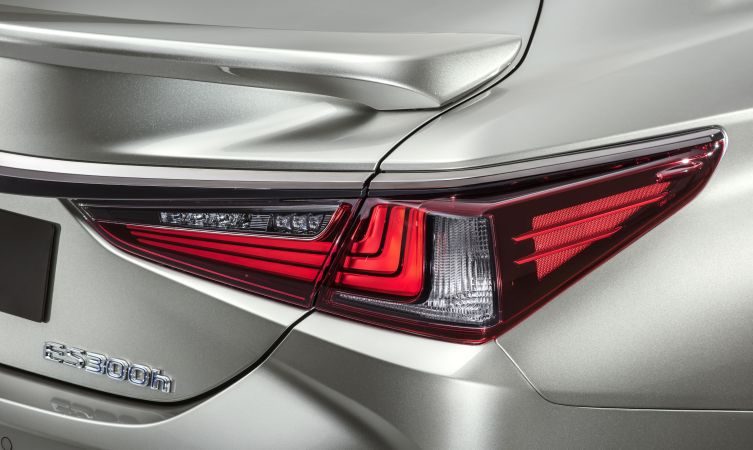 Three different 17- and 18-inch wheel designs are available for standard ES models, with F Sport versions running on 19-inch wheels that are similar in appearance to those found on the Lexus LC coupe.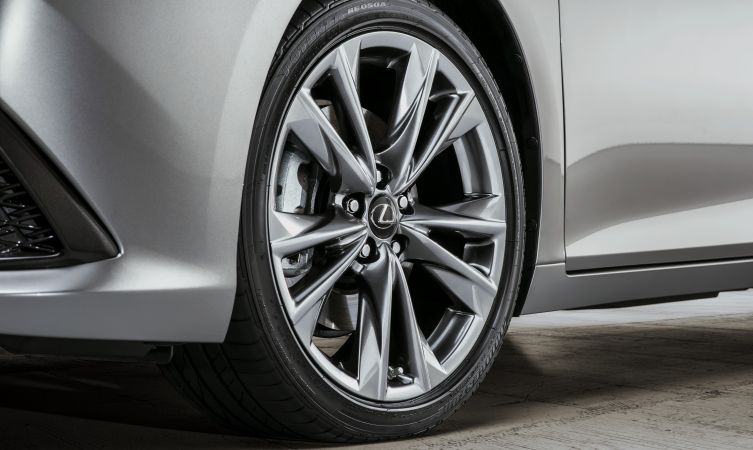 A palette of 12 colours includes new beige and green shades. Ice Ecru is designed to mimic light reflected off fresh snow, while Sunlight Green is inspired by ocean water in sunlight. Two exclusive colours – Heat Blue and F White – are available for F Sport models, complementing their high-energy design.
2019 Lexus ES: interior design
When designing the look and feel of the new Lexus ES cabin, chief designer Yasuo Kajino and his team used the Lexus Future Interior concept as the starting point, which blends a driver-centric cockpit with a spacious and comfortable area for the front passenger.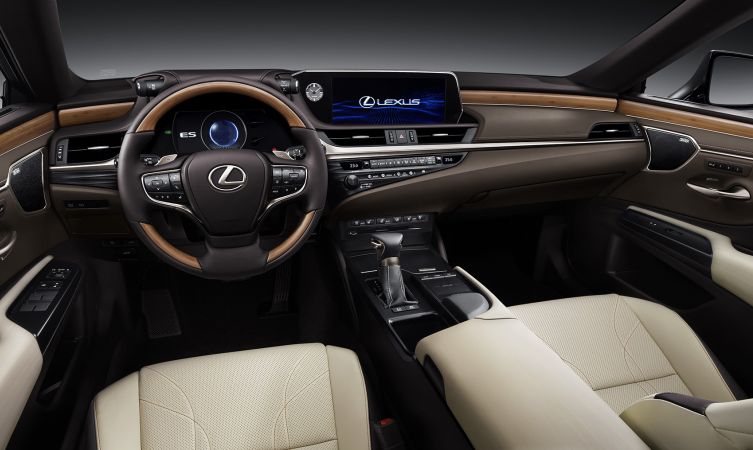 The driver's focus is kept on the road ahead by locating the centre display screen, instrument panel and head-up display in a tight cluster within the immediate field of view. Front passengers, on the other hand, enjoy a more open, spacious and relaxing environment.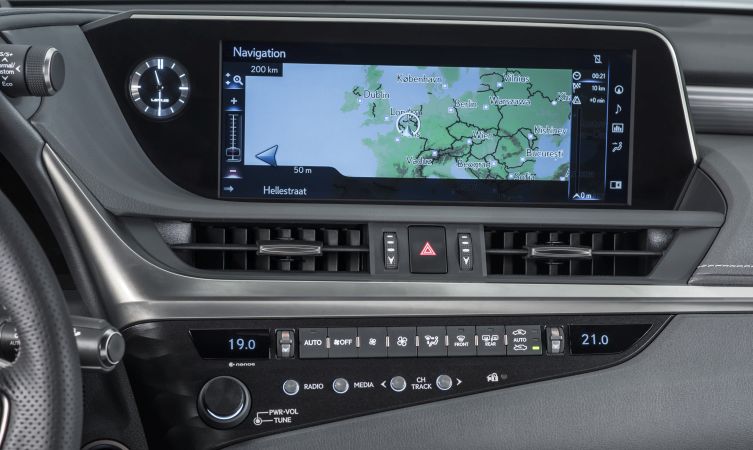 It will be a connected space, too, with the availability of an optional navigation system with a range of connected services. This system also provides a 12.3-inch multimedia display and second-generation Remote Touch touchpad control. Its voice recognition function includes a mobile assistant, enabling contactless control of the driver's smartphone.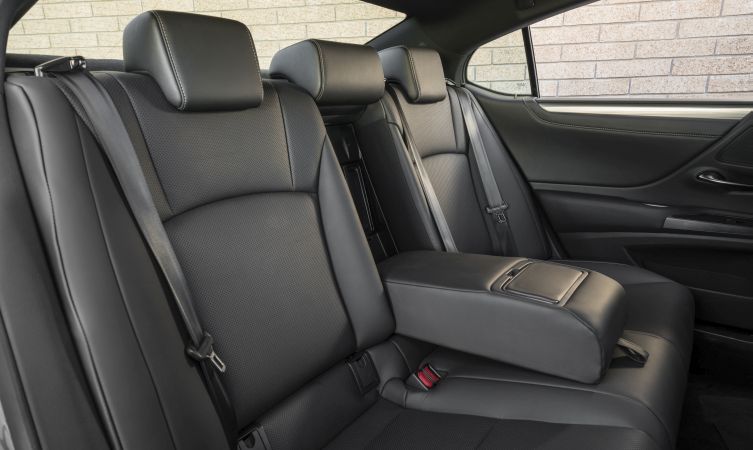 Rear passenger comfort has long been a hallmark of the Lexus ES and the new model upholds this quality, in spite of the sleeker exterior roof line. A lower hip point and carefully configured headlining preserve headroom while the longer wheelbase ensures generous legroom.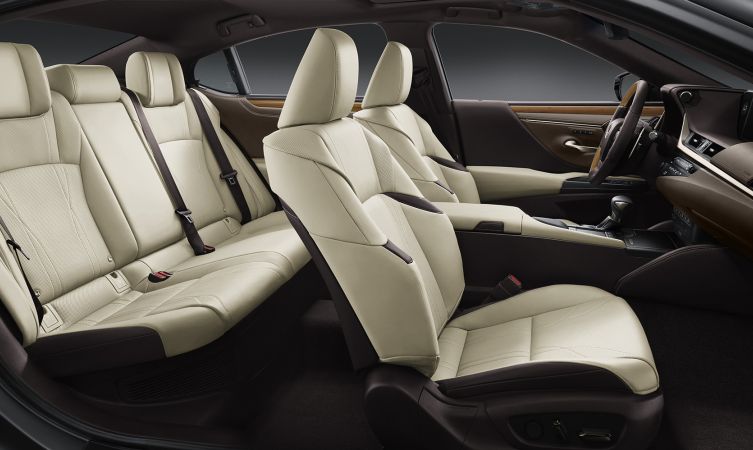 Interior colour options include a new combination that reflects the Provocative Elegance exterior design theme. The Rich Cream option matches cream upholstery with a brown headlining to give the cabin a modern, yet warm look and feel. Other choices include Black, Chateau and Topaz Brown.
To create an entirely different appearance for the interior of F Sport models, a new kind of metallic cabin trim was developed, unlike anything Lexus has used before. Inspired by traditional Japanese sword-making, the Hadori trim has fluctuating wave patterns that give it a three-dimensional look that varies depending on the viewing angle. The effect is subtle but indicative of the level of detail and craftsmanship invested in giving F Sport models a unique place in the line-up.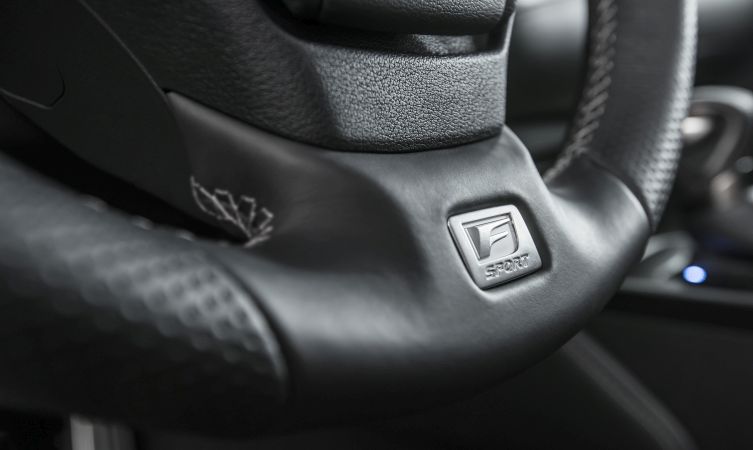 Standard ES models employ traditional materials such as bamboo and Shimamoku wood, which give the kind of hand-crafted appearance that luxury customers expect and appreciate.
2019 Lexus ES: performance features
Led by chief engineer Yasuhiro Sakakibara, the engineering team had the clear goal of transforming the image of the Lexus ES. That meant turning a saloon known primarily for its serene comfort into one that is equally capable of delivering class-leading handling and power that you can feel and hear.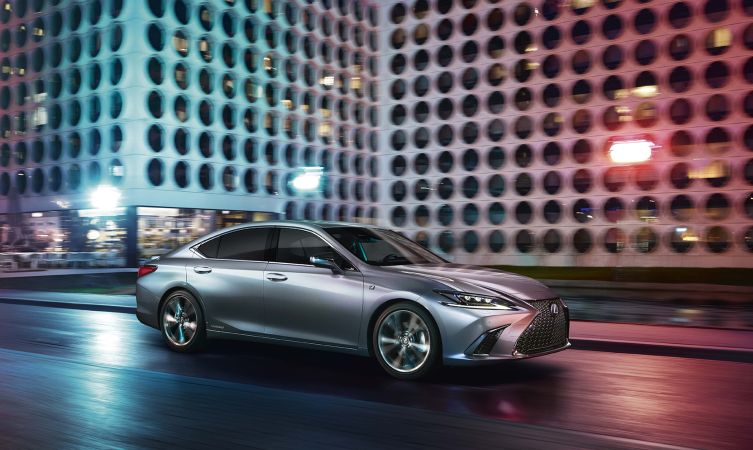 According to Sakakibara, the new Lexus ES has been built to deliver a fundamentally higher level of performance than any of its predecessors. He revealed: "We knew this ES had to feel responsive and easy to drive, no matter what kind of road it was on. That can only be achieved with a solid foundation."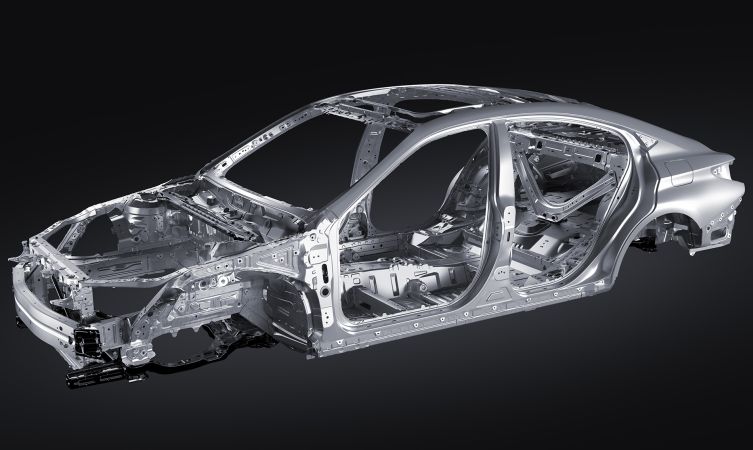 The starting point was the new GA-K platform. It is an exceptionally strong, front-wheel drive chassis that rivals the GA-L rear-wheel drive platform used for the LC coupe and LS saloon in terms of torsional rigidity. Various grades of high-tensile steel reduce weight compared to previous platforms, while enhancements such as an all-new multi-link rear suspension set-up, rack-mounted electric power steering and a V-shape brace behind the rear seat gave the engineers the flexibility to tune the ES with a new-found precision.
The chassis team sought to create a sense of comforting predictability coupled with a feeling of rapid responsiveness to every movement. Chief test driver Yoshiaki Ito explained: "We want every kind of driver to feel a sense of complete control when they are behind the wheel of the ES. It's a level of comfort that goes beyond merely delivering a smooth ride."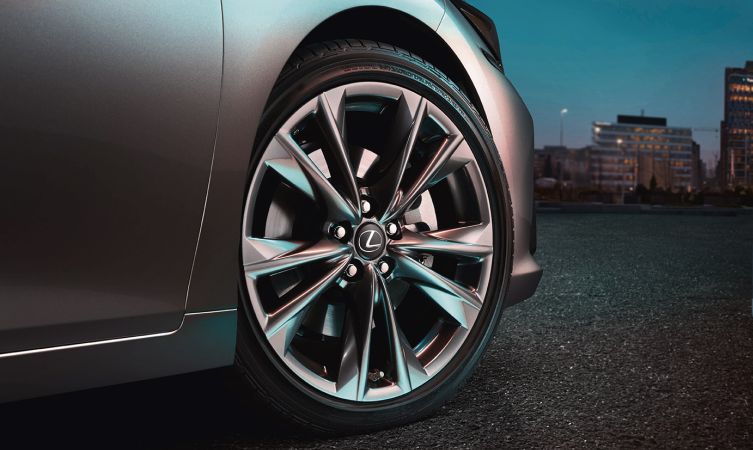 For an even higher level of dynamic performance, F Sport models will be available with Adaptive Variable Suspension, similar to that found in the LC coupe. This adds adjustable dampers at each wheel with 650 levels of damping force to provide optimal control on any road surface. Another element exclusive to F Sport is a Sport+ programme for the Drive Mode Select system, which engages the most responsive engine, transmission and suspension settings.
The Lexus ES has always been highly regarded for its ride comfort. However, for the seventh-generation model, this signature quality benefits from world-first advances in terms of design, function and packaging efficiency.
2019 Lexus ES: world-first suspension innovation
The chassis project included the development of a new swing valve shock absorber – a world-first within the suspension industry. It is an innovation that ensures an appropriate level of damping force is delivered irrespective of the level of compression transferred through the vertical movement of the car's wheels.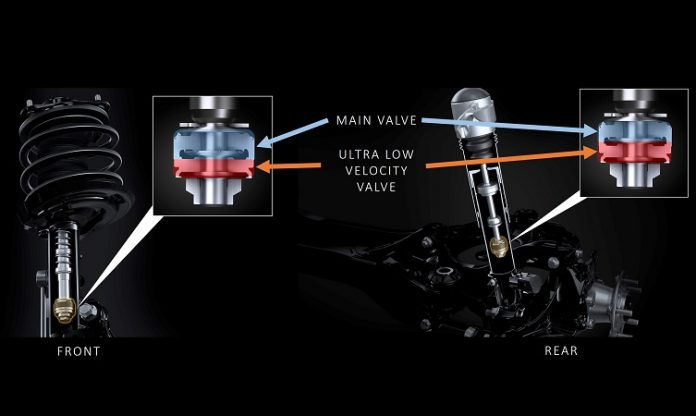 Within the shock absorber is a new dual valve arrangement that offers a broader range of control over the flow of hydraulic fluid inside the cylinder. So as well as using a traditional main valve to handle the majority of fluid transfer that suppresses suspension movement and delivers supple ride comfort, the shock absorbers in the new ES feature an additional ultra-low velocity valve.
This highly sensitive valve is designed to operate at extremely low fluid speeds and help shield passengers from minute levels of suspension compression, such as when pulling away slowly or skimming over tiny imperfections that would normally produce a 'pattering' effect at high speed on the motorway.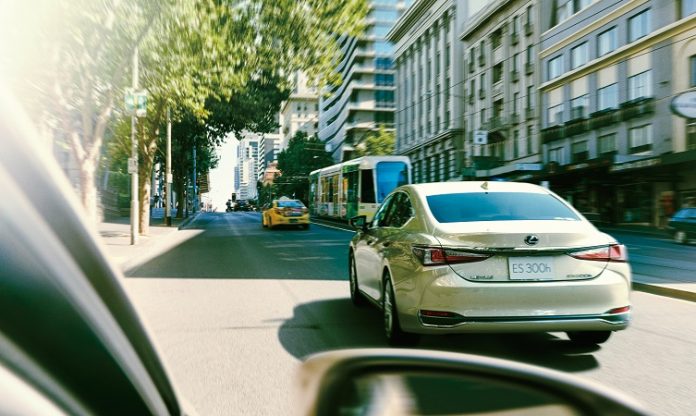 New double wishbone rear suspension
A further challenge for Lexus engineers was the development of a new double-wishbone rear suspension design. After much fine-tuning, this led to the system's trailing arms being located with pinpoint accuracy – a position that offers the rigidity and critical balance needed to deliver linear steering response and excellent handling stability.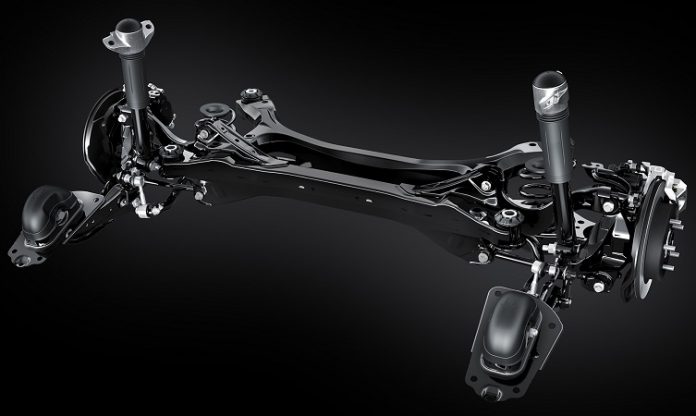 As well as taking the time to optimise the overall performance of the rear suspension, the engineers were careful to produce a layout that did not compromise the size or convenient shape of the boot. To achieve this, the shock absorbers were placed closer to the back of the rear seats and mounted separately from the coil springs.
Fourth-generation hybrid drive system
The Lexus ES 300h is equipped with a new, fourth-generation self-charging hybrid drive system that can deliver exceptional fuel efficiency, responsive performance and minimal emissions for a mid-size luxury saloon. It couples an ultra-efficient 2.5-litre Atkinson cycle four-cylinder petrol engine with a compact, power-dense electric motor. Total system power is 215bhp and combined cycle fuel economy is 60.1mpg.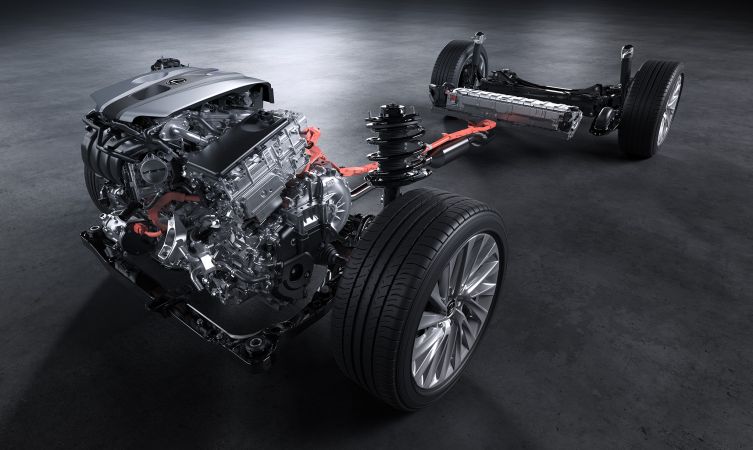 The 2.5-litre engine is all-new and incorporates fast-burn combustion technology that makes it one of the most thermally efficient engines to feature in a production vehicle. The result is more power without increasing emissions or fuel consumption. Features that help achieve such impressive results include straight intake ports, increased valve angles and laser-clad valve seats. A variable-capacity oil pump, multi-hole injectors, VVT-iE on the intake valves and a variable cooling system also contribute to the engine's impressive heat and combustion management.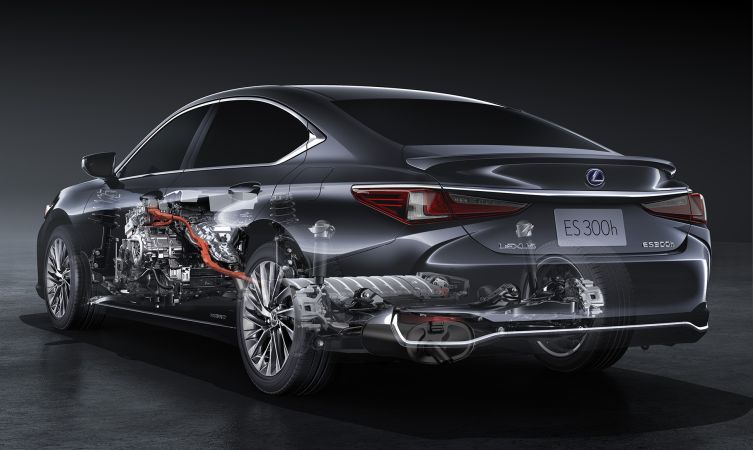 Overall driveability has been improved thanks to a more sophisticated hybrid system control computer that is better able to mimic the feel and power delivery of a standard petrol engine. Even the nickel metal hydride hybrid battery is more compact than before, allowing it to be located beneath the back seat, without intruding on boot space.
2019 Lexus ES: technology
The new Lexus ES 300h will be equipped as standard with the latest Lexus Safety System+. This second-generation package of active safety and driver assistance technologies expands the driving scenarios in which it can provide added protection for drivers and passengers and help prevent an accident from happening.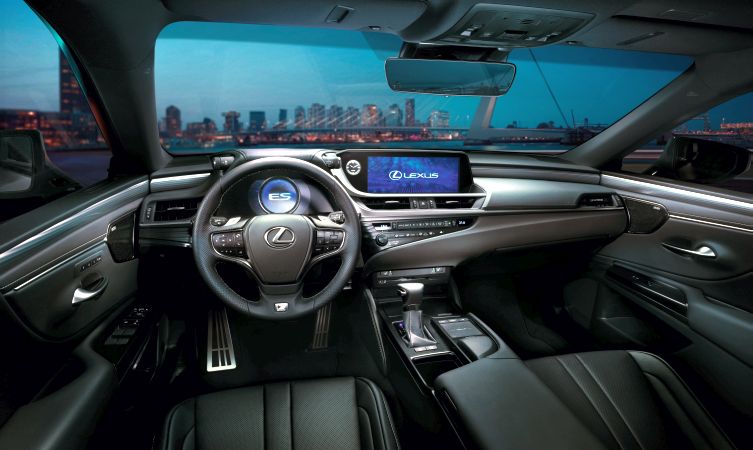 The new features include daytime cyclist detection, which is part of the comprehensive Pre-Collision System. Already capable of detecting oncoming vehicles and pedestrians, the ability to detect cyclists addresses one of the most common accident scenarios on the road today. The system has also been enhanced to detect pedestrians at night by increasing the radar's sensitivity and dynamic range.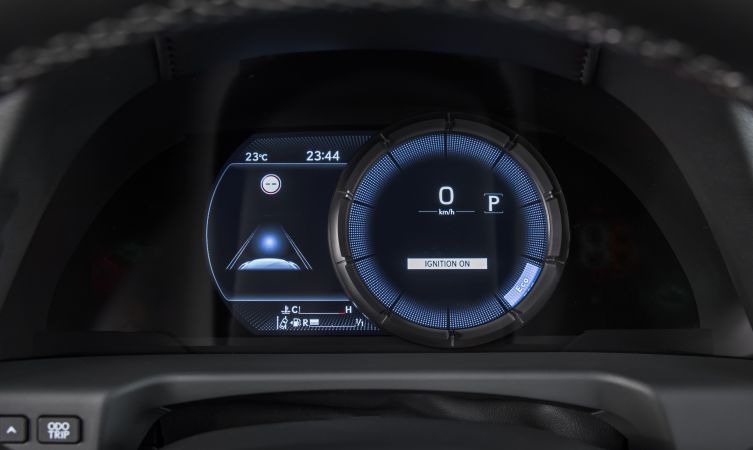 Another new safety advancement offered in the ES is a two-stage adaptive high beam system. This not only turns the high beams on and off automatically for the driver, but its 24-individual LED light array is also capable of adapting the light pattern to provide enhanced illumination while reducing glare for oncoming drivers.
An immersive audio experience
Whether it's the stirring strings of a symphony orchestra, a bass-heavy dance track, or ambient music in the background, the all-new 2019 Lexus ES provides the perfect environment in which to enjoy top-quality audio.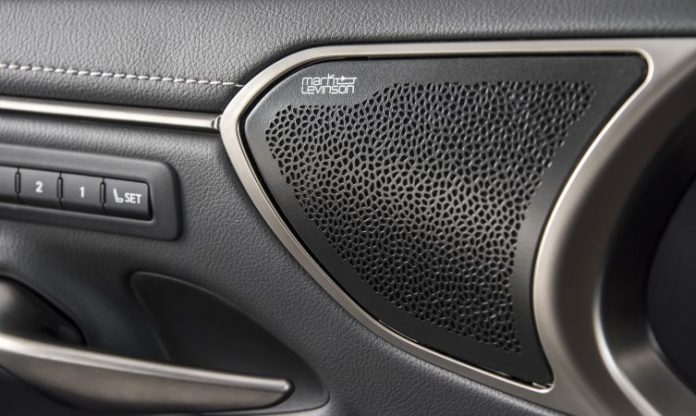 Indeed, it is the model's ultra-quiet interior that has allowed premium audio partner Mark Levinson to develop a bespoke Premium Surround Sound system that offers the listener the sense of being enveloped by the music. This world-first design is based on a new sound concept called Mark Levinson PurePlay.
Lexus and Mark Levinson
Lexus has enjoyed an industry-exclusive partnership with Mark Levinson since 2001, which has resulted in bespoke audio systems for each new vehicle launch.
Audiophiles acknowledge that high-quality sound performance does not come from hardware alone; the location and calibration of each speaker is equally important. Therefore the collaboration between Lexus and Mark Levinson engineers begins from the concept stage and continues through development to ensure each vehicle interior delivers the best possible acoustics.
PurePlay: Lexus ES audio architecture
The Mark Levinson PurePlay audio system of the new Lexus ES has a 17-speaker architecture. Fourteen of these are 90mm Unity speakers, installed at seven points around the cabin. They are placed at shoulder height for minimal obstructions between sound source and the listener's ear and run from the instrument panel through the tops of the door panels. This line of speakers effectively surrounds the driver and passengers with a pure, natural field of sound – what's known as an acoustic stage.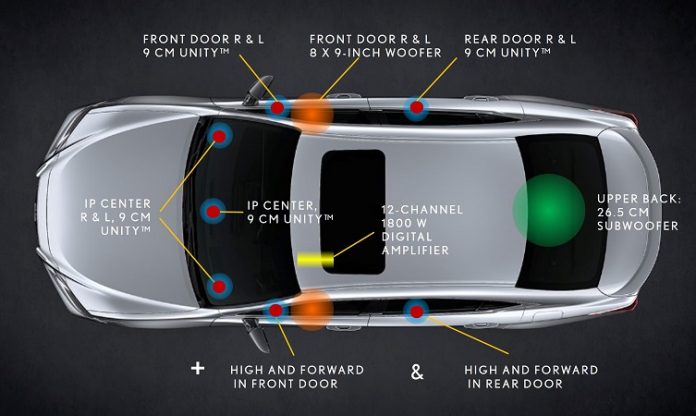 Bass notes are delivered by two nine-inch elliptical woofers in the lower front doors and a powerful 265mm subwoofer – the largest ever installed in a production Lexus – behind the rear seats.
The latest in audio technology is also applied to achieve superb reproduction quality and energy-efficient performance. The system in the ES uses new QuantumLogic Surround signal processing to help build a full-bodied acoustic stage with high-clarity sound definition. Additionally, digital files are reproduced with second-generation Clari-Fi technology, which restores the rich, original sound that might otherwise be lost during the digital audio compression process.
Lexus ES audio: the sternest test
Lexus realises that the human ear remains the most essential tool for ensuring the best possible audio performance. The system in ES is tuned by a team of expert acoustic engineers with exceptional aural sensitivity. Their skills help ensure that the sound produced evokes the correct depth and emotional quality of the music being played.
All information is correct at the time of publishing.