Last year saw the debut of a new wide-body aero kit for the equally fresh Lexus RC from cult Japanese aero brand Rocket Bunny. Now, almost 12 months later renowned designer and producer Kei Miura have expanded the application list to create some of the very first modified Lexus RC F models in the world.
The popularity of wide-body aero kits within the aftermarket tuning and styling industry has shown no sign of waning over the past couple of years. And it is clear to see why that is the case when the combination of steroidal bodywork, aggressively offset alloy wheels and super-slammed air suspension delivers such a dramatic visual effect.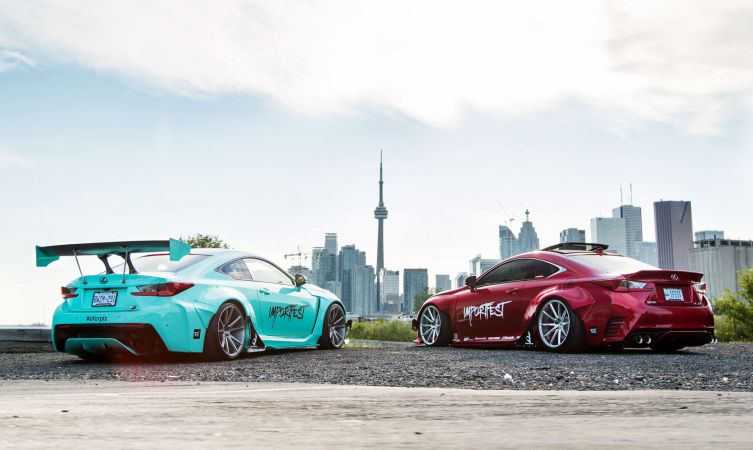 No doubt Miura-san's timing is in preparation for a significant presence at the forthcoming SEMA show (3-6 November) in Las Vegas, USA. But one enterprising Lexus RC F owner in Canada managed to get hold of one of the first kits and pulled out all the stops to debut the new Rocket Bunny conversion a couple of months earlier at the recent Importfest show in Toronto. Displayed alongside Importfest organiser Basit Mirza's similarly kitted Lexus RC 350 F Sport, this multiplication of Rocket Bunny projects created a show-stopping centrepiece.
Keen to share that attention, some of the show's sponsors had already lent their support to these projects; most notably alloy wheel supplier Vossen. Both cars were therefore equipped with Vossen Forged: Precision Series VPS-310 alloys in a staggered 9×20″ (front) and 12.5×20″ (rear) layout.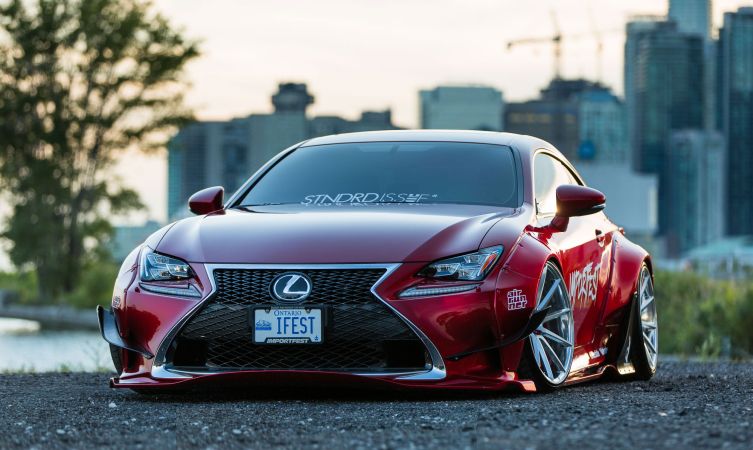 Basit's Lexus RC 350 F Sport (above) matches the original Infrared paintwork with fully polished wheels and a brushed finish, while Paul Samuel's beautifully wrapped turquoise Lexus RC F (below) took a styling cue from the high-level rear spoiler to deliver a harder-edged, track-honed appearance set off with a different smoke brushed finish.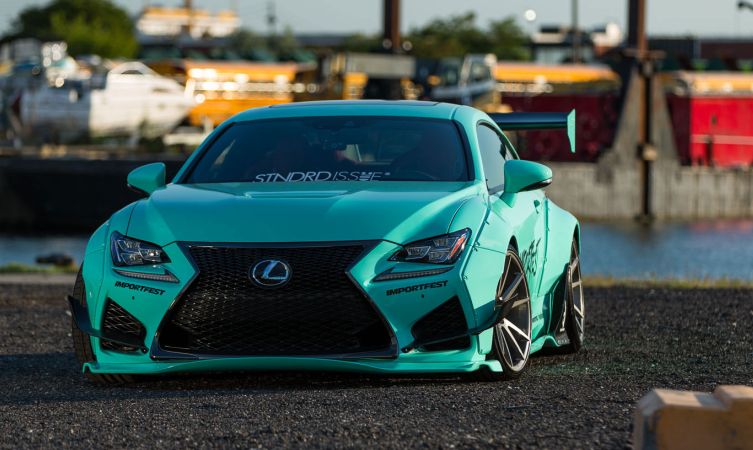 Watch the video below to see the modified Lexus RC F in action around the streets of Toronto and at the photoshoot location in the downtown Distillery District.