Nahoko Kojima, the artist in the Lexus Takumi documentary, began practising kirie (Japanese paper cutting) when she was only five years old. Now 36, she has already dedicated more than 60,000 hours to her craft.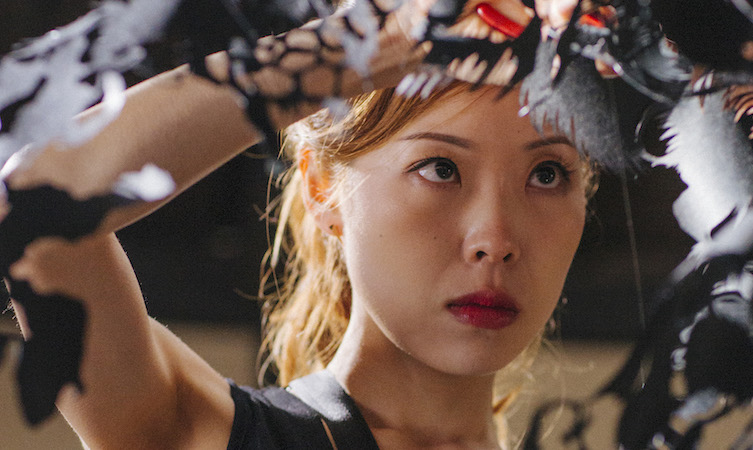 Her mother spotted her artistic talent early on and hired a private art teacher to mentor her. He gave her an object to draw using only one line and then asked her to cut out the negative shapes. "I loved it straight away," says the artist, who grew up in Hyogo. A lifelong passion was born.
Paper-cutting just lets me forget about everything
Kojima has since become one of the world's foremost paper cutting artists. Her intricate sculptures, which are largely inspired by nature, have been displayed at venues worldwide.
Now based at a studio in Bermondsey, London, she has created critically acclaimed pieces such as sizeable sculptures of a swimming polar bear and the Cloud Leopard (pictured below). She has also made wearable art, crafting dresses made from paper.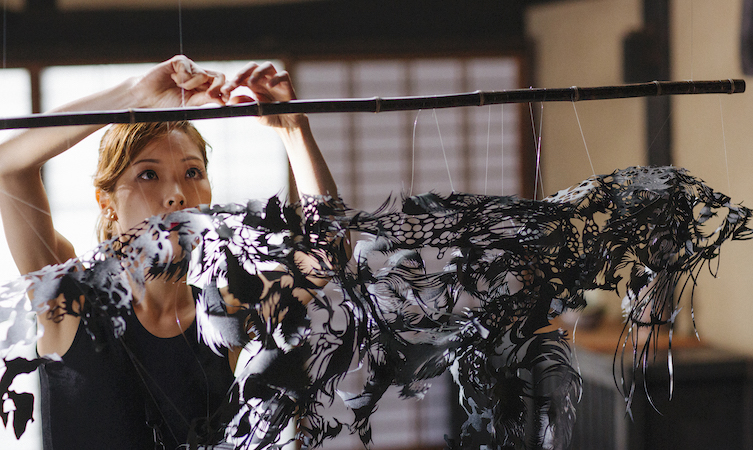 Kojima's unique style of art requires incredible patience. Each piece is crafted from a single sheet of Japanese washi paper (a traditional Japanese paper made from the bark of Gampi trees).
The process begins with careful sketches and tests using smaller pieces of paper. Her practice is labour-intensive in the extreme, and demands tremendous concentration. If she makes one tiny mistake there is no way to repair it and she has to start again. Find out more about Nahoko Kojima and the craft of kirie in the interview below.
How did you start paper cutting at such a young age?
"I was always drawing and painting at school. One day my art teacher gave me a sheet of paper and told me to draw a line on it and cut it out. That was the first piece I did; I still have it now. My teacher spotted that I might have a talent. I was inspired by nature and I found freedom of expression through kirie. We are taught paper-cutting at school in Japan, but not that often, and it was something that I kept up in my spare time."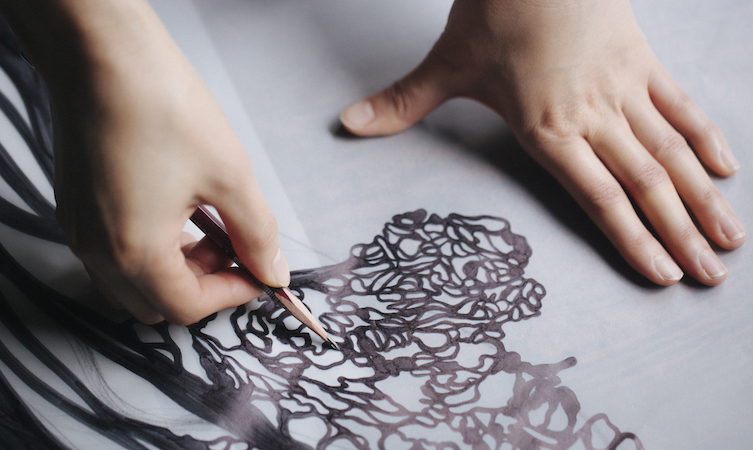 Why did you love paper cutting so much?
"I enjoyed the process of cutting paper because I found it very rewarding to make my own art. In the beginning, I was surprised because as a child you get used to freedom in creative expression and even in the use of colour, for example, but with paper cutting there is only one sheet. Deciding what to keep is an entirely different challenge to what I was used to at that age."
Did you devote a lot of time to paper-cutting at this young age?
"When I was a child I spent around five to ten hours a week practising paper cutting."
Can you explain what 'kirie' is?
My creations are simply single sheets of washi paper
"Kirie simply translates as 'cut-picture' in English. Different traditions have their own styles and processes. Japanese kirie uses only a single sheet of paper with no adhesives.
"If you look at my work, it still adheres to all the existing rules of kirie, even with all the intertwined stories within the design, the contemporary style, harmony of light and shadow, the positive and negative. My creations are simply single sheets of washi paper – made in the same way, by hand for centuries."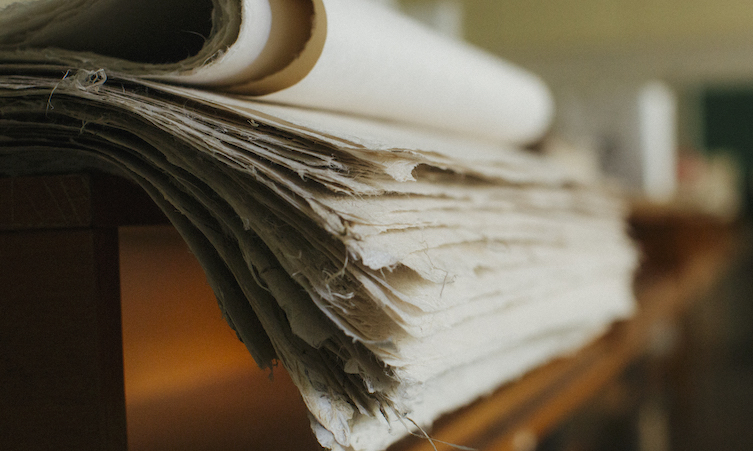 Do you think paper cutting could die out as a hobby and art form?
"Of course, paper cutting could disappear as an art form in a professional context at least. But it really depends on how many people like me follow the discipline professionally, not just as a hobby. For that reason, it's important for me to encourage other young people to discover the beauty of paper-cutting."
Is there a continued interest in this art form?
"I have a paper cutting community on Facebook, the largest of its kind actually, and I also occasionally run workshops when my schedule allows, in order to engage budding artists."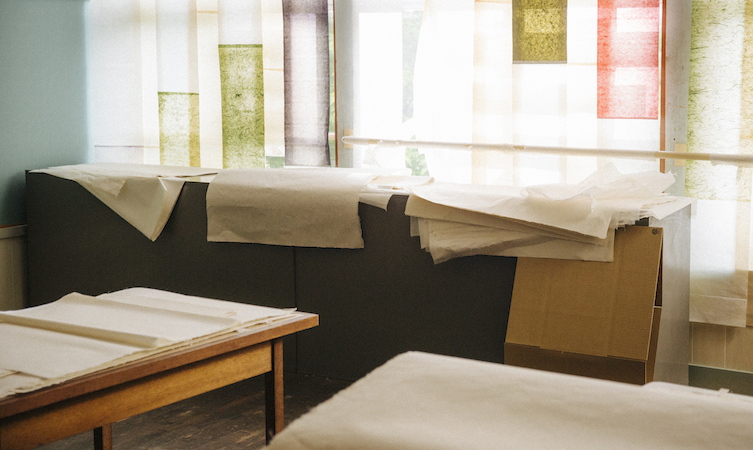 What made you decide to pursue paper cutting professionally, rather than as a hobby?
"It was not an easy task and early on in my career there was no real support from society as a whole for me to follow my dreams. It was a career choice and many simply saw me as having fun, living a carefree life because of some privileged background.
"I could have become anything I wanted in my life. At school I excelled in art, design and mathematics, but the choice I made was one of love for this discipline, not just the box that
 my abilities pointed me to. It was extremely hard work to reach the level where I can
 live professionally as an artist – it was like climbing a mountain."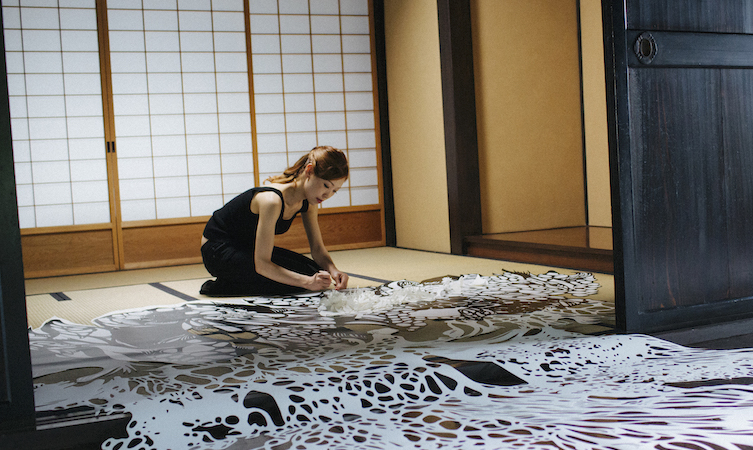 Do you see yourself as a takumi? If so, at which point would you say you became a takumi?
"Yes, I do see myself as a takumi, or a master of my craft. For me, my turning point came when I had cut so many two-dimensional artworks that I decided to pioneer my own processes, introducing
 three dimensionality and giving something back to the genre by treating paper cutting as sculpture.
The essence of takumi is to gain a sublime understanding of the nuances of a particular art
"Being a takumi does not simply mean repeating something for a certain period of time, because that would imply that blind repetition can turn anyone into a takumi.
"The essence of takumi is to gain a sublime understanding of the nuances of a particular art through a body of experience and introspection. It's the point at which you go beyond thinking about how to make something and start doing it without thinking at all. It requires one to empty the mind and focus in a way that is simply not possible when one is still acquiring a skill."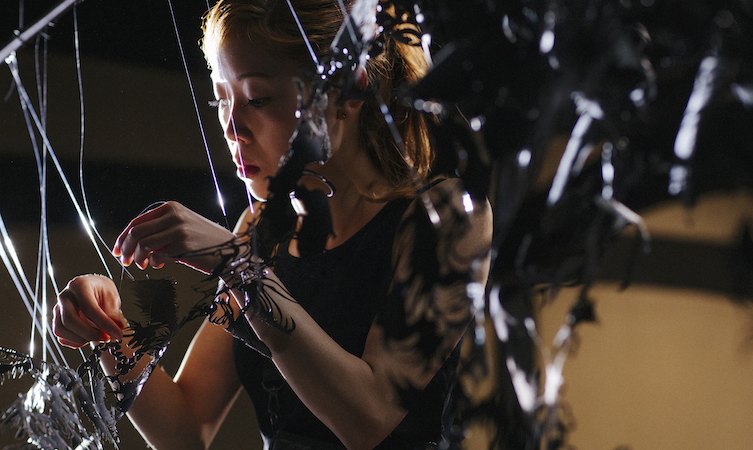 How do you go about cutting a large, single sheet of washi paper?
"Once I have done my research and drawn my design, I make hard copies of it and use those as a guide on top of the washi to cut out the final piece. I make smaller prototypes first, about the size of an A4 sheet of paper, but even those won't bend and move in the same way as a larger piece.
"It's important to cut the detail first and form the inner parts, then work outwards. With very large pieces space becomes a challenge because I have to climb on top of the table to cut the paper – so the work becomes physically challenging too."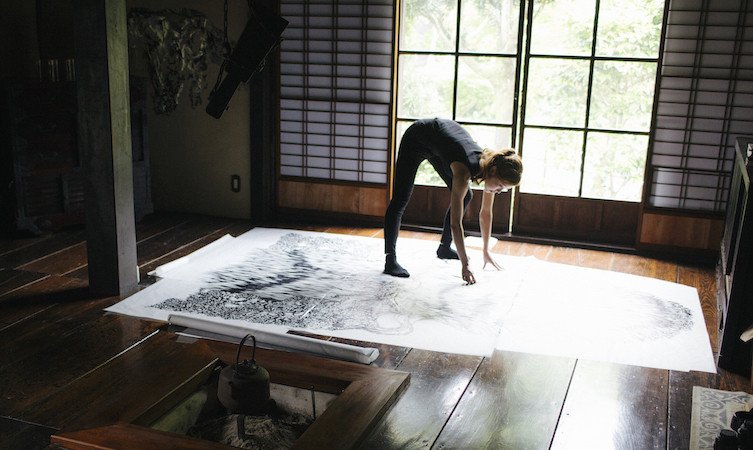 What happens if you make a mistake while cutting a piece?
"I have to go back to the beginning – even if I'm months into a project. But I try to really take care of the paper and avoid making mistakes. I've only done that once, when I'd been working on the sculpture for three months, and I had to start again. I just had to accept that I needed to start again and not get upset about it."
How does nature inspire your work?
"My inspiration comes from spending time in nature. With my animal subjects, I study and sketch their mannerisms and style of living (Nahoko often goes to London Zoo to look at the animals there). I like to look at little details that perhaps point to something very meaningful, or even funny and charming.
There is beauty everywhere but often people don't notice
"Every time I go to the park, it looks different. There is beauty everywhere but often people don't notice – the colour of a leaf, birds laying eggs, everything inspires me. Beauty is a recurring theme in my work. It is popular for contemporary artists to reference topical or political issues but that never interested me. My focus is on timelessness and a much wider, more spiritual view of the life in everything."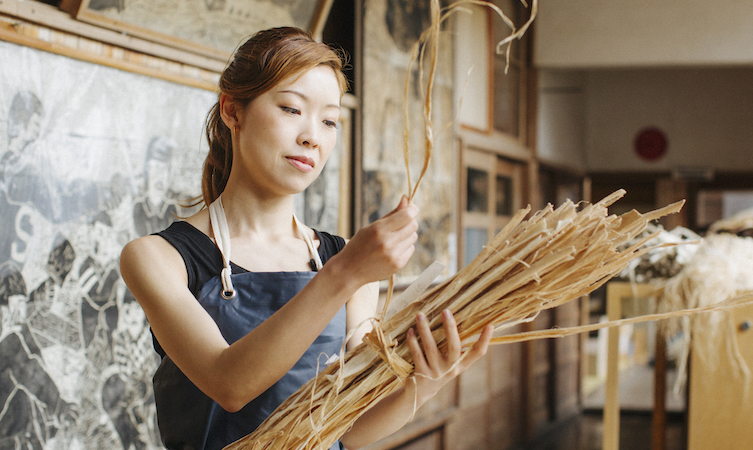 What has been your biggest sculpture?
"My recent work, Shiro, a life-sized blue whale is my biggest piece yet. One of the rules of Japanese kirie is to use only a single sheet of paper to cut the form. With
 this piece, it was exceptionally difficult because it totals over 150 square metres in size. It was the most complex install of my career and a piece that was extremely popular when it was unveiled in Bangkok earlier this year."
What's it like when you see a finished piece displayed?
"When my work is on display, I feel like it is a part of me. Each piece for me is like a happy journey."
Could you see your work combining with more wearable fashion?
"Yes, I think my most recent HUMAN Collection is a blueprint for making design concepts from a different set of initial rules. Making clothes using a single sheet of paper results in a very different aesthetic when compared with traditional methods of sewing and pattern making."
How have you seen Japanese culture influencing western culture and vice versa in recent years?
"Japan has been hugely influenced by western culture since it became more open. I find that instead of just copying, the Japanese have a remarkable ability to refine and even improve on external ideas and processes.
"Japanese aesthetics and thoughts are much loved across the world. In recent years in London I think there is something of boom underway. You can see it in the increase in Japanese ramen bars, restaurants, technology and also creative ideas in design and fashion."
Learn more: What does takumi craftsmanship mean to Lexus?