What do the following things have in common: a device that captures water from fog, a recycled clay humidifier, a 3D puzzle for the visually impaired, and a waste-reducing bag that removes chemicals from new clothes? All four are winning finalists in the Lexus Design Award 2023, the international design competition that recognizes up-and-coming creators.

The four finalists were selected from more than 2,000 entries submitted from 63 countries and regions of the globe. The judging panel of Paola Antonelli, Karim Rashid and Simon Humphries were impressed with the originality of the finalists' ideas based on this year's theme of Design for a Better Tomorrow. Each proposal aims to resolve a particular social issue, while expressing the Lexus core principles for creating a prosperous future – Anticipate, Innovate, Captivate and Enhance Happiness.
Speaking about this year's competition, judge Paola Antonelli commented: "Having served as a judge since the first Lexus Design Award, I appreciate all the more the generosity, talent, and energy of young designers from around the world, as [they] take an increasingly visionary and yet realistic view that encompasses not only humanity, but also all the rest of nature."
Lexus Design Award 2023 winners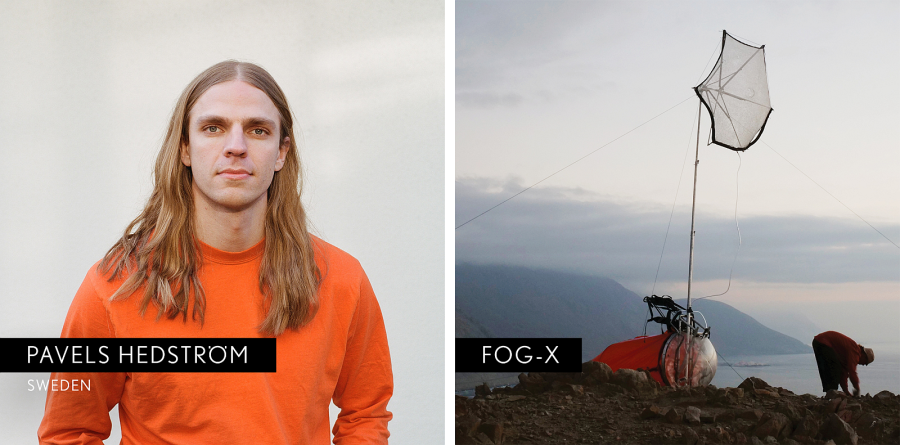 Fog-X by Pavels Hedström (Sweden, based in Denmark): an expandable mobile device that can collect fog to produce up to ten litres of drinking water a day. It can be used in arid areas where water is a scarce but much-needed resource.
Hedström began his career as an architect after earning his Master of Architecture and Extreme Environments from the Royal Danish Academy – Architecture, Design Conservation. His work explores holistic approaches to existing ecosystems.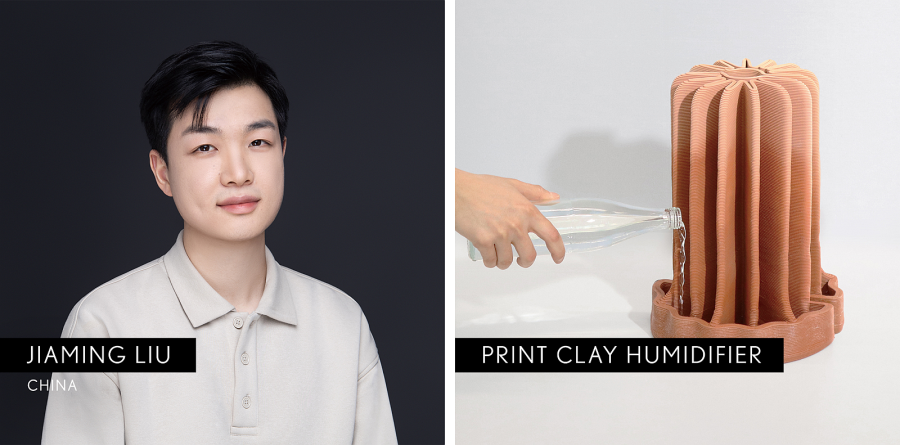 Print Clay Humidifier by Jiaming Liu (China): a sustainable, 3D-printed clay humidifier made from recycled ceramic waste. It can stand alone or be used against a wall or window, making it suitable for small spaces. The design is both functional and elegant and its unique shape increases water absorption.
Liu is an industrial designer who focuses on bringing fresh perspectives into people's daily lives. He is currently exploring cross-cultural and sustainable design. He was born in China, where he completed his bachelor's degree. He recently graduated with a master's degree from Folkwang University of the Arts in Germany.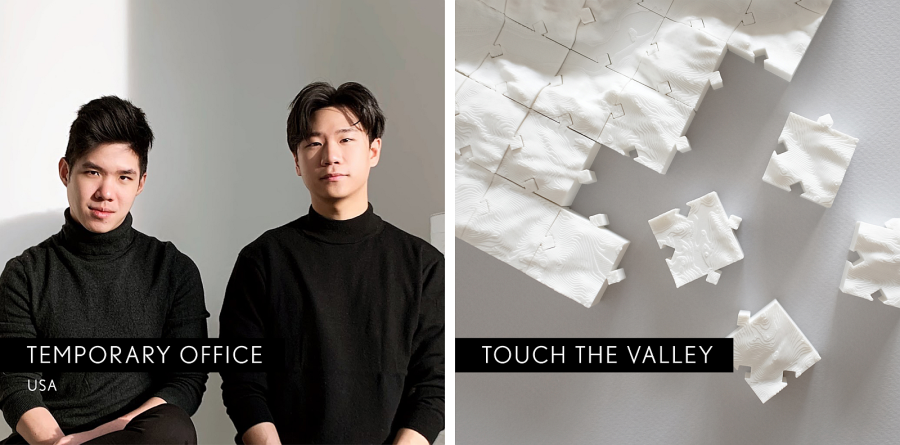 Touch the Valley by Temporary Office (Singapore and Canada, based in USA): a 3D topographic puzzle in which visually impaired people match adjacent contoured pieces to experience the physical world through touch.
Temporary Office is a design team formed by Vincent Lai and Douglas Lee, graduates from the University of California, Berkeley. The team has worked on projects that cross the boundaries of architecture, public space, preservation and product design. With a strong focus on historical research and precedent, Temporary Office seeks to constructively respond to the ever-changing needs of our environment in a rational yet playful way.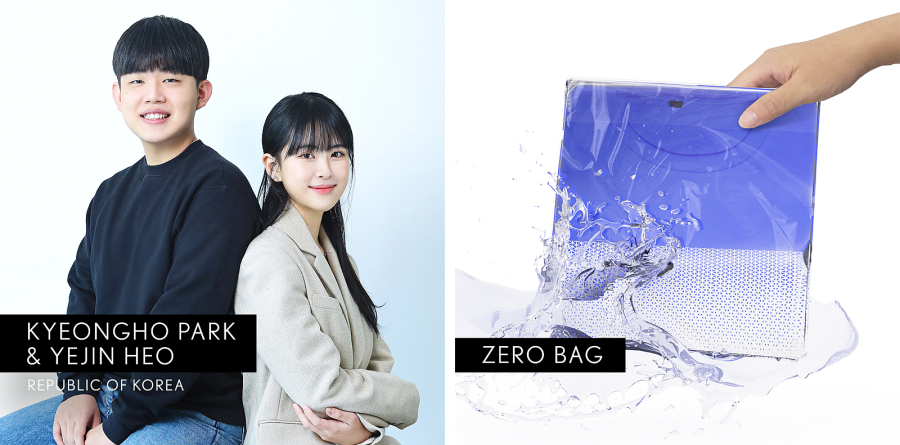 Zero Bag by Kyeongho Park and Yejin Heo (Republic of Korea): a new clothing package with patterned paper detergents attached to water-soluble plastic. It dissolves in water and acts as a detergent, removing any chemicals from clothes, while also reducing packaging waste. Both the clothes and the delivery bag should be put in the washing machine before use.
Kyeongho Park and Yejin Heo are students of industrial design at Hanyang University in the Republic of Korea. They focus on social and environmental problems and explore user-centred solutions through design.
What happens now?
The winners have recently started a three-month-long mentoring programme, which will see them collaborate with world-class creators Marjan van Aubel, Joe Doucet, Yuri Suzuki, and Sumayya Vally. This process is designed to help the winners refine their ideas and develop functional prototypes that embody their proposals. First-time mentor Marjan van Aubel commented: "For emerging creative talents, this offers a springboard for their careers [and] I am excited to be part of it!"
To raise public awareness of the Lexus Design Award 2023 among a worldwide audience, the results of the mentoring programme and evolution of the prototypes will be presented this spring.
Lexus Design Award 2023 winner FOG-X, receives 'Your Choice' award
A multi-function jacket that could provide valuable help to travellers in remote and arid locations has won the first Lexus Your Choice Award. The ingenious concept by Denmark-based Swedish designer Pavel Hedström was one of four winners in the Lexus Design Award 2023. It subsequently collected the most votes cast by members of the public who visited Lexus's presentation of the winning prototypes at Milan Design Week in April, either in person, or online.
Fog-X captured the award's defining principles of design that can help secure a better future. It is a jacket that converts into a one-person shelter and has a section that can be raised to catch fog and turn it into drinking water. During the award's mentorship phase, Hedström was able to expand the concept to include a mobile app to help users locate areas of fog.