The Lexus LC has created something of a reputation for winning prestigious EyesOn Design awards at the Detroit motor show.
Learn more: Configure your own Lexus LC
The lighting elements… are technically innovative yet also futuristic
This reputation began when the inspirational LF-LC was first unveiled and secured the award for the show's best concept car. Four years later, the production version of that concept, the Lexus LC, was revealed at the 2016 show. Although the engineering implications had yet to be fully appreciated, this all-new coupe was doubly rewarded by the EyesOn Design experts for offering the best exterior and interior styling of any newcomer.
At this year's Detroit motor show, the dynamic new LC Convertible concept continued the coupe's winning reputation by securing the EyesOn Design award for excellence in the exterior lighting category.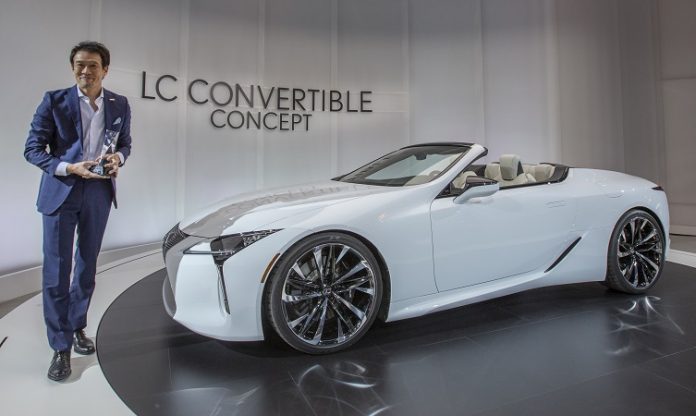 "The lighting elements on the LC Convertible concept are very much a part of its overall appeal. They are technically innovative yet also futuristic in appearance," said chief designer Tadao Mori (seen above with the award). "We're very proud to see that the EyesOn Design judges recognised our efforts and awarded [this] honour for the LC Convertible concept."
What are the EyesOn Design awards?
The EyesOn Design awards honour the best production and concept vehicles making their worldwide debut at the North American International Auto Show. The judging panel includes vehicle design chiefs and design academics from leading art colleges.
Learn more: Lexus wins 2017 EyesOn Design award for new LS
Learn more: Lexus LC – Into the Light