Colloquially known as the Race That Stops A Nation, the annual Melbourne Cup is one of the most popular sporting events in Australia, attracting in excess of 100,000 spectators. Though the two-mile handicap starts on the first Tuesday of November, the event has expanded into a four-day carnival that celebrates everything from turf racing and fashion to fine cuisine and entertainment.
Now in its 13th year of association with the event, Lexus was proud to make another significant contribution to the vibrant atmosphere. Not only was the manufacturer an official partner and exclusive vehicle sponsor but Lexus Australia had collaborated with world-class experts to create a magical escape for guests within the venue's exclusive Birdcage marquee area.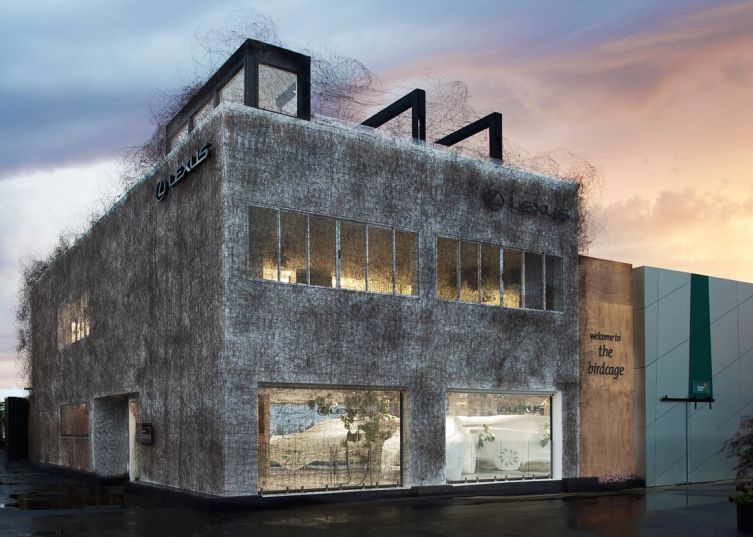 The Lexus Design Pavilion (above) stood out as the only architect-designed marquee, with environmental artist Joost Bakker brought in to create an intriguing exterior rooted in the idea of a bird's nest inside the Birdcage. In order to do this, Joost and his team spent 4,000 hours encasing the pavilion in 100 kilometres of recycled agricultural wire mesh to give the right effect.
Watch the video below to see Joost Bakker describe his thinking and motivation behind this brave, natural look.
https://www.youtube.com/watch?v=TDHiN0CoXxI
Meanwhile, local installation artist Georgie Seccull created flights of large-scale, three-dimensional paper butterflies positioned in relief against the interior's brilliant white walls. Fragrant rose bouquets were another important element in the decorations – a design cue that has become synonymous with the event in recent years.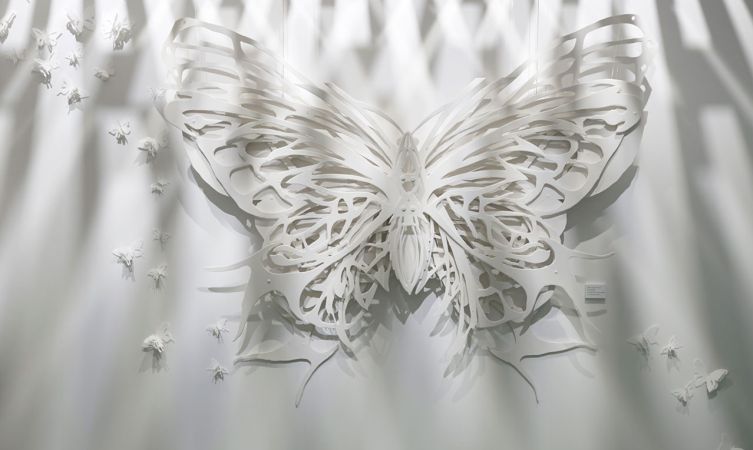 Exceptionally crafted cuisine was also on offer in the Lexus Design Pavilion. At ground level, chef Dan Hong presented refined yet explosively tasty street food in the form of cheeseburger spring rolls and chicken katsu bahn mi. Upstairs, world-renowned chef and Lexus ambassador Ben Shewry wowed customers with his extraordinary Attica restaurant concept, serving a four-course meal including crispy crab and saltbush lamb.
Watch the video below to see Ben Shewry explain why he bravely resurrected one of his most famous dishes for this event.
https://www.youtube.com/watch?v=1Aw6aLBQc-g
Following the dramatic stunt Lexus Australia put on to launch the new 2016 Lexus RX, one of the biggest draws to the Lexus Design Pavilion was the stunning sculptural art installation created by the local product design team led by Nicholas Hogios.
Watch the video below to see Nicholas Hogios explain why he chose to so dramatically reinterpret the new Lexus RX for this project, and how the elastic effect around the car's rear end was created through sculpture and mirrors.
https://www.youtube.com/watch?v=9kHywZJ0Nys
During the course of the event, Lexus also donated a new Lexus NX 200t F Sport to help raise funds for the Starlight Children's Foundation for seriously ill children, and awarded the winner of the hotly-contested Myer Fashions on the Field competition with a new Lexus IS 250 F Sport model.