The potential for electric power to replace the conventional combustion engine is uppermost in the minds of many car makers, and their customers, too.
But did you know that for Lexus, 99% of the cars we sell in the UK are already petrol-electric hybrids? What others are planning to deliver in the months and years ahead, we are already proud to be offering our customers today.
What's more, our range is not limited to two or three niche models. It extends to eight different vehicles, from a compact hatchback and premium saloons, to coupes, SUV/crossovers and elegant limousines.
Not only is this breadth of choice unmatched by any other manufacturer, it also spans an impressively wide price range. This means our hybrid technology is within the budget of many more customers.
Certainly motorists are opting for Lexus hybrids in ever greater numbers. Worldwide cumulative sales so far have topped 1.18 million, while in the UK more than 85,000 have reached the road.
Here's what our hybrid line-up comprises today: –
CT 200h, the world's first hybrid premium compact hatchback.
IS 300h, the latest development of our million-selling sports saloon.
RC 300h, a svelte, rear-wheel drive coupe.
GS 300h and GS 450h, an executive saloon with two hybrid powertrain options.
NX 300h, the first Lexus crossover, introduced in 2014 and now established as out best-selling model in the UK.
RX 450h, the latest version of the world's original luxury SUV and the first of our models to use hybrid power.
LS 600h, our flagship limousine, set for replacement with technically advanced all-new model at the end of 2017.
LC 500h, a high-powered luxury coupe that sets new standards in performance and efficiency thanks to the world's first multi-stage hybrid drivetrain.
Imaginative technology
Imaginative technology is one of the pillars of our brand and our development of Lexus hybrid power demonstrates perfectly how this delivers real and highly attractive benefits to our customers.
Right from the start, we knew that we couldn't simply take a hybrid powertrain, fit it to one of our cars and expect people to respond, simply because of the environmental benefits. The way the technology worked had to match the sophisticated luxury of our vehicles, offering smooth, quiet and refined, yet powerful performance. We have engineered a hybrid driving experience that is relaxing and intuitive, but capable of rewarding response when you need it – just switch the driving mode to a Sport setting and key settings automatically adjust for sharper performance.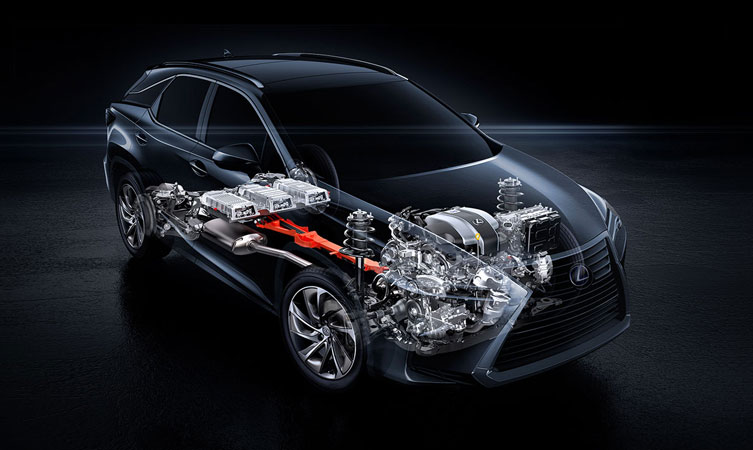 All our hybrids automatically run on electric power alone when driving conditions permit, switching off the petrol engine and reducing fuel consumption and exhaust emissions to zero. It's clever technology, but it's simple to use and has also proven to be hugely reliable. And unlike all-electric cars, there's no need for the vehicle to be plugged into a power source to be recharged.
Certainly our customers are happy, according to independent satisfaction reports – their opinions secured us the "best manufacturer" title in the 2017 Auto Express Driver Power survey.
Where it began – the RX 400h
We actually launched our first hybrid model in 2005. The RX 400h broke new ground in the market, a luxury SUV with a powertrain that combined a V6 petrol engine with two electric motors – one of them mounted on the rear axle to give the car all-wheel drive capability.
Karl Schlicht, Vice President of Lexus Europe, displayed real foresight when he declared at the launch of the RX 400h: "It is evident that when NOx standards start to bite… hybrids will become more attractive. The NOx issue has been avoided in Europe and this needs to change. Hybrids will represent a core technological advantage for Lexus. And as for its SUV application in the RX 400h, it's like letting you enjoy a chocolate sundae – but without the guilt factor."
Concerns about greenhouse gases, climate change, air quality and diminishing natural resources have moved centre stage to become prime considerations for people choosing a car. As governments around the world focus on these issues with increasingly stringent legislation, Lexus hybrid power has strengthened its position as an alternative that is both practical and attractive.
The next step: Lexus Multi Stage Hybrid System
Ever since we first installed a hybrid system in one of our cars, we haven't stopped improving and developing the technology. The latest breakthrough is the Lexus Multi Stage Hybrid System, just launched in the new LC 500h luxury coupe and set to feature in the all-new LS limousine at the end of the year.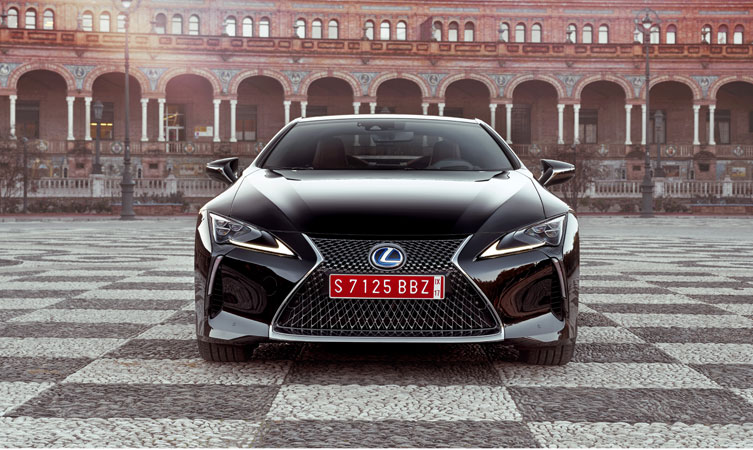 The special quality of the LC as an authentic driver's car demanded a new approach to hybrid that put the focus firmly on a great driving experience.
It took eight years and thousands of miles of testing to produce the Lexus Multi Stage Hybrid System and we're proud of the results. It makes maximum use of our hybrid know-how to generate more emotion and excitement. At the same time it keeps the best characteristics of hybrid in terms of superior fuel efficiency, quietness and smooth operation. With more torque, there's instant acceleration response, accompanied by a stirring engine soundtrack.
The system also replicates the sense of driving with a 10-speed automatic gearbox, with superfast manual shifts accomplished at a flick of the cool titanium paddles on the steering wheel. If you ever thought hybrids were dull, it's certainly time to think again.