For Lexus enthusiasts, this year's SEMA show is perhaps the most highly anticipated in the manufacturer's eight-year history of attendance. With three brand-new Lexus production models making their debut in modified form, this annual celebration of America's multi-billion-dollar aftermarket tuning and styling industry will definitely be one to remember.
Running from 4-7 November in Las Vegas, USA, the SEMA show is recognised as the ideal venue to demonstrate both official and aftermarket personalisation options to upwards of 60,000 industry professionals. This year Lexus has chosen to display custom projects on the 2015 Lexus RC coupe, high-performance RC F coupe and NX crossover, as well as bring over the radical Lexus RC F GT3 concept that will be campaigning the grand touring category during the 2015 motorsport season.
Here is our rundown of the best featured show cars.
2015 LEXUS RC 350 F SPORT by Gordon Ting & Beyond Marketing
Looking like a refugee from a high-profile drift championship, this dramatic Lexus RC 350 F Sport is the car everybody has been clamouring to see, particularly as it wears the first example of what is bound to be an extremely popular wide-body conversion from Japan's cult Rocket Bunny aero brand.
The steroidal arches cover super-wide Enkei alloy wheels specially designed to fill the cavernous space, while fully adjustable KW suspension is employed to ensure there is only a hair's breadth of clearance for extra visual drama. Performance upgrades are limited to a GReddy intake and exhaust system, plus large-diameter, multi-piston Brembo brakes. Within the cockpit, figure-hugging Bride bucket seats and drift-specification harnesses ensure that front passengers feel directly connected to the action.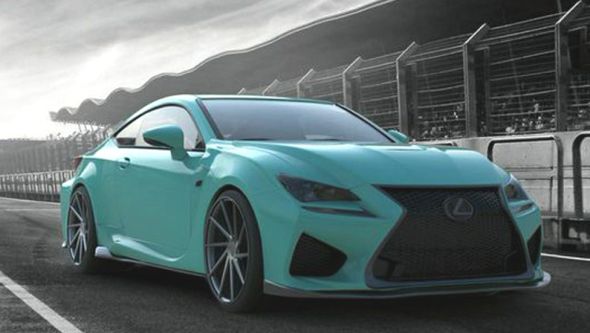 2015 LEXUS RC F by VIP Auto Salon
In a fascinating experiment that we understand to be a first for Lexus, this modified RC F is a crowdsourced project entirely specified by Lexus USA's Instagram followers and then built by the experts at VIP Auto Salon.
Every key aesthetic was voted on, from the mint green paintwork and Lexon Exclusive aero parts to the staggered 20″ Vossen alloy wheels and colour-coded Alcantara interior. More than that, however, the coupe's performance was addressed through the specifying of free-flowing Apexi intake and exhaust systems, fully adjustable RS*R suspension and hard-clamping Brembo brakes.
2015 LEXUS RC F by Gordon Ting & Beyond Marketing
Hasn't Gordon Ting been busy! His second project on behalf of Beyond Marketing for SEMA is designed to prove that it is possible to effectively upgrade the new high-performance Lexus RC F coupe.
Similar to the Insta-built RC F above, the project adds to the model's unique bumper treatment with custom carbon fibre lip spoilers and side diffusers by Evasive Motorsports. Different sets of Yokohama Advan wheels adorn each side of the car, proposing both street and circuit styles, while uprated Brembo brakes and Tein suspension with electronically-adjustable damping force lurk behind. Finally, engine performance is addressed with improved breathing through the intake and exhaust but truly fast-forwarded with a 100bhp shot of nitrous.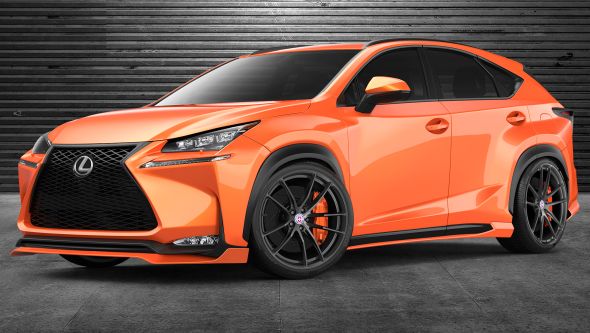 2015 LEXUS NX 200t F SPORT by 360 Elite Motorworks
Just when you thought that Solar Flare paintwork would be exclusive to the high-performance RC F coupe, 360 Elite Motorworks shows that it looks equally striking when specially applied to the new Lexus NX 200t F Sport.
More than simply a colour change, this NX project benefits from an extensive makeover from the Artisan Spirits aftermarket aero range, which includes a new front lip, side skirts, rear diffuser, boot spoiler and chunkier arch flares. Though smaller than its RC companions at SEMA, this NX has the tallest wheels – a whopping 21″ in diameter – framed more closely to the body by height adjustable RS*R suspension.
2015 LEXUS RC F GT3 RACING CONCEPT
Almost ready to rumble. Racing fans around the world are eagerly awaiting the arrival of this race-prepared Lexus RC F GT3. Based on the production coupe, the concept was developed to meet GT3 international racing standards and Lexus is primed to supply the vehicle to race teams in 2015. Offering in excess of 540bhp from its V8 engine, it will cut a dash in more ways than one.
See also:
Lexus IS generation games at SEMA
Lexus USA unveils winning IS design for SEMA show
Lexus GS gets Supercharged for SEMA