As the latest additions to the Lexus range, the LC 500 and LC 500h feature striking examples of innovative engineering – and while they share a daring design, each variant is also groundbreaking in it's own right.
We take a closer look at what makes them so special…
The styling, performance and craftsmanship of the LC helps position it among Lexus' flagship models. It demonstrates an evolving Lexus vehicle development culture that embraces closer collaboration between design and engineering teams.
At the world premiere of the LC 500h, Koji Sato, LC Chief Engineer, said of the LF-LC concept: "From the moment I saw it, I knew we had to build it."
He described the letters LC in the LF-LC name as standing for 'Lexus' Challenge' – and went into significant detail about the challenges faced by the engineering and design teams on the project.
The project was particularly difficult due to the challenge of finding the right fit for the Multi-Stage Hybrid System. To overcome the challenges, Lexus' team of designers and engineers took a new approach: working closely on the project to ensure a level of unprecedented collaboration. This close co-operation from an early stage was critical in successfully preserving so much of the original concept's quality in a viable production model.
The LC has also recently been rewarded with the EyesOn Design awards for both best new car exterior and interior styling.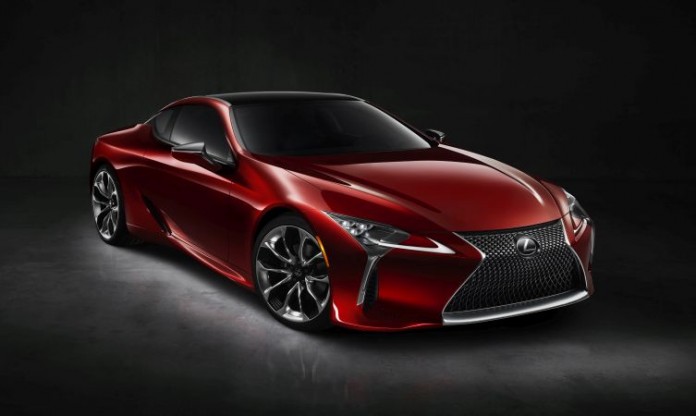 The main difference between the two is, of course, the powertrain. Whereas the LC 500 is powered by a V8 engine with 10-speed automatic transmission, the LC 500h is powered by a Multi-Stage Hybrid System.
This new technology adds a new automatic transmission to the established attributes of Lexus's full hybrid powertrain to deliver the sharpest and most refined drive, with much stronger and direct acceleration.
To see the specifications side-by-side, check out the table below.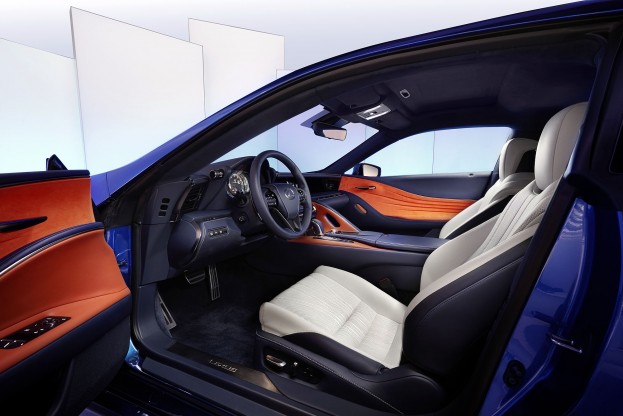 Lexus LC 500 and LC 500h specifications
LC 500
LC 500h
Max. power (bhp @ rpm)
467 @ 7,100
295/220 @ 6,600
Acceleration 0 – 60mph (sec)
<4.5
<5.0
Transmission
10-speed automatic
10-speed automatic

'M' mode

Seating capacity
4
4
Overall length (mm)
4,760
4,760
Overall width (mm)
1,920
1,920
Overall height (mm)
1,345
1,345
Wheelbase (mm)
2,870
2,870
Front overhang (mm)
920
920
Rear overhang (mm)
970
970
Wheels
20in cast aluminium or 21in forged aluminium
20in cast aluminium (standard)

20/21in forged aluminium (optional)

Tyre sizes
254/40RF21 front, 275/35RF21 rear 245/45RF20 front, 275/40RF20 rear
245/40RF21 front,

275/35RF21 rear

245/45RF20 front,

275/40RF20 rear
First application of Multi-Stage Hybrid system* The above are preliminary technical specifications for the North American market.
Read more: Powertrain of the new Lexus LC 500
Read more: Lexus LC 500 unveiled at 2016 Detroit Motor Show
Read more: Lexus LC 500h makes its World Premiere